Missing Virgin Mary statue found erect on Vermont riverbank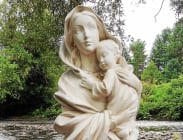 NORTH BENNINGTON, Vt. — A 5-foot statue of the Virgin Mary taken from the garden of a Catholic church in North Bennington, Vermont, is home again after it was found on the banks of a local river while police are trying to determine how the statue was moved from its home in a church garden to the Walloomsac River.
The statue, named the "The Madonna of the Street," had been in the church garden for more than 15 years.
Parishioner Henry Simpatico tells the Bennington Banner he's unsure when the fiberglass statue that weighs 150 to 200 pounds was stolen.
"I have no clue who would have done it, but we'd like to find out," he said. "Luckily, the case was solved quickly."
The statue was found Wednesday by a Banner photographer who was searching for a feature photo.
"I saw the statue out of the corner of my eye and I jumped," said Banner photographer Holly Pelczynski. "I was so startled. I didn't expect to see it. It's as tall as me!"
Simpatico says the statue has been returned to its garden with a few scratches and gouges.
Meanwhile, Bennington police are trying to determine who took the statue.