Some Catholics defend using the internet for 'liturgy shaming'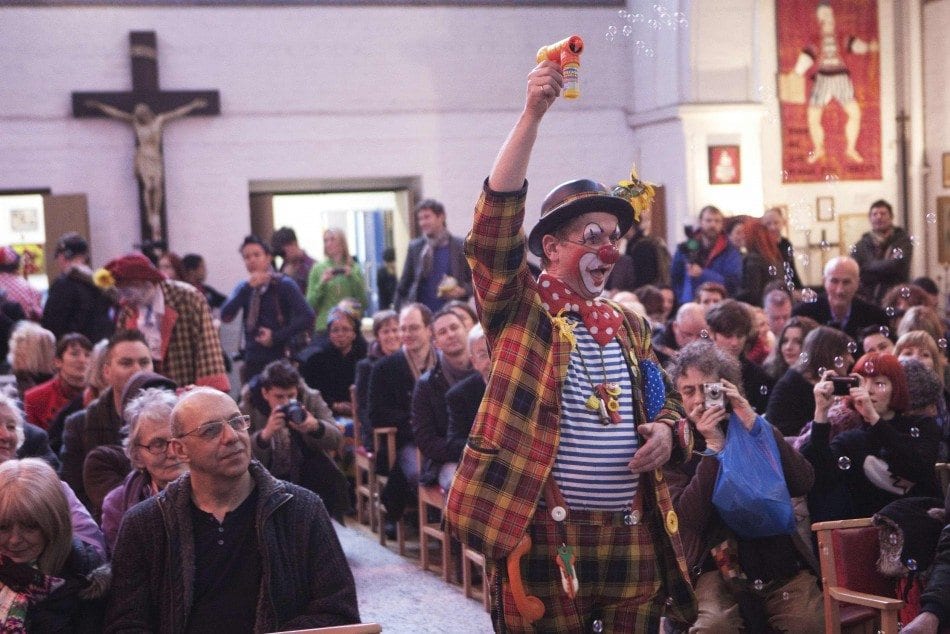 William Bornhoft is a Catholic who admits that he sometimes cringes at the liturgical novelties he sees at Mass and has himself been tempted to post a complaint or a photo of the offending innovation.
But Bornhoft, a 24-year-old writer from Minnesota, has also seen where that temptation can lead, and he didn't think he was being especially outrageous when he penned an essay lamenting what he saw as a growing penchant for "liturgy shaming" – that is, furious believers using social media to denounce and target pastors or parishes that in the critics' eyes have done something beyond the pale.
The impetus for his column at the Catholic website Aleteia seemed to be a cut-and-dried example of a digital mob in action: A Seattle parish had posted a photo album on Facebook showing liturgical dance at Mass, including streamers and the sort of modern flourishes that make traditionalists see red.
Sure enough, another Catholic site shared the album with the intent of making fun of the parish. But the online criticism quickly accelerated "to particularly nasty allegations of heresy and satanic worship," as Bornhoft put it, plus personal attacks on the looks of the dancers.
It got so bad that the parish deleted its Facebook page entirely, and it all prompted Bornhoft to do some soul-searching.
"When we feel the urge to make a nasty comment or post a scandalous photo of liturgical abuse online, we should ask ourselves whether it's love of the Church that is guiding our hearts, or a sense of entitled judgement," Bornhoft wrote in his essay last February, appropriately enough during the penitential season of Lent.
"I'm willing to bet that more often than not, hubris influences how we respond."
The reaction to his rebuke, however, only seemed to confirm the depth of the passions sparked by the issue and the potency of the internet to fuel a debate about a problem that the web itself has helped create.
"Are you seriously saddened that these scoundrels had to shut down their FB page?" said one of many critical commenters on his post. "If they don't know that they're doing wrong, we need to tell them so that they can repent," said another. Wrote yet another commenter: "The time of inaction on the part of the laity is over and if the clergy will not correct themselves then it is up to us to force the issue."
In a telephone interview, Bornhoft stood by his critique but said he understood the sense of powerlessness that seemed to motivate many liturgy shamers:
"There are a lot of liturgical issues today and they don't trust that leadership can do anything. So they see liturgy shaming as an important and effective tool we didn't have before."
Indeed, diehard traditionalists — who tend to be the main liturgy-shamers — say the stakes are too high and they don't feel they have a choice.
To be sure, online teasing is not the sole province of conservatives; those with more modern sensibilities often use the internet to make fun of traditionalists who wear especially elaborate regalia, for example. And Protestants can certainly throw shade at the music or architecture or worship styles of another congregation.
But for many old-school Catholics, the liturgical innovations unleashed by the Second Vatican Council in the 1960s are to blame for every measurable decline and perceived ill in Catholicism since that time.
Moreover, since the Mass is the center of Catholic worship and the Eucharist is the holy core of that celebration, anything that appears to diminish the sobriety or seriousness of the liturgy is tantamount to sacrilege and therefore merits strong action.
That's why, in his response to Bornhoft, Joseph Shaw, head of the Latin Mass Society, argued that those who use liturgy shaming are justified, much as those who denounced the sexual abuse of children by clergy were right to do whatever it took to stop the violation of the sacred – in one case children, in another the celebration of the Eucharist.
Exhibit A for the analogy: One of the many Facebook groups dedicated to liturgical whistleblowing is called SLAP, or Survivors of Liturgical Abuse in Parishes, which echoes the name of the leading clergy abuse victims organization, the Survivors Network of those Abused by Priests, or SNAP.
Above all, Shaw said, liturgy shaming works by pressuring church authorities to take action so the perpetrators "will never again gloat over their implied heresy or their liturgical abuses."
These viral campaigns can on occasion have the intended effect, as they did for the Seattle parish Bornhoft wrote about.
Just last Christmas, for example, a priest in the Philippines was suspended from ministry and forced to apologize after a parishioner's cellphone video of him on a hoverboard at the end of midnight Mass went viral.