Catholic priest in Virginia speaks of his past membership in the KKK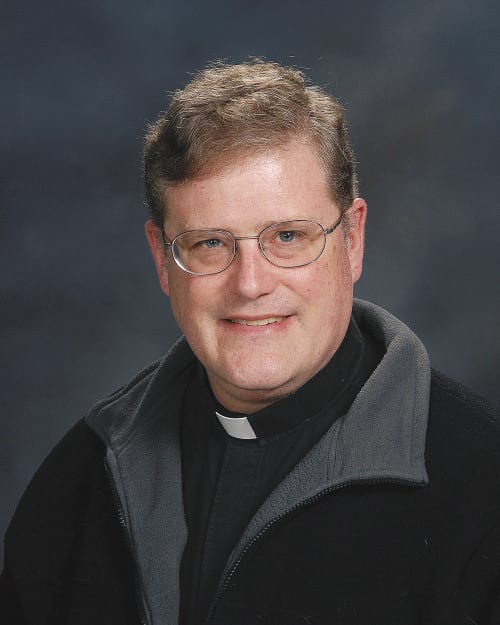 A Catholic priest working in Virginia who is a former member of the Ku Klux Klan says Catholics must condemn, "at every opportunity," the hatred of white supremacist organizations.
Father William Aitcheson, the parochial vicar at St. Leo the Great parish in Fairfax City, wrote an editorial in The Arlington Catholic Herald acknowledging his past.
"My actions were despicable. When I think back on burning crosses, a threatening letter, and so on, I feel as though I am speaking of somebody else. It's hard to believe that was me," he wrote.
In 1977, Aitcheson was convicted of a criminal misdemeanor and sentenced to 90 days in jail for burning a cross in the yard of a couple in Maryland.
(In 1982, President Ronald Reagan visited the couple in their home, and later told reporters he expressed to the couple how much he "regretted any unpleasantness that they may have had because there shouldn't be any place in our country for that sort of thing.")
"While 40 years have passed, I must say this: I'm sorry. To anyone who has been subjected to racism or bigotry, I am sorry. I have no excuse, but I hope you will forgive me," Aitcheson wrote in his editorial.
RELATED: Charlottesville's Catholic students ready to heal wounds, chaplain says
The Diocese of Arlington released a statement on August 21 saying there have been no accusations of racism or bigotry against Aitcheson throughout his 24 years of service in the diocese.
"While Father Aitcheson's past with the Ku Klux Klan is sad and deeply troubling, I pray that in our current political and social climate his message will reach those who support hate and division, and inspire them to a conversion of heart," said Bishop Michael Burbidge of Arlington. "Our Lord is ready to help them begin a new journey, one where they will find peace, love, and mercy. The Catholic Church will walk with anyone to help bring them closer to God."
Raised as a Catholic, Aitcheson was not practicing his faith when he joined the hate group as a young adult.
"The irony that I left an anti-Catholic hate group to rejoin the Catholic Church is not lost on me. It is a reminder of the radical transformation possible through Jesus Christ in his mercy," Aitcheson wrote in his article.
Virginia has been dealing with the aftermath of a white supremacist rally – featuring neo-Nazis, KKK members, and adherents of the alt-right movement – in Charlottesville on August 11-12 protesting the removal of the statue of Confederate general Robert E. Lee from a downtown park.
One person was killed when a white supremacist drove his car into a group of counter-demonstrators.
RELATED: Father of Charlottesville victim calls for forgiveness after death of daughter
Charlottesville, which is the home of the University of Virginia, is 85 miles southwest of Fairfax.
Aitcheson said the images from Charlottesville "brought back memories of a bleak period in my life that I would have preferred to forget," and said they are embarrassing for the country.
"The reality is, we cannot forget, we should not forget. Our actions have consequences and while I firmly believe God forgave me — as he forgives anyone who repents and asks for forgiveness — forgetting what I did would be a mistake. Those mistakes have emboldened me in my journey to follow the God who yearns to give us his grace and redemption," the priest wrote.
He called for the condemnation of "the hatred and vile beliefs of the KKK and other white supremacist organizations," adding that what they believe contradicts everything Catholics hold dear.
"Racists have polluted minds, twisted by an ideology that reinforces the false belief that they are superior to others," Aitcheson said.
The priest said Christ teaches something different.
"He teaches us that we are all his creations and wonderfully made — no matter our skin color or ethnicity," he said. "Realizing this truth is incredibly liberating. When I left my former life, I did a lot of soul-searching. God humbled me, because I needed to be humbled. But abandoning thoughts of racism and superiority gave me the liberation I needed."
The statement from the diocese said Aitcheson's article was written "with the intention of telling his story of transformation."
It also stated he has voluntarily asked to take a leave of absence from public ministry – "for the well-being of the Church and parish community" – and the request was approved.