Catholics mobilize as deadline looms on shield for young immigrants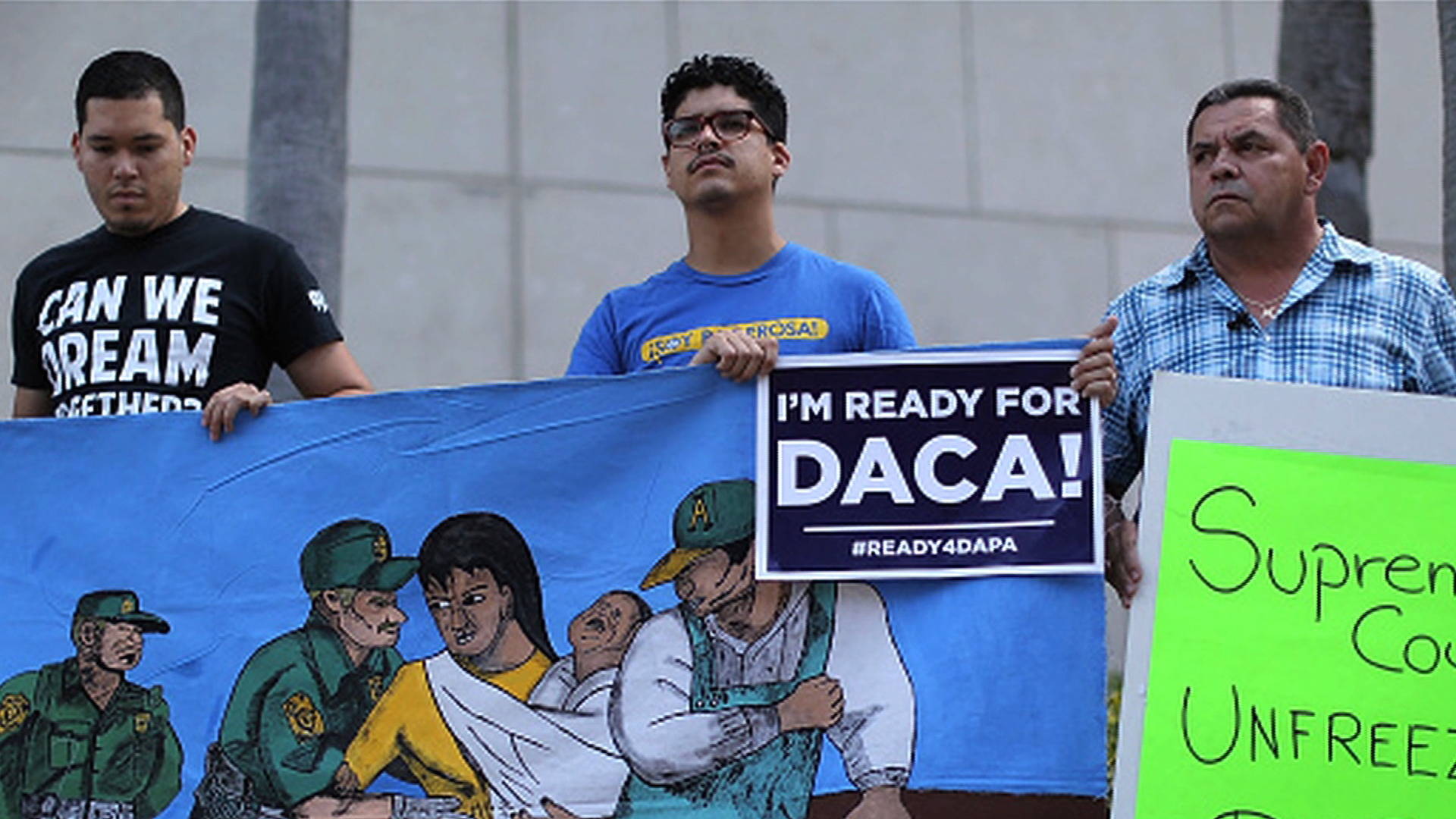 Although it's been crowded out of the news lately by Charlottesville, a nuclear crisis with North Korea, a terrorist attack in Barcelona, and other factors, immigration hasn't gone away as a burning issue in American politics in the President Donald Trump era.
Right now, the clock is ticking on a September 5 deadline established by Texas Attorney General Ken Paxton, along with nine other state attorneys general, issued to the White House, telling it either to end a program affording a legal shield against deportation to the children of undocumented immigrants, or they'll file suit in an unfriendly court.
The program is called "Deferred Action for Childhood Arrivals," or DACA. Trump had vowed to eliminate it on the campaign trial, but its status has since seemed more up for grabs in his administration.
Paxton was joined in his ultimatum by the attorneys general of Arkansas, Alabama, Idaho, Kansas, Louisiana, Nebraska, South Carolina, Tennessee and West Virginia, as well as Idaho Governor C.L. Otter.
As the deadline nears, Catholic leaders have been vigorous in defending DACA.
"These young people entered the U.S. as children, and know America as their only home. The dignity of every human being, particularly that of our children and youth, must be protected," said Bishop Joe S. Vásquez of Austin, Texas, Chair of the Migration Committee for the U.S. bishops, in a July 18 statement.
The U.S. bishops' conference has been just as forceful, saying, "The Catholic bishops have long supported DACA youth, and continue to do so. DACA youth are contributors to our economy, veterans of our military, academic standouts in our universities, and leaders in our parishes."
In effect, DACA is a type of administrative relief from deportation. Its purpose is to protect young immigrants who meet a list of qualifications, and who came to the United States when they were children. DACA gives those eligible two important things: protection from deportation, and also a work permit.
Patricia Zapor, Communications Director for the Catholic Legal Immigration Network Inc. (CLINIC), says that since the election, "it's been up in the air if this would even continue" given Trump's opposition to it during the campaign. However, she said, once in office, he seemed to reconsider.
While the program slowed at the beginning of the year, Zapor said, it has returned to its normal pace. She says that despite the change in administrations, applications for DACA status hasn't elevated people's risk of being deported.
"We don't see evidence of that," she said. In terms of the looming deadline, Zapor said, "Who knows how that's playing in the White House?"
Zapor says that the benefits of DACA are numerous.
"It's given nearly 800,000 people the chance to work above board…to contribute to their families and society," she said. "They've started businesses and bought houses."
When people have the legal protections it offers, she said, it's "a huge stabilizing element for their families, their neighborhoods and whatever [area] they're in."
On August 15, a crowd of more than 2,000 immigrants and their supporters marched to the White House for a rally demanding that the Trump administration defend DACA and Temporary Protected Status (TPS).
The rally, called "Our Youth, Our Future," spoke on behalf of 800,000 people affected by DACA and TPS. Over the years, defenders say, TPS alone has allowed 300,000 immigrants from a multitude of nations to escape catastrophes occurring in their home countries.
For three weeks, there will be people praying in front of the White House.
"DACA changed my life," 17-year-old Claudia Quinones told Catholic News Service. "I was able to get a job, start working and enroll myself in school."
On August 2, there was another attempt to bring this issue to the forefront called the "Clergy Rally to Defend DACA." It followed a letter signed by more than 1,600 religious leaders, from a variety of churches, asking that Trump keep DACA as is.
"With so much dividing our nation, maintaining DACA and TPS is an opportunity for the administration to send a clear and powerful message that this is still a country where people of every race, creed, and color are welcome, and that we will not be defined by the hatred and bigotry of a few," said a statement from the Franciscan Action Network, one of the organizers of the rally.
Jung Woo from NAKASEC, a Korean-American organization that's also one of the organizers of the vigil, said, "I am organizing this because I am DACAmented and I am a fighter!"
Justin Feller, a youth intern from Hana Center which is an affiliate of NAKASEC, told Crux he's willing to stand in front of the White House "in the blazing sun, so the undocumented don't have to live in the shadows."
Feller said he's willing to suffer some discomfort, because "personally, there are important people in my life who are DACA beneficiaries or are undocumented." He said, "I am here to stand up for them."
Patrick Carolan, Executive Director of the Franciscan Action Network said that for the three weeks of the vigil, there will always be 8 to 10 people in front of the White House serving as a reminder of the DACA debate. While many affected by the program can't risk exposing themselves to ICE, he said, their friends and family will stand in their place.
Carolan says there are many people right now in college, working, and "trying to make their way and who would love to become citizens," and, he said, these young people "could end up being deported."
Along with 26 other protesters, many of whom were Catholic, such as Scott Wright of the Columban Friars and Jean Stokam of the Sisters of Mercy, Carolan was arrested on Monday for civil disobedience while sitting in front of the White House before the main rally on Tuesday.
In his earlier statement, Vásquez said, "I note the moral urgency for comprehensive immigration reform that is just and compassionate. The bishops will advocate for these reforms as we truly believe they will advance the common good."
Woo summed up the gut-level reaction of many of those most affected by the debate: "Our message is loud and clear: The President and Congress must do whatever it takes to protect DACA, TPS, and pass the DREAM Act."
(The "DREAM Act" is a legislative proposal for a multi-phase process for undocumented minors in the United States, which would grant conditional residency, and, upon meeting further qualifications, permanent residency.)