U.S. bishops establish committee to tackle racism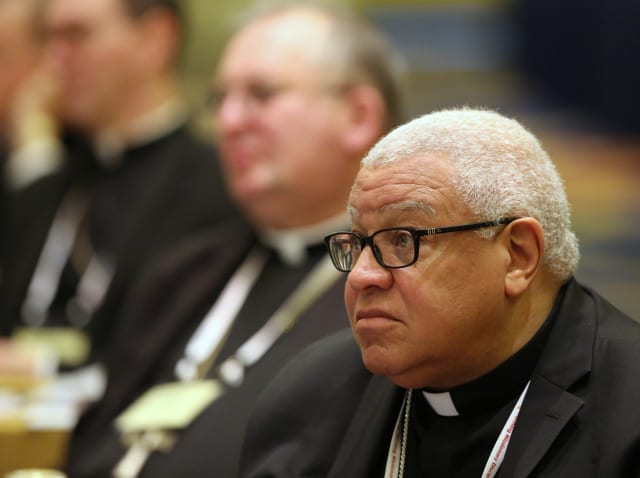 In the wake of a deadly white supremacist march on Charlottesville, Virginia, the United States Conference of Catholic Bishops (USCCB) announced that it had established an Ad Hoc Committee Against Racism.
The announcement on Wednesday comes just over a week after the events of Charlottesville, when neo-Nazis, KKK members, and adherents to the "alt-right" marched in violent, racially charged protests. One person was killed when a white supremacist rammed his car into a crowd of counter-protesters.
The Committee was initiated by Cardinal Daniel N. DiNardo of Galveston-Houston, President of the U.S. bishops' conference, and will "focus on addressing the sin of racism in our society, and even in our Church, and the urgent need to come together as a society to find solutions.
"Recent events have exposed the extent to which the sin of racism continues to inflict our nation," said DiNardo in a statement.
"The establishment of this new ad hoc committee will be wholly dedicated to engaging the Church and our society to work together in unity to challenge the sin of racism, to listen to persons who are suffering under this sin, and to come together in the love of Christ to know one another as brothers and sisters."
The committee will be chaired by Bishop George V. Murry, SJ of Youngstown, Ohio, and anticipates releasing a new pastoral letter on racism in 2018.
RELATED: If bishops want to face racism, own your own complicity, theologian says
The new committee comes on the heels of the conclusion of a previous task force, "Peace in Our Communities," in response to a series of race-related police shootings.
In an interview with Crux last week, Archbishop Wilton D. Gregory of Atlanta who chaired the previous task force, said bishops are obligated to speak up for minority communities.
"The people in their pews, whether they have African-Americans or Hispanics or Asians, or even Muslim neighbors, they have to know that silence in these matters is construed as approval," he said.
"We all must raise our voices in condemning the vile acts that have taken place, and also standing in solidarity and union with those who are speaking out in their communities."
A rally was organized to protest the removal of a Confederate statue of General Robert E. Lee in Charlottesville on August 11-12. The event has been described as the largest gathering of white supremacists – hundreds attended – in recent United States history.
After a state-of-emergency was declared by the City of Charlottesville, a car was driven into a crowd of anti-protestors killing 32 year-old Heather Heyer and injuring twenty others.
The entire country was roiled by the events in Charlottesville and Catholic bishops across the country issued statements condemning racial violence.
DiNardo issued an initial statement saying he condemned "the violence and hatred that have now led to one death and multiple injuries."
As uproar over the events continued, the next day DiNardo issued a follow-up statement with domestic justice chairman Bishop Frank Dewane of Venice, Florida, in which they denounced "the evil of racism, white supremacy and neo-Nazism." Since then, scores of bishops throughout the country have condemned the violence in Charlottesville and called for Catholics to resist the sin of racism.
In announcing the bishops' new task force, DiNardo urged for recent events to serve as an impetus for spiritual conversion.
"May the work of the USCCB serve as a call to conversion for those hiding behind white hoods and Nazi symbols.  The vile chants of violence against African Americans and other people of color, the Jewish people, immigrants, and others offend our faith, but unite our resolve," he said.
"Let us not allow the forces of hate to deny the intrinsic dignity of every human person," DiNardo continued. "Let the nation and world see the one body of Christ move to the defense of our sisters and brothers who are threatened. May today be a new beginning."
At a press conference on Wednesday, Murry said the task force is part of the USCCB's "ongoing efforts to combat the sins of racism."
"The times demand it. The gospel demands it," he said.
"For too long the sin of racism has lived and thrived in our community and even some of our churches…In recent years, our divisions have worsened. Hatred is more evident and becoming more mainstream," he continued.
Murry declined to address the question of whether Confederate statues should be removed, deferring to local governments to decide.
He also noted that the ad hoc committee is the highest structural response of the USCCB, and its first goal would be a summit of religious leaders that would then set the priorities for the task force.
Just hours of the announcement, Bishop Nicholas DiMarzio of Brooklyn released a statement in support of the new committee.
"The USCCB's ad hoc committee comes as welcome news. In fact, we here in the Diocese of Brooklyn are already establishing something similar. Our diocesan commission for social justice will deal with the social and religious problems that racism presents," DiMarzio said.
On Thursday, August 24, the diocese of Brooklyn will be holding a Mass for Solidarity and Peace as a direct response to the violence in Charlottesville. DiMarzio will celebrate the mass and will officially announce the launch of the diocese's commission, which will be named after Monsignor Bernard Quinn.
In a statement to Crux, DiMarzio noted that Quinn was a hero to the diocese of Brooklyn.
"Monsignor Quinn was no stranger to the Klu-Klux-Klan and racism within the Church. The Klan burned down an orphanage he built for African American children here in the Diocese of Brooklyn. They did this not once, but twice, in the same year. Monsignor Quinn received numerous death threats. But he did not back down. He stood up to racism, and rebuilt," said DiMarzio.
"Statements and acts of solidarity continue to be very important but they must be accompanied by action," said Murry.
"We will invite people — not only Catholics, but people of goodwill — Protestants, Jews, Muslims, everybody who want to move our country forward and who want to speak out in terms of respect and freedom for all people. We want to invite them to be a part of this and to develop concrete strategies that can work in our community," he said.
"This is not going to be easy, it is not going to be done quickly. But it is something that needs to be done and we are taking the first step today."