PORTLAND, Oregon — A crowd in Holy Rosary Parish's Aquinas Hall, more than 250 strong, hushed as the lights dimmed for "Tolton: From Slave to Priest."
At its end, the audience rose to give a standing ovation for the performance, for the actor, Andrae Goodnight, who portrays the 19th-century priest Father Augustus Tolton, and for Leonardo Defilippis, president and founder of St. Luke Productions, who conceived and produced the drama.
"This spoke to my heart, and Andrae Goodnight did a wonderful job," said Evelyn Couser, chairwoman of the African-American Catholic Community of Oregon and a parishioner at Portland's St. Mary Magdalene Church, better known as "The Madeleine."
"It comes at a critical time," added her husband, Ron Couser, in an interview with the Catholic Sentinel, newspaper of the Portland Archdiocese. "We are a divided nation and Father Tolton's message is one of unity in Christ."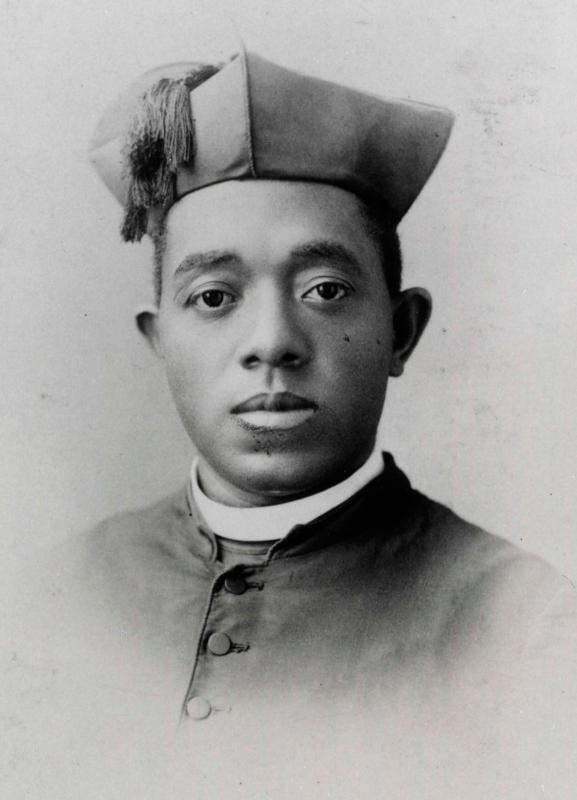 After its opening five-night run at various parishes in Oregon in October, the play headed to Chicago and several other Illinois cities. The last week of November it was being performed in St. Louis and elsewhere in Missouri, with a final stop back in Illinois Dec. 2.
Tolton, a candidate for sainthood, is the first recognized American diocesan priest of African descent and founder of the first black Catholic church in Chicago. The Archdiocese of Chicago formally opened his cause for sainthood in 2011.
Born into slavery in Missouri in 1854, he and his mother, Martha, and his siblings escaped and settled in Quincy, Illinois. His father escaped bondage to fight with the Union Army and died sometime later.
Martha passed along her Catholic faith to her children, and young Augustus felt a calling to the priesthood. He went to the seminary in Rome, when no U.S. seminary would accept him because of his race. Ultimately, he returned to Illinois to preach and minister to the African-American population there. He died July 9, 1897, at age 43.
"We're doing this for the canonization cause," Defilippis told the crowd before the play began. "Father Tolton's message of love and unity needs to be heard as one of the most important voices in the United States."
After the show, Defilippis said, "I can't wait to see what the Holy Spirit does with this."
As powerful as Tolton's story is, the production's drive and impact depend upon Goodnight.
Defilippis postponed beginning work on "Tolton" for years — until he found the right actor to play the role.
Goodnight graduated from Booker T. Washington High School for the Performing and Visual Arts in Dallas and earned a bachelor's degree from Carver Bible College in Atlanta. He also has a master's of divinity from Covenant Theological Seminary in St. Louis. He is a Catholic convert and father of six children ages 3 to 13.
He embodies Father Tolton, from youth to manhood, bringing in turn joy and sorrow to the stage.
The producer and actor believes "Tolton" could not be more timely. "There are so many misunderstandings between the races in the United States today," Defillipis said after the Holy Rosary performance. "Father Tolton is the Catholic Martin Luther King. He gave his all to his faith. This show brings us together."
Goodnight admitted that it's exhausting to play Tolton, in all his passion. But he said there also has also been grace. The production, he says, gives a glimpse of the challenges Tolton had to overcome to become ordained — and then to serve.
"Ultimately, even though we never escape our human weaknesses, we see the grace of God," Goodnight said.
The script and playing Tolton have challenged Goodnight to reconsider what success means.
"We could ask why we're celebrating this man," he said. "Father Tolton never founded a seminary, never wrote a book. So if you define success in materialistic terms, he was a failure. But if it's defined by our faithfulness, then he was a great model of success. He was where God wanted him to be."