'Paul' film producer: 'Real important to tell the story of God's mercy'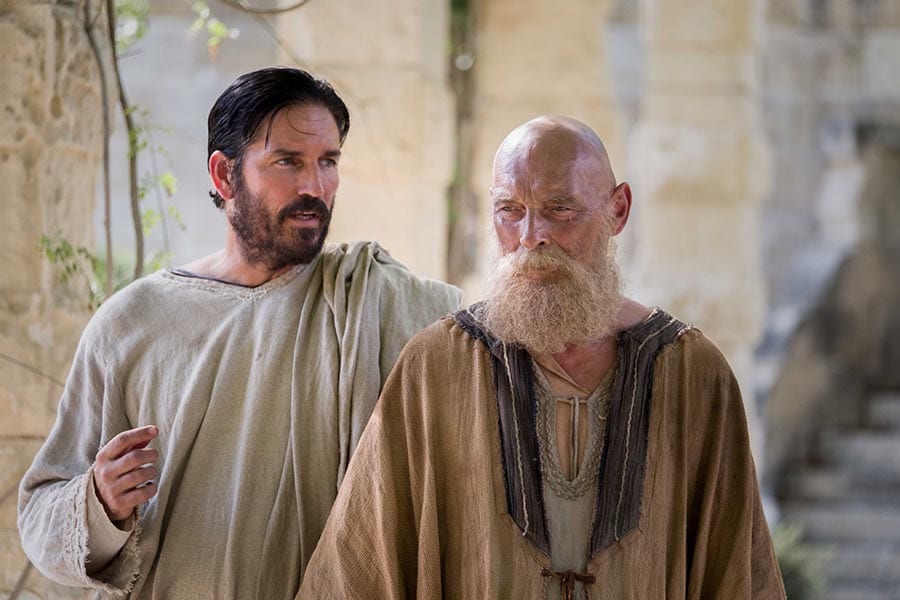 WASHINGTON, D.C. — Every story has a message within. So does every movie — and every biblically-based movie as well.
With the new movie "Paul, Apostle of Christ," Eric Groth, one of the film's executive producers, said, "it was real important to tell the story of God's mercy."
"His message of love and life and mercy is so important for us today," Groth said to an invitation-only audience of about 60 at a Feb. 15 advance screening of the film at the St. John Paul II National Shrine in Washington.
Groth is head of ODB Productions; he said the initials stand for "Outside Da Box." The company has made, by his estimate, about 250 short films for Catholic religious education programs, and a series of 15 shorts based on each of the 15 sections of the Catechism of the Catholic Church.
"All I wanted to do (in college) was play baseball. Then the Lord moved my heart," Groth said. In addition to the film shorts, he also produced "Full of Grace," about Jesus' mother, Mary, helping repair the fractures that developed in the early Church. It was written and directed by Andrew Hyatt, who had the same two jobs on "Paul, Apostle of Christ."
Groth called "Full of Grace" "a feature film that wasn't supposed to be a feature film," but one that led to "Paul" being made.
The big name in "Paul" is Jim Caviezel, who played Jesus in Mel Gibson's "The Passion of the Christ" in 2004 and portrays St. Luke here. "We wanted to use, in a good way, his star. He's a star, but he's not the leading man," Groth said. For those who think Caviezel is playing Paul, Groth replied, "Jim's playing Luke. Come find out about Luke, too."
Paul is played by James Faulkner, who portrayed Randyll Tarly on HBO's "Game of Thrones," Lord Sinderby on PBS' "Downton Abbey," and Pope Sixtus IV on Starz' period drama "Da Vinci's Demons." Faulkner also has read each of Paul's letters in the New Testament in a series to be released by the American Bible Society.
"Paul, Apostle of Christ" is rated PG-13 for disturbing images and violent content, virtually all of it Roman violence against Christians, although one group of Christians decides to act in a highly un-Christian way in response to the dictums against their sect by Roman Emperor Nero.
Groth declared "Paul" "OK for middle school and up," adding some of the imagery in it could have been worse. "We flipped the room when they (a group of condemned Christians) were going out into the lions" so that the lions and the carnage are never seen, Groth said.
He gave credit to Sony Pictures for its willingness to go out on a limb with the movie. "They stretched partnering with a Catholic organization, they stretched in the idea, they stretched in the screening schedule," which had started a few months before its March 23 premiere, Groth said. A constant comment he said he had received from preview audiences was that the film was "imbued with Scripture without it having been read to them."
"Paul, Apostle of Christ" is set to open March 23 on more than 2,000 screens in the United States, and will simultaneously open in at least 15 other countries, with deals still in the process to more than double that number, he added.