NY's Bishop John Jenik abused others, alleged victim says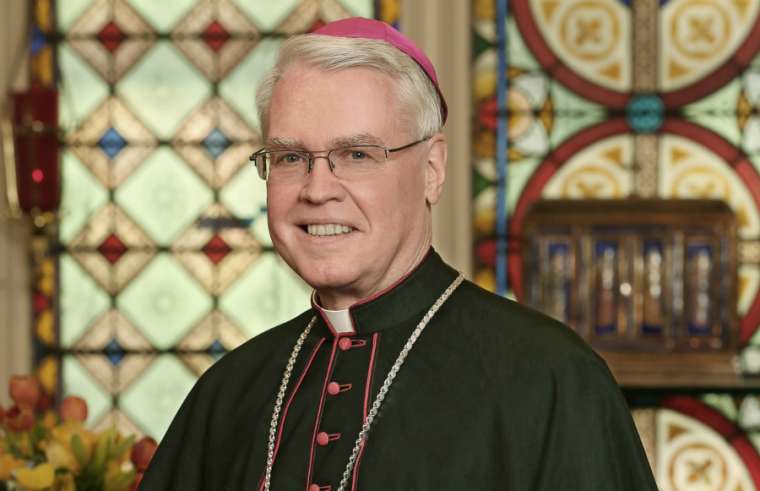 NEW YORK – The alleged victim of New York's Bishop John Jenik spoke at a Nov. 1 press conference about his experiences with the bishop, which he said involved years of sexual abuse.
Jenik, an auxiliary bishop in the Archdiocese of New York, maintains his innocence.
Michael Meenan, 52, said that Jenik cultivated an inappropriate relationship with him during the 1980s that involved dozens of trips upstate to Jenik's country house, where he allegedly was groped while in bed with Jenik.
"[Jenik] began taking me on and spending time with me as a means of cultivating a relationship that was immoral, inappropriate, and in some instances illegal," Meenan said, calling it "the greatest evil I have witnessed in my lifetime."
Meenan, speaking to reporters outside St. Patrick's Cathedral, said the abuse took place roughly between the ages of 13 and 17. He claimed Jenik, who was then pastor of a Bronx parish, targeted him because the priest knew that family issues at home made Meenan vulnerable.
When asked why he chose to report the allegation after so many years, he said God told him in prayer that he should "tell the truth."
Meenan described himself as "an Ivy League graduate living on food stamps" and said his life is "in a ditch."
As a freelance journalist for the New York Times, Meenan said he occasionally wrote stories about clerical sexual abuse. He also said he would discourage fellow reporters from writing positive stories about Jenik's work in the local community, adding that he had related his abuse experience in "informal conversations" with some reporters.
"I am John Jenik's worst nightmare," he said. "And I'm here to tell you I'm not the only [victim]. There are others."
Meenan's allegation was reviewed by the Lay Review Board of the Archdiocese of New York, which concluded "the evidence is sufficient to find the allegation credible and substantiated."
"Jenik did nothing to make sure that I grew up as a proud gay man," Meenan stated.
"He made sure to scramble my brain as much as possible with alcohol and immoral behavior, so I could not stand here today to tell you this story."
He said Jenik celebrated the marriage of his sister and baptised two of his nieces.
This is Meenan's second sex abuse case involving the Church; the first involved a religion teacher at Fordham Prep, who reportedly sexually assaulted him in 1984. The teacher, Fernand Beck, was dismissed in 2016 after the school determined that Meenan's allegation was "credible."  Meenan said Thursday that case is "pretty much handled."
The alleged victim is represented by Mitchell Garabedian, an attorney with experience representing Boston-area victims after the 2002 sexual abuse crisis. Garabedian also represented Meenan when he reported the Fordham Prep abuse in 2016.
Meenan claimed that there are Catholic priests who are "attracted to young boys" and become priests in order to have access to children. He called Jenik "a disturbed person who is a danger to young boys."
He said Cardinal Timothy Dolan did the right thing by swiftly removing Jenik from ministry, while adding that in his view the cardinal has not yet done enough. He called for Dolan to work with the government of New York to pass new laws to hold perpetrators of abuse accountable.
"There are guys in bad shape that need help," he said. "God has given you the dignity that you deserve to live by…what are we doing with the Church's money if we are not going out and rescuing people's lives?"
Jenik, who has served as pastor at Our Lady of Refuge parish since 1985, wrote in an Oct. 29 letter to his parishioners that he continues "to steadfastly deny that I have ever abused anyone at any time."
The bishop asked parishioners to pray for the person who had accused him of abuse, and "for all those who are victim-survivors of abuse."
The case will be reviewed by the Vatican, most likely at the Congregation for the Doctrine of the Faith, sources say, before being passed to Pope Francis for judgment. Canon law establishes that only the pope may judge a penal matter involving a bishop, unless the pope delegates that responsibility elsewhere.
Jenik is the first active bishop to be accused of abusing a minor since more than a dozen states including New York opened investigations this fall concerning sex abuse and cover-ups in the Catholic Church.