NEW YORK — One month after famously stealing indigenous statues and throwing them into Rome's Tiber river, the man who has quickly become one of the global Church's most polarizing figures is now making his way across the U.S. hosted by traditionalist Catholics.
While many may not know Alexander Tschugguel by name, his theft during the Synod of Bishops on the Amazon in Rome of what have become known as the "Pachamama" statues, representations of a naked pregnant woman, still manages to loom large over last month's summit intended to focus the Church's attention on the plight of the poor and indigenous of Amazonia.
The statues — which first made their appearance in a ceremony in the Vatican gardens attended by Pope Francis and were eventually returned during the final day of the Synod after being recovered by the Italian military police — have served as the latest rallying cry of traditionalist Catholics skeptical of the Francis papacy who believe they were demonic or pagan.
Although it was initially unclear who was responsible for vandalizing the Roman Church of Santa Maria in Traspontina, Tschugguel, an Austrian who lives in Vienna, later took credit in a five-minute video published on YouTube, where he labels the statues as "idols" and the move as an effort by lay people to protest violations of the first commandment.
RELATED: Pope apologizes for theft of Pachamama, says she could be back Sunday
In the weeks since, he has launched the St. Boniface Institute with a stated mission to "rally those who do not want to bow down to 'Mother Earth.'" Over the last week, Tschugguel has traveled throughout the U.S., giving speeches in the Washington, D.C. area, New York, and Texas.
His speeches have been organized and sponsored by Tradition, Family, and Property (TFP), LifeSite News, and Taylor Marshall — all traditionalist Catholic groups or individuals who have been sharply critical of the Amazon synod and the Francis papacy.
Tschugguel, Marshall, and TFP did not reply to a request for comment from Crux.
During an address at TFP's Washington Bureau in McLean, Virginia on November 12, Tschugguel chronicled the backstory of what motivated his theft of the statues.
He said that he was in Rome at the beginning of the synod for a conference organized by the TFP and was disturbed by the initial reports of the statues being used in the prayer service in the Vatican gardens. After returning home to Austria, where he said he considered what he could do, he eventually decided that he could either chop down the tree in the Vatican gardens, which was planted during the prayer service, or go after the statues.
According to an hour-long video footage of the talk, Tschugguel said he returned to Rome where he consulted an Austrian priest who told him it was his "duty" to carry out the theft. As he finished recounting the act, the Virginia audience applauded him with shouts of "bravo" and "amen."
Throughout the talk, Tschugguel insisted that his actions were well considered and not out of mere passion.
"We do not want to do things out of pure emotion," he said. "We also have to think of things. Our faith is intelligent and logical."
He also took issue with the idea that some have described the statues as reminiscent of the Virgin Mary.
"Even if it were a depiction of Mary, why is she naked and ugly?" he asked. "Mary is always dressed very well and very beautiful."
Tschugguel said that he waited several weeks to admit to stealing the statues because he wanted the focus to be on why he did what he did rather than on who did it. He is now hoping to use the support he has received from traditionalist Catholics to publish videos and, according to him, expose the political agenda behind the Amazon synod.
In his address, he criticized both the United Nations and the European Union for their focus on climate change, which he labels an agenda pushed by "leftist politicians, communist NGOs, and skillfully radicalized young teenagers from Scandinavia," a reference to 16-year-old climate activist Greta Thunberg.
Tschugguel also praised President Donald Trump's decision to withdraw the U.S. from the Paris Climate Accords as an act of "true statesmanship," and questioned the focus both the Church and international institutions have placed on the Amazon, most notably casting doubt on the fires, which wreaked havoc on the region, this past summer.
During his talk, Tschugguel discussed how he was introduced to TFP as a teenager, soon after his conversion to Catholicism at age 15, and credits the organization for changing his life, most notably the book Revolution and Counterrevolution by TFP founder Plinio Corrêa de Oliveira.
RELATED: Catholic reactionary group raising its profile ahead of Amazon synod
Oliveira was a traditionalist Brazilian Catholic who opposed Vatican II and in his writings expresses his disdain for the faith of indigenous Catholics, whom he saw as incompletely converted pagans. TFP organizations and individuals led much of the resistance to the Amazon synod and were closely aligned with a number of influential traditionalist prelates, including Cardinals Raymond Burke and Walter Brandmüller.
Tschugguel continued his U.S. tour, where at an address in Fort Worth, Texas last weekend, he highlighted his work for the defense of the unborn and the fight against "new ways of partnership."
He again recounted his story of stealing the indigenous statues and warned against syncretism and integral ecology.
During his time in Texas, Tschugguel was hosted by Taylor Marshall, a traditionalist whose recent book Infiltration: The Plot to Destroy the Church from Within was published by Sophia Institute Press, a New Hampshire-based Catholic publisher which has a publishing agreement with EWTN.
The book argues that Freemasons, liberals, and modernists conspired to infiltrate the Catholic Church to change her teachings to conform to their worldview.
Over the weekend, Marshall also posted photos on social media with Tschugguel at the "Texas Gun Experience" in Grapevine, Texas, which according to their website offers machine gun rentals and "the ultimate gun and knife retail experience."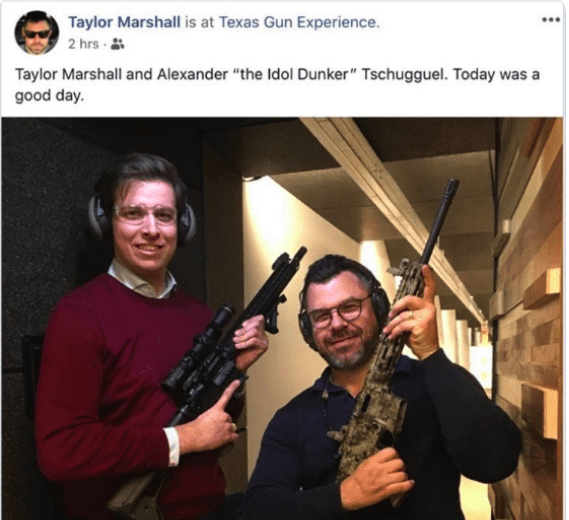 According to Marshall's social media posts, the outing was in an effort to protest "Cardinal [Blase] Cupich and the USCCB on their gun control lobby."

Marshall's Tweet comes just days after a discussion on gun control during the general assembly of the United States Conference of Catholic Bishops (USCCB) during which Cupich called out the gun lobby as being motivated by profit.
On the eve of the synod's conclusion, when he announced that the stolen statues had been recovered from the Tiber, Francis issued an apology for the theft in his capacity as bishop of Rome.
[Editor's note: This story has been amended to correctly reflect the independence of Sophia Institute Press.]
Follow Christopher White on Twitter: @cwwhite212 
---
Crux is dedicated to smart, wired and independent reporting on the Vatican and worldwide Catholic Church. That kind of reporting doesn't come cheap, and we need your support. You can help Crux by giving a small amount monthly, or with a onetime gift. Please remember, Crux is a for-profit organization, so contributions are not tax-deductible.