'Billboards of Mercy' thank pandemic's first responders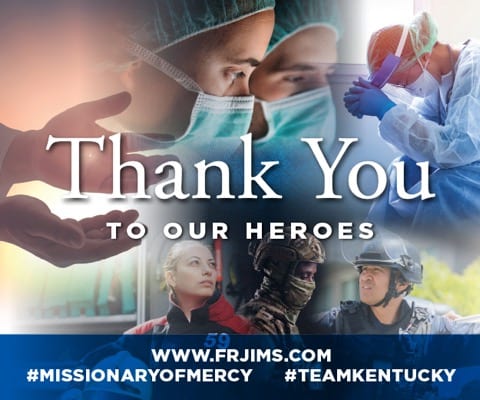 New billboards thanking those on the frontlines of America's coronavirus response for their heroism are popping up around the country thanks to one of Pope Francis's Missionaries of Mercy.
"When I first saw the billboard and felt the impact of the simple words, 'Thank You', honestly it made me tear up," Karen Hillenmeyer, a physician's assistant in Lexington, Kentucky, told Crux. "The images make me so proud to be a part of not only the healthcare family but of all the people who have cooperated and worked together on this common cause."
The billboards echo Pope Francis's words in his recent interview with Austen Ivereigh, during which he referred to doctors, volunteers, religious sisters, priests, and shop workers as heroes and "saints who live next door."
Father Jim Sichko, one of one hundred active Missionaries of Mercy in the United States, came up with the billboard initiative as a way to continue his ministry and honor those who he sees as de facto missionaries of mercy during the pandemic.
Official Missionaries of Mercy like Sichko were called and commissioned by Francis in 2016 during the Extraordinary Jubilee Year of Mercy and charged with sharing Christ's message of mercy around the globe.
RELATED: Missionaries of Mercy ponder future projects after papal mandate extended
"These first responders are doing a lot of what I normally do in my vocation! They're now the ones visiting with the sick, sitting there with people who are dying who have no one else there with them," Sichko told Crux.
Hillenmeyer, a PA-C in the surgical field, described this commitment to mercy as part of healthcare workers' unique calling and "mission to provide compassionate healing and teaching."
"During these challenging times, we are blessed to be able to do the work that is a reflection of our faith," she added.
So far, Sichko has arranged for billboards to go up in Lexington – his home diocese – as well as Texas and Louisiana. His goal is to have them up in every state before too long.
"I'm hoping that when people see the billboards, even if it's simply in the silence of their own hearts, they'll thank God for our first responders, our medical staff, and maybe even jot a note of thanks to those they know or inspire within others an opportunity to do something good for those on the front lines," said Sichko.
"Our healthcare workers need our support," he continued. "I hear so many stories from people who are doctors and nurses who can't be with their families right now because they don't want to infect them, which is just one of the many sacrifices they're making."
Referring to the billboards as a creative, outside-the-box way to evangelize, Sichko noted that the money for the project has come from his personal funds and the generosity of others, rather than from church funds.
He also praised the generosity of partners like Lamar Advertising, a large billboard company that has assisted him with finding spots around the nation at steeply discounted rates, and the Herald Leader, a Lexington newspaper that will be running the billboard image at the bottom of the front page of their Sunday edition.
So why billboards and newspaper ads? "I know this sounds very cliché," replied Sichko, "but I do believe it's the Holy Spirit within me. We've all been trying to find ways we can help and assist. Since I'm temporarily not traveling or speaking, I'm trying to find other ways as a missionary of mercy to find creative ways to evangelize."
Hillenmeyer said she believes that Sichko's efforts have been well-placed, telling Crux, "I think the billboards will bring pride not only to the healthcare family but to our community. This project further inspires and reminds us to give thanks – and how gratifying and how appreciated those words are."