Parents to work with hospital for treatment plan for Alfie Evans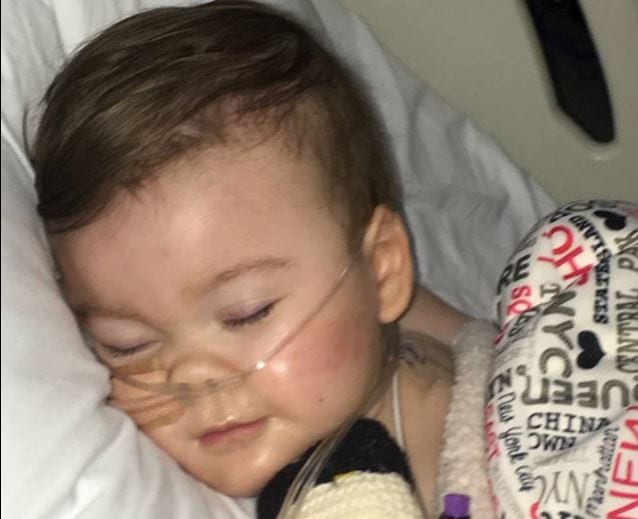 LEICESTER, United Kingdom – Just days after Alfie Evans' life support was removed at a Liverpool hospital, his parents say they want to "build a bridge" with the hospital staff as they treat their son.
Alfie's parents – Thomas Evans, 21, and Kate James, 20 –  have fought an ongoing legal battle to allow them to take Alfie to the Vatican-owned Bambino Gesù children's hospital for treatment.
The 23-month-old boy suffers from an undiagnosed brain disorder and is described as being in a semi-vegetative state.
Liverpool's Alder Hey Hospital has been arguing that keeping Alfie on a ventilator was not in his "best interest" and further treatment would be futile and inhumane.
The parents' efforts to move their child received support from around the world, including from Pope Francis, who tweeted on Monday: "I renew my appeal that the suffering of his parents may be heard and that their desire to seek new forms of treatment may be granted."
Italy gave Alfie Italian citizenship, in an effort to facilitate his transfer, and the government of Poland also voiced its support to the family.
After the Evans family lost their last legal challenge, the hospital removed ventilation, but Alfie has survived longer than had been predicted, and he has been given oxygen, nutrition, and hydration.
During the months-long court battle, which included numerous appeals, the relationship between the family and Alder Hey was strained, especially as hundreds of supporters often surrounded the facility.
Hospital staff said they felt threatened, and the hospital administration complained about the disturbance caused to other patients and family.
Evans also accused the hospital of neglect, and said they are trying to euthanize his son.
On April 25, the hospital issued a statement complaining about "often inappropriate interventions from a range of external bodies and individuals, some of which have caused significant disruption to our children, families and staff."
"As an organization, we have endured attacks upon our motivation, our professionalism and our ethics. It has been a very difficult time," the statement read. "Having to carry on our usual day to day work in a hospital that has required a significant police presence just to keep our patients, staff and visitors safe is completely unacceptable."
As late as Thursday morning, Evans told LBC radio: "They [Alder Hey hospital] hate us. they don't like us. We're not like them."
"It's like we're criminals – I feel like I'm in a maximum security and I'm just getting looked down upon," he added.
But later in the day, Evans and James met with doctors in an effort to mend fences. They later issued a statement, which Evans read to reporters.
Alfie Evans' father has thanked the family's supporters but now asked "Alfie's Army" to leave Alder Hey hospital. Tom Evans says he want to build a new relationship with the hospital. It comes after a meeting with Alder Hey to discuss if Alfie can go home. Here's what Tom said: pic.twitter.com/F6oFlkY5bc

— BBC North West (@BBCNWT) April 26, 2018
He thanked his supporters but asked them to stop demonstrating at the hospital.
"We would now ask you to return to your everyday lives and allow myself, Kate and Alder Hey to form a relationship, build a bridge and walk across it," he said.
"We also wish to thank Alder Hey staff at every level for their dignity and professionalism during what must be an incredibly difficult time for them too. Together we recognize the strains recent events have put upon us all, and we now wish for privacy for everyone concerned," he said.
"In Alfie's interests we will work with his treating team on a plan that provides our boy with the dignity and comfort he needs," he said.
Evans also said the family would no longer issue statements or give interviews to the press.
Catholic Church in England and Wales defend hospital
Alder Hey Hospital is one of the leading children's hospitals in the United Kingdom, and the Alfie Evans case has put it in the eye of the storm.
Especially in Italy, the hospital's refusal to let Alfie come to Rome has been met with incomprehension.
Mariella Enoc, the president of Bambino Gesù, said in an interview "it is a bit difficult for us to understand why they will not allow him to be transported," and even flew to Liverpool to speak to the Alder Hey staff.
Bishop Francesco Cavina of Carpi, in northern Italy – who helped arrange a meeting between Thomas Evans and Pope Francis – said "it is difficult to understand" why the parents cannot transfer their child.
Other Catholic bishops and ethicists also issued statements objecting to the actions of the British hospital.
Yet the Catholic Church in England and Wales was quick to come to the hospital's defense, issuing a statement on April 18 – immediately after Evans' meeting with the pope – stating "the professionalism and care for severely ill children shown at Alder Hey Hospital is to be recognized and affirmed" and calling the public criticism of their work "unfounded."
"We affirm our conviction that all those who are and have been taking the agonizing decisions regarding the care of Alfie Evans act with integrity and for Alfie's good as they see it," the statement read.
One week later, on April 25, Archbishop Malcolm McMahon of Liverpool went to Rome and spoke about the case with the pope.
"I explained to him that the Catholic people of Liverpool are heartbroken for Alfie and his parents and are continuing to offer support and prayers," he told The Tablet.
But the archbishop added: "I am very aware of the compassion which is characteristically shown by the Italian people to those in need, and in this case Alfie. But I know that our medical and legal systems in the UK are also based on compassion and the safeguarding of the rights of the individual child."
McMahon told The Tablet he was grateful for the medical care Alfie is receiving at Alder Hey, as well as the pastoral care from the hospital's chaplains.
"I know that they are doing everything that is humanly possible. And our prayer at this difficult moment is that the Lord will give everyone the spiritual strength to face the immediate future," he said.
Alfie's case is drawing comparisons to that of Charlie Gard, the 11-month-old infant who died from a rare disease after a legal fight last summer.
The pope also expressed his support for Charlie and his family, and the Bambino Gesù hospital offered to treat him in Rome.