J.R.R. Tolkien's priest son a focus of UK abuse inquiry in Birmingham archdiocese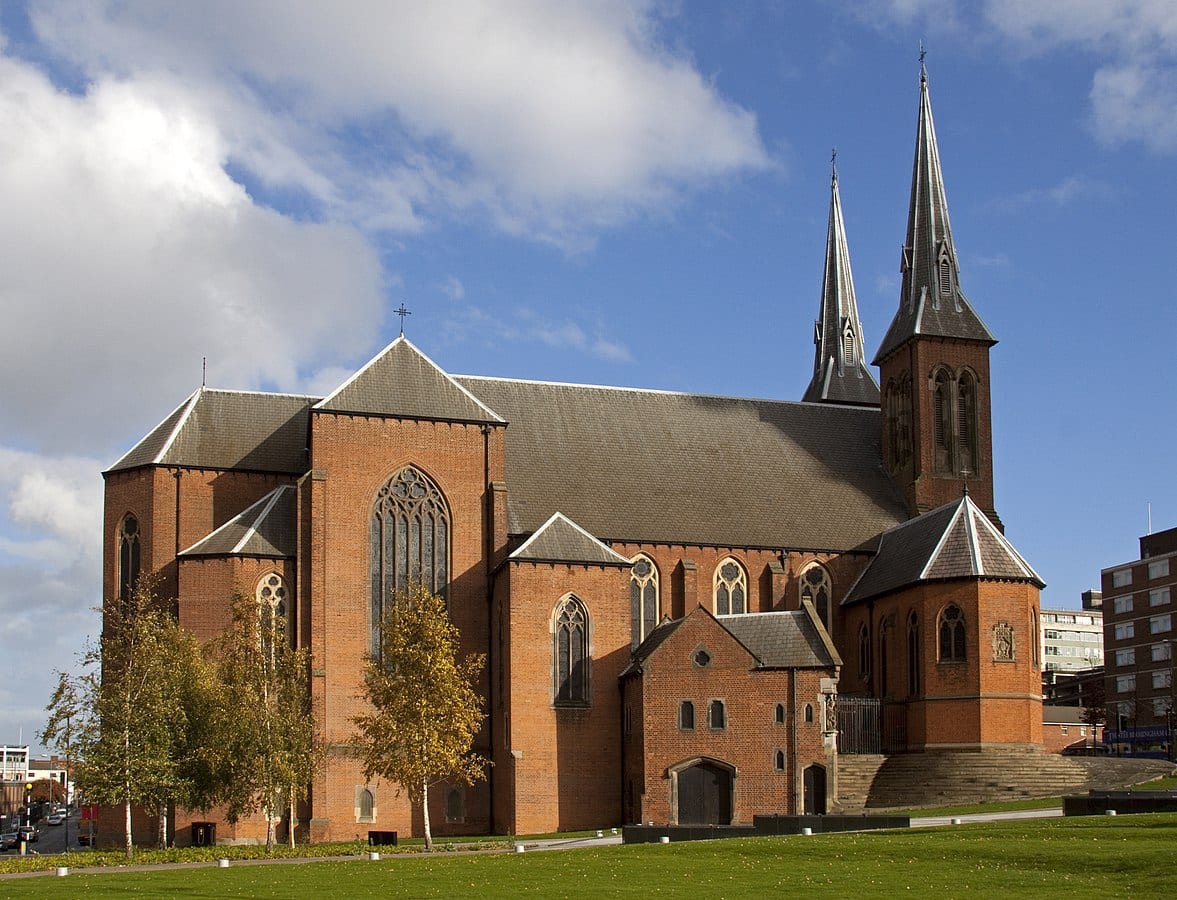 LEICESTER, United Kingdom – Allegations of abuse lodged against Father John Tolkien, son of Lord of the Rings creator J.R.R. Tolkien, were discussed on Monday and Tuesday by a British government inquiry into abuse into the Archdiocese of Birmingham.
The priest, who died in 2003, was accused of making a group of boys strip naked during a camping trip in the 1950s, as well as abusing a child seeking help with his reading skills.
The Independent Inquiry into Child Sexual Abuse is this week examining the Archdiocese of Birmingham's response to historic allegations made against several priests, including Tolkien.
The inquiry was established by the British Home Office – which oversees similar areas as the U.S. Departments of Justice and Homeland Security – but is independent and does not answer to the government.
RELATED: English archbishop says report reveals shortcomings in safeguarding practices
The panel recently released a report on serial abuse in two Catholic prep schools in the north of England.
Birmingham Archbishop Bernard Longley will be testifying before the inquiry this week; Cardinal Vincent Nichols of Westminster, who headed the Birmingham archdiocese from 2000-2009, became ill at a Remembrance Sunday event and will not be able to offer testimony.
During his time as Archbishop of Birmingham, Nichols paid out several settlements for alleged victims of Tolkien, who consistently denied the charges against him.
Archdiocesan records show that a complaint was received against Tolkien in 1968 – although the actual document is missing, other documents reference it and the fact the priest was sent for treatment during this period – and the inquiry was told Nichols had informed his lawyers he didn't want the complainants to be informed of the archdiocese's prior knowledge.
An apology from Nichols was read out at the inquiry on Monday by a lawyer for the archdiocese: "Often in the past we failed to respond promptly and vigorously to the cries and accounts of victims. We followed our instincts in trusting those fellow priests who were in fact criminals. We put too much in our sense of duty to shield other Catholics from these horrors, putting what we saw to be the good of church before a search for the truth of what happened."
However, the cardinal drew criticism from lawyer Richard Scorer, who represents several of Tolkien's alleged victims.
"It wasn't settled because Archbishop Nichols wanted to 'do the right thing' by a victim of abuse. If you study the file, we suggest it is very plain that Mr Carrie's claim, and those of other victims of John Tolkien, were settled for one reason and one reason alone – because in the absence of a settlement, the archdiocese would have been obliged to disclose that they had received a complaint, or possibly complaints in the plural, of sexual indecency by Father Tolkien in 1968," Scorer told the inquiry.
Christopher Carrie said he was abused by Tolkien when he was 11 in the 1950s and informed the archdiocese decades later in the early 1990s, and again in the early 2000s.
On Tuesday, another alleged victim said he had been sent to Tolkien for help with his reading when he was abused.
"He said I'd been chosen – it was between me, him and Jesus," the unidentified man told the inquiry.
"Then he said I needed to take my trousers down and kneel in the prayer position, and keep my eyes closed, and my hands together. Then he took my underwear down."
The victim said he confided in another priest about the abuse, but he refused to help.
"He knew what was going on, but he couldn't do anything about it because the power Tolkien had – financially, and with the Bishop – was too much and he would have been thrown out," he said.
The inquiry heard testimony about former priest James Robinson, who was jailed in 2010.
One unidentified victim said Robinson had "destroyed my life, not once, not twice but repeatedly and it's ongoing."
"I've been fighting for my sanity. I clearly documented extremely dubious behaviour by the Archdiocese of Birmingham and the West Midlands Police and what I want to say is this can't go on," the witness said.
"If you want to know the emotional impact for me that's… little children know… people who they think are angels turn out to be demons. As they're being assaulted in their heart is why? Why are you doing this to me?"
In its opening statement to the inquiry, the Birmingham archdiocese said the "unacceptable and unfathomable reality" is that the "institutions of almost every kind failed children: Those institutions include the Government, the Judiciary, Police, Prosecuting Authorities, Local Authorities, Education and Religious organizations."
The archdiocese pointed to expert statements noting that in those years, "knowledge of pedophilia was in its infancy within the statutory services."
"None of this is said in any way to minimise let alone excuse the conduct of the Catholic Church, as Cardinal Nichols has stated, there are no excuses, but when reviewing the attitudes and actions of the past they must be seen in their proper historical context," the archdiocese said, noting the vast improvement made in safeguarding standards within the Church over the past decade.
"In the course of their evidence, Archbishop Longley and Cardinal Nichols wish to make public the apology each has made in their witness statements for this hearing, an apology before this Inquiry, but much more importantly, an apology directly to the survivors present in this room and to those watching from afar. It is understood that the force of any apology, no matter how well intentioned, can diminish by the frequency with which it is made. It is acknowledged that Catholics and non-Catholics alike may have concluded by now that the time for words has almost passed and that further action is required," the archdiocesan statement continued.
With that in mind, the archdiocese reminded the inquiry that on Sep. 18, the Catholic Bishops of England and Wales announced that a further independent and comprehensive review would be commissioned of the safeguarding structures that currently operate within the Church.