African bishop: We're not here to block reform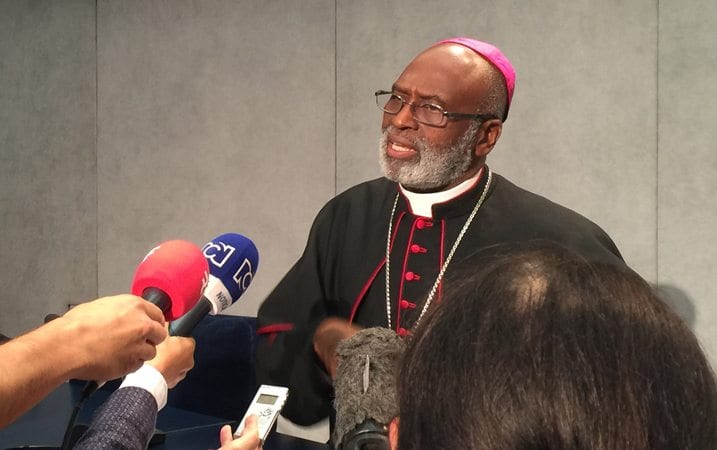 ROME — As delegates continue to find their footing during the early stages of the Synod on the Family, Thursday's press briefing showed that the range of topics under consideration is wide, and that some disagreements about what should, and shouldn't, be discussed are emerging.
Archbishop Charles G. Palmer-Buckle of Accra, Ghana, asserted the strength of African prelates at the synod, noting that the continent is the "fastest growing in the Catholic Church at present," but bristled at the suggestion that he and his African colleagues are in Rome to thwart liberal reforms.
"Africa is here to say what it feels about issues of pastoral practices in the Church. That's what we should make very clear," he said. "We're not here to block anyone; we're here to share."
Palmer-Buckle said that African bishops bring unique topics to the deliberations, such as the role of promoting strong nuclear families without lessening the importance of extended families.
He also rejected the notion that the document guiding the discussion, the Instrumentum Laboris, was "too Western" in scope, a concern voiced by several bishops, including yesterday by Philadelphia Archbishop Charles Chaput.
Critics of the document suggest that it focuses too much on causes important to Church reformers, and that it fails to promote Church orthodoxy.
"I believe that the Church is the same everywhere," Palmer-Buckle said. "If something concerns the Church here in Europe, it concerns us in Africa."
The leader of Syria's Catholic Church agreed.
"The media think that this synod is too Western in its approach. I think that the goal of this synod is more universal in its approach than we may assume, and tends to tackle the issues linked to family, the challenges and the solutions," said Patriarch Ignatius Joseph Yonan.
In recent days, conservative voices in the Church have rallied around a Monday speech given by Hungarian Cardinal Peter Erdo, in which the prelate tried to squash any hope for reform on issues such as Communion for divorced and remarried Catholics, or adopting a more pastoral tone toward gay and lesbian Catholics.
Palmer-Buckle added his voice to the praise.
Saying that he was speaking on behalf all the African bishops present at the synod, he said, "We respect Cardinal Erdo for what he did, for what he has presented to us."
One of the hot button issues being discussed by bishops is how the Church ministers — or doesn't — to gay and lesbian Catholics, a topic one cardinal defended.
Italian Cardinal Edoardo Menichelli of Ancona-Osimo scoffed at the notion that synod delegates should stick only to finding ways to promote orthodox teaching about families.
When asked by a reporter why bishops were discussing issues related to gays and lesbians, he said, "This is part and parcel of the family reality for many reasons."
For his part, Palmer-Buckle slammed Western nations for trying to impose same-sex marriage and other LGBT rights on African nations in exchange for international aid, a situation he called "very sad" and a theme Pope Francis has also condemned.
But he also came out strongly in support of defending the human rights of gay and lesbian people in Africa.
He pointed to the pope's now famous reply of "Who am I to judge?" when asked about gay priests, and said the statement had "huge repercussions in our country."
"We agree with the Holy Father that people who are different from us are sons and daughters of God and that we have to welcome them and open the doors of the Church to them," he said, "and we have in Ghana for sure."
He said discussing homosexuality in Africa is difficult because it remains a cultural taboo.
"The rights of all daughters and sons of God are to be upheld at all time. We are trying," he said. "Perfection is not something we have attained, but we are working toward it."
Yonan, the Syrian leader, tried to broaden the discussion about threats to families, telling reporters that many Christians in his region of the world are desperate "to get out of this hell," referring to persecution at the hands of terrorists, particularly by the Islamic State.
He said one of the challenges Christian leaders in the Middle East face, particularly in Iraq and Syria, is convincing young people to remain in their homelands despite the pressure from terrorism and war.
Both Palmer-Buckle and Menichelli said that issues of migration also arose in their working groups as well.
Delegates wrap up the first part of the synod Friday, when reports from the 13 small groups will be released to the public.