Pope Francis arrives in Africa with a message of peace and environmentalism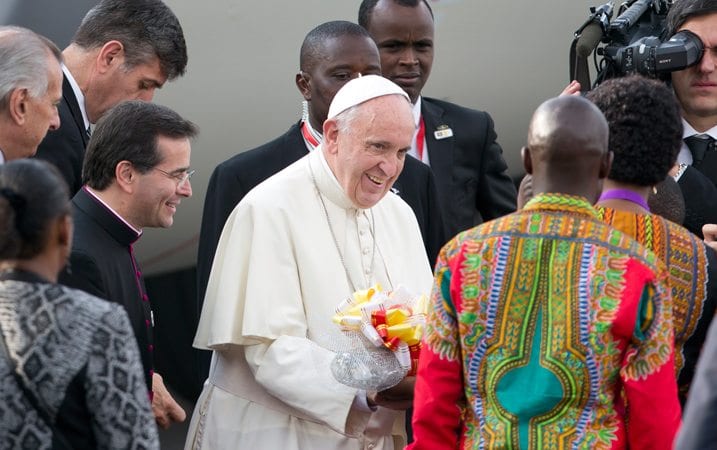 NAIROBI – Pope Francis kicked off his first-ever visit to Africa Wednesday, calling on civil authorities to resist corruption and to protect natural resources, while pressing for greater economic equality in order to stem the recent outburst of terrorist attacks.
"Experience shows that violence, conflict, and terrorism feed on fear, mistrust, and the despair born of poverty and frustration," Francis said in the wake of attacks that, in addition to the one in Paris, have plagued the Middle East and Africa.
But he punctuated his speech to civil authorities with optimism, calling Kenya "a young and vibrant nation, a richly diverse society which plays a significant role in the region."
Prior to the political upheaval and ethnic violence that plagued the nation in 2007 and early 2008, Kenya was widely considered one of Africa's most compelling success stories. Strategically located in eastern Africa, it experienced an economic boom due to an increase in agricultural production and tourism.
While those advantages are still in place, memories of political and ethnic clashes seven years ago that left hundreds of Kenyans dead and hundreds of thousands internally displaced remain near the surface.
"Like Kenya, [many other African nations] are working to build on the solid foundations of mutual respect, dialogue and cooperation, [for] a multiethnic society which is truly harmonious, just and inclusive," Francis said in Nairobi's State House.
Currently, Kenya is led by a fragile coalition between President Uhuru Kenyatta and Deputy President William Ruto, who belong to rival ethnic groups. Both have faced charges at the International Criminal Court for inciting a civil war in 2007, with the case against Kenyatta dismissed while Ruto's is ongoing.
At the grassroots, many Kenyans say, people from different ethnic factions get along well, often sharing family events and festivities. During election cycles, however, the country's politicians often build campaigns on tribal differences and foment clashes.
Welcoming Francis, Kenyatta said, "We've been divided by our ethnic composition."
Yet, he said, even "at the heart of conflict there is a desire for human dignity."
A self-described Catholic, Kenyatta praised the Church for its role in national life. Francis highlighted one of the issues that has come to define his pontificate, the environment.
He lauded Kenya's natural beauty, including it mountains, rivers, lakes, savannahs and semi-deserts, and underlined the abundance of its natural resources. He called for "an ever greater sensibility to the relationship between human beings and nature," to counteract the "grave environmental crisis" the world is facing.
"We have a responsibility to pass on the gifts we have received," the pontiff said.
Francis is the first pope to dedicate an entire encyclical letter, Laudato Si', to the environment. He's scheduled to address Nairobi's headquarters of the United Nations on Friday, where he's widely expected echo his September pitch he made to the UN General Assembly in New York to protect creation.
He said Wednesday "there is a clear link between the protection of nature and the building of a just and equitable social order."
His comments in Kenya are especially relevant as they come only days before leaders from around the world are scheduled participate in a Paris summit on climate change.
Since Kenya's economy is partially rooted in rain-fed agriculture, changes in the rainy season have had a major impact in recent years. According to the United Nations Framework Convention on Climate Change, rainy seasons across East Africa are beginning later and ending sooner, and the intensity is increasing, resulting in flash floods.
In northeastern Kenya, local experts say people and animals are dying, either as a result of drought during the dry season or floods during the wet season.
Francis also had words of praise for local youth, which represent close to 60 percent of the total Kenya population, describing them as the "most valuable resource" of the country.
"To protect them, to invest in them and to offer them a helping hand, is the best way we can ensure a future worthy of the wisdom and spiritual values dear to their elders, values which are in the heart and soul of a people," Francis said.
Tens of thousands of people gathered in the street to offer an enthusiastic welcome to the pope, some of whom said they look forward to hearing Francis' messages about peace and the growing Church in Africa.
Charles Besingye, a professor at the Catholic University of Eastern Africa, said he found the pope's call for Kenyans to uphold their values to be especially significant. He believes excessive western influence is causing Africans to let go some of its deepest convictions.
"The value of solidarity is disappearing," he told Crux. "What is taking its place is individualism, which is affecting everybody: the youth is running away from their families and communities and closing in on themselves."
Basingye also found Francis' appeal to build a multiethnic society to be inspiring.
"In my opinion, the pope is calling us to leave alone the politics of ethnicity to build a government that is not for opportunities or for just one election, but one that's Kenyan, governing all," he said.
Bishop Anthony Muheria of the Diocese of Kitiu agreed.
"We hope his message of peace will come to heal our deep wounds after the tribal violence of 2008, several terrorist attacks in which we lost many lives, and our own social ills," he said. "His person and style make it very easy to appreciate the open Gospel of Christ [to which] he witnesses."
Towards the end of his opening address, Francis told political, cultural, and economic leaders that they have a special responsibility, "a true calling," in service to the Kenyan people.
"The Gospel tells us that from those to whom much has been given, much will be demanded," the pope said.
These words take on special significance in a country that, like so many in Africa, has witnessed chronic corruption. On the eve of Francis' arrival, Kenyatta was compelled to sack several members of his cabinet accused of corruption.
On Monday, Kenyatta said that corruption is a "standing threat to our national security," among other reasons because "the bribe accepted by an official can lead to successful terrorist attacks that kill Kenyans."
He reiterated these ideas Wednesday as he welcomed the pope.
Kenya is the first stop of Pope Francis Nov. 25-30 trip to Africa that will also take him to Uganda and the Central African Republic.