Bishop to donate kidney to poor, lower-caste Hindu in India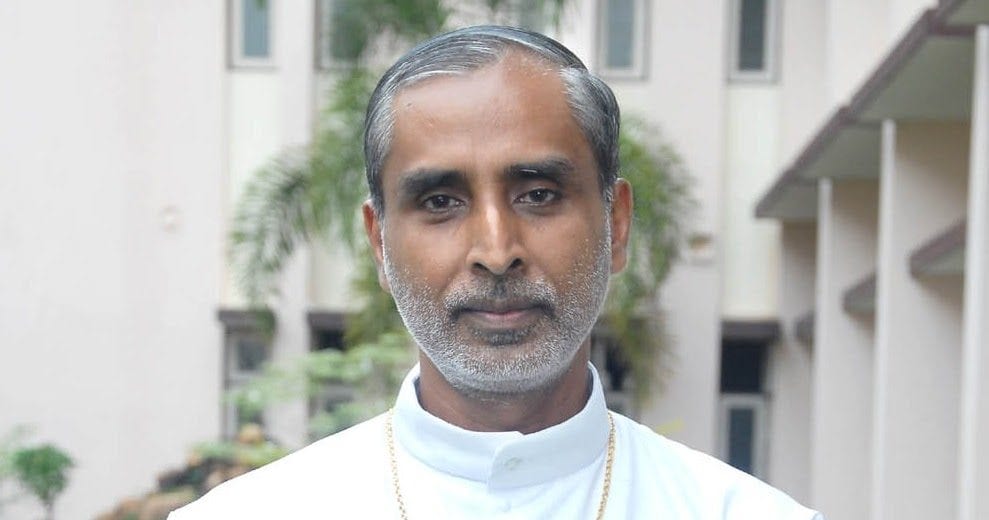 MUMBAI — Pope Francis has declared this a Holy Year of Mercy, but most likely even a pope known for his flair for dramatic gestures could not have foreseen the extent to which one of his bishops would take the message to heart – or, actually, to his kidney, as it turns out.
Catholic news from India often pivots these days on anti-Christian bias, even outright persecution from the majority Hindu population.  The way one Catholic bishop has chosen to put mercy into practice, however, is a reminder that inter-religious tension and conflict is hardly the only narrative.
Bishop Mar Jacob Muricken is an auxiliary in the Palai diocese, part of India's Syro-Malabar Eastern church, located in the southern state of Kerala where the country's small but influential Catholic population is concentrated.
Recently, Muricken, who'll turn 53 in mid-June, received the necessary clearances from a governmental medical college in Kottayam to take one of his healthy kidneys and have it transplanted into the sick body of E. Sooraj, a thirty-year-old poor and lower-caste Hindu man from Kottakal, on June 1, 2016.
Sooraj was diagnosed two years ago with kidney failure, and has been on dialysis ever since.  He's the sole breadwinner of his family and is struggling to take care of his mother and wife.
His father died from snake bite four years ago, and his younger brother died of a heart attack.  He was forced to sell off his house and property to meet the expenses of the surgery.
Sooraj approached the Kidney Federation of India, a social service organization that helps people find donors for kidney transplants, and they had good news.
Father Davis Chiramel, chairman of the Kidney Federation of India was invited by the Palai Diocese last year to preach at a charismatic convention, where Muricken was present.  Chiramel told the story of his own donation of a kidney to C. G. Gopinathan, a Hindu and a stranger, in 2009.
Muricken later phoned Chiramel expressing his desire to be a donor. He registered his name volunteering to be part of a transplant with the Kidney Federation of India.
The bishop said he was saddened to learn of Sooraj's condition, but excited about his opportunity to make a life-saving donation.
"I was inspired by a talk of Father Chiramel.  I had decided that, like Chiramel, I will also donate my kidney," said Muricken.
"I came to know about this youth from Father Chiramel, and decided to extend a helping hand, especially in this 'Year of Mercy,'" he added.
In an interview with Crux, Chiramel said, "it's the first time that a bishop is donating his kidney to a Hindu man."
"[It's significant that he is doing it] in the Holy Year of Mercy, following the call by Pope Francis to love each other without the barrier of caste or creed," Chiramel said.
"This is perhaps the first time in history that a serving bishop is donating one of his kidneys to save a life," he said.
Chiramel was clearly elated with the bishop's decision and unprecedented gift, saying, "30-year-old Sooraj is getting life from this Catholic bishop, who's forming the bridge of love and God's grace."
Muricken told Crux that while he did not actually need permission to make an organ donation from his ecclesiastical superiors, he's informed the other bishops and "received a lot of encouragement from them."
"Pope Francis has repeatedly appealed to make Our Lord Jesus more visible through works of mercy," he said.
Muricken said the fact the recipient is from another religion was never a concern, and only pressed by Crux would he confirm that the man also belongs to the "backward community," a phrase referring to members of disadvantaged lower classes under India's ancient caste system.
"Pope Francis backs such acts of organ donation," Muricken said. "It's in the spirit of the Church. I believe this should be a strong message for people around me, to be open to donate organs," and concluded by asking for prayers.
The authorization committee for unrelated donors, made up of medical experts and government officials, approved Muricken as a donor at a meeting held at Kottayam medical college in late May.
The bishop had earlier undergone medical examinations for the donation at the hospital.