Bishops in India take dramatic stand for Christian 'untouchables'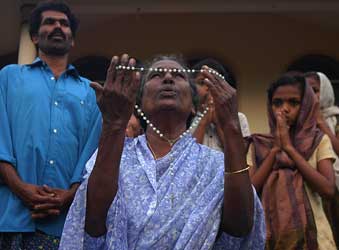 Although Pope Francis repeatedly has expressed his preference that Catholic clergy stay out of politics, at least in the sense of explicit partisan alliances, the bishops of Tamil Nadu state in southern India have apparently decided that extreme times call for extreme measures.
Throwing any pretense of neutrality to the wind, the Tamil Nadu bishops' conference issued a statement May 3 explicitly endorsing the rival party, known as the DMK-Congress alliance, in Monday's legislative elections.
Just to make sure no one missed the message, the bishops had their statement read aloud at all parishes in the state ahead of the May 16 vote. They say they're acting primarily on behalf of India's most vulnerable people, including Christian "untouchables" under the old caste system, and in favor of ethnic and religious tolerance.
Tamil Nadu is current governed by a party known as AIADMK, which, under its charismatic female leader known as Jayalalithaa, has been in and out of power since 1991.
Father Augustin Prabhu, secretary of the Tamil Nadu bishops' conference, explained that the conference president, Madurai Archbishop Anthony Pappusamy, signed the statement, which was written in Tamil and then translated into English.
Prabhu said the unusual decision to make an explicitly partisan endorsement was based on "the need of the hour to safeguard secular and democratic values."
Specifically, the bishops said they were endorsing the opposition party in the state as a way of expressing several demands:
Including Dalit Christians ("untouchables") among India's "scheduled castes," meaning groups that benefit from various government-sponsored affirmative action programs. At present, Christian members of the Dalits are excluded from those benefits.
Including converts to Christianity in government social programs for their respective castes.
Better government pay for teachers working in institutions that serve minority communities.
Better security for minorities from harassment by "communalistic forces," generally a euphemism for radical Hindu nationalists.
A ban on liquor and the opening of rehabilitation centers.
Xavier Arulraj, a legal expert who earned his doctorate on the Indian Constitution, said that the bishops are reacting to a real problem, which is that Dalit Christians suffer "gross discrimination" in the country.
"It's urgent and pressing that this demand of the Tamil Nadu Christian community be made public during these assembly elections," he told Crux.
Although Christians are generally a tiny minority in India, overall representing just 2.3 percent of the population, Arulraj said there are pockets within Tamil Nadu in which movement of Christian votes from one party to the other "could definitely make a difference."
He emphasized that in his view, the bishops are endorsing the opposition not because they're convinced it's "clean," but because it represents a "lesser evil."
Jayalalithaa, the incumbent chief minister and AIADMK chief, has reacted to this sort of criticism aggressively, sending a letter to party workers recently insisting that she has successfully implemented a host of schemes, both short-term and long-term, to benefit families in Tamil Nadu, including "freebies" such as 44 pounds of rice for ration card holders, mixers, grinders, milk cows, and goats.
She's also promised that women will get a 50 percent government subsidy for buying scooters or mopeds. She's also offered a waiver on farm loans, a considerable number of units of power free of cost, and also increasing the amount of gold sold at a discount to help impoverished families cover the expenses of weddings and other family milestones.