ROME— For a long time, deacons have complained of being the "forgotten clergy" of the Catholic Church, usually overshadowed by bishops and priests, despite the fact that there are now around 45,000 permanent Catholic deacons worldwide.
While that neglect may be true most of the time, May 2016 is a brief, shining moment in the sun for the diaconate – a month that began with a papal bombshell signaling openness to the idea of women deacons, and that ends this weekend with a jubilee celebration of deacons in Rome.
Thousands of deacons from around the globe have traveled to Italy to participate in a three-day encounter, which includes formation sessions, prayer, and a closing Mass with Pope Francis on Sunday.
Ahead of the event, Crux spoke about all things diaconal with Deacon Willian T. Ditewig, former Executive Director of the Secretariat for the Diaconate at the United States Bishops' Conference, and currently executive professor of theology at Santa Clara University, as well as director of faith formation, the diaconate, and pastoral planning for the Diocese of Monterey in California.
Although he didn't travel to Rome this time around, Ditewig, who's married and has four children and 12 grandchildren, led a delegation of American deacons for their jubilee back in 2000 under St. Pope John Paul II.
What follows are extracts of Crux's conversation with Ditewig.
Crux: What was your reaction when you found out that a jubilee of deacons was going to be one of the few "major" events of the Holy Year of Mercy?
Ditewig: It's always exciting as deacons when we get some sort of nod from the pope. What I felt was that this was more of a challenge than a recognition. It's a call for us deacons to think how well are we exercising a ministry of mercy in what we do. I think that the speakers this weekend, and the Holy Father, will do a lot of highlighting of our expected leadership in the role of mercy.
What's the "role of mercy" for deacons?
I think there's always the need for us to be as concrete as possible. The role of the deacon is to offer people concrete consequences to our faith. What we do at Mass, the liturgical and sacramental end of things is important, vital, but how can we specifically extend mercy, much like the good Samaritan the pope talks often when he talks about mercy?
Concretely, how do we bind peoples' wounds? How do we take care of them? How do we do the follow up?
For many of us in ministry, we can give people some food to eat, but where are we a month later? Do we do follow up with people? I know that in my experience of 26 years as a deacon, that's one of my biggest failings. It's one thing to provide the assistance, but it's another to stay in touch.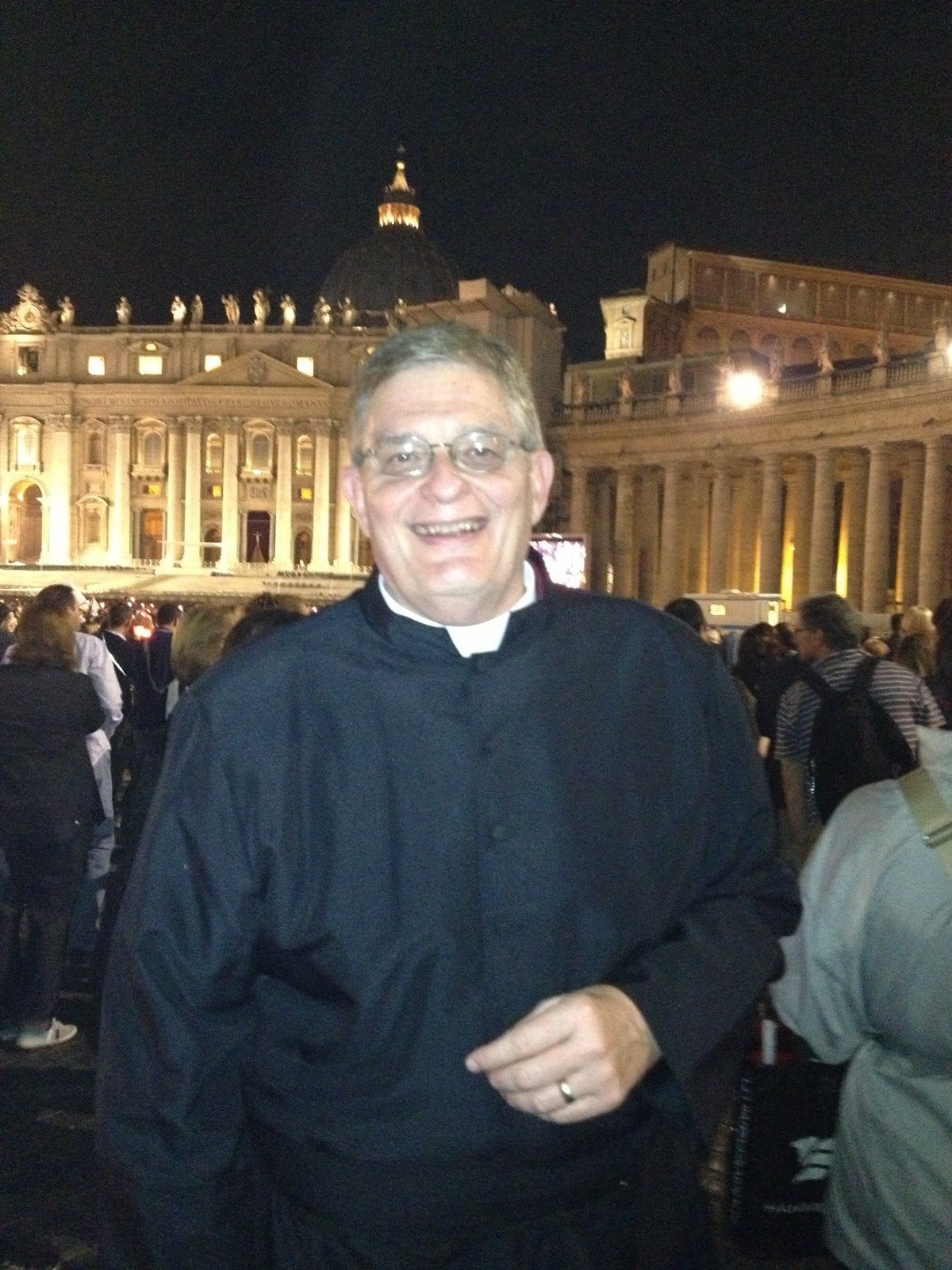 That seems to be a failing for the Church at large…
I think so. But that's also part of the role of the deacon, to remind the Church of her own identity.
A lot of what I've written in the past is that the only reason we make sense as deacons is within the broader context of a servant church. I refer to deacons as servant leaders in a servant Church. We have ministerial priests who remind us that we're all priests by baptism. We need deacons to remind us that we're all deacons by baptism as well. It's something we're all called to do, whether we're ordained or not.
Although the tradition of deacons is almost as old as the Church, the role wasn't formally instituted until the 1960s, as a result of the Second Vatican Council. For this reason, a lot of people still don't know what this vocation is about. What would you say is the top priority for permanent deacons today?
I think it goes back to that notion of concreteness. For a millennial or more, the model of ordained ministry has been the priesthood. I think that is fine, that's wonderful, and I would never want to say something that would minimize the role of the priest. But at the same time, we've only had the last 50 years really to talk about how deacons are distinct.
I think that we're just now getting into the public imagination. We have a lot of work to do in the sense that in the public imagination, we're not at a stage where people say, "When I group up, I want to be a deacon!"
One of the big challenges for us is to allow ourselves to be brought up into that full picture of church life. I think the way we do that is through concrete active service.
In the U.S., for many years the ratio has been the U.S. having 50 percent of the world's deacons. That ratio is changing, not because we have fewer, but because it's growing in other countries.
A lot of people still come to us as deacons and say, "When will you be ordained?" – meaning, to the priesthood. We still haven't been assimilated into the life of the Church. People still think of deacons as part of the priesthood.
How would you explain what a deacon is?
Deacons are supposed to be the sign of Christ the servant, while priests are the sign of Christ the priest. But together, working in complementarity, that's where you get that fuller image of Christ. We're supposed to be the servant side, not the high priestly one.
[As a result of a priest shortage], sometimes deacons get brought into service or get asked to do a service that really, maybe, we shouldn't: we're not priests, and we're not substitutes of priests. There are a lot of things that because we're ordained we can do, and we want to do them, because you wouldn't be a deacon if you didn't want to help.
There's a growing understanding [of deacons], much like there's a growing understanding of the role of the laity since Vatican II. Before then, people didn't think of laity as ministers, but since Vatican II we have, and there's been a growing appreciation and sophistication of the laity, and the same [is true] for the deaconate.
Would you say there's a difference in the way the last three popes have spoken about the permanent deaconate?
Certainly. John Paul II had a lot of things to say about the diaconate. Part of that, I believe, has to do with the fact that Germany has a very strong influence on diaconate, and I think that, with Cardinal [Joseph] Ratzinger advising John Paul II, [his thinking] reflected a lot of that. I think that despite his own experience from Poland [where the first deacons were ordained in the 2000s], he had wonderful things to say.
Then with Pope Benedict, as you might expect, there was more of an academic, but solid approach. In his encyclical, Deus Caritas Est, where he cites the selection of the seven, in the book of Acts as a defining moment not only for deacons but the life of the Church, it's where the notion of diaconia becomes an intrinsic part of who we are: we cannot call ourselves Church if we're not a servant Church. I think this was his attitude.
And Francis?
He very seldom talks about deacons, and a lot of my brother deacons say, "We wish he would talk more about us."
Yes, it would be nice, but at the same time, [we should] watch him. I can't think of a better role model. The example I always give is Holy Thursday, when he washes the feet. He takes his stole that he wears as a priest and rearranges it to wear as a deacon. Clearly, he sees the washing of the feet as a deacon task – service.
Recently Pope Francis told an international assembly of nuns that he would be willing to create a commission to study the idea of women deacons. What do you make of that?
What I've been advising people is, "Take a deep breath," because you have to put things into perspective. When I read the full text of his comments to the sisters, I was struck by his great humility on saying, "I've thought about this question, but I haven't kept up with it, I don't know what the current scholarship is, I'm going to have to go check."
When he does, he's going to realize that there's significant scholarship that's been done on it by the International Theological Commission (ITC), that works for his own Congregation for the Doctrine of the Faith.
I think that he has a couple of choices: one is, he could set up a commission to do this, or he could simply go to Cardinal [Gerhard] Muller [head of the congregation] and say, "Give the ITC a renewed agenda, let them look into this again, but give me something concrete that I can go forward with, yay or nay."
Because frankly, this will be at least the third commission looking at this question.
Setting up a commission doesn't mean that anything is going to change …
That's right. Be careful what you ask for, because it could very well be that after the research is done, the answer is going to be no. I think we need to be prepared for that.
The critical thing to understand here about what's come out from the Holy See in the last 20 or 30 years, is that there are two ways of participating in the sacrament of Holy Orders: The sacerdotal side, which is priests and bishops, and the diaconal side. This is what the Holy See has said, and Pope Benedict actually changed canon law to reflect what's in the Catechism on this.
What you say about priests, you don't necessarily say about deacons. At what point [does] the distinctness of the two permit something that is not allowed somewhere else?
For example, most of us who've written about this have pointed out that we're not talking about the ordination of women into the priesthood. That is a separate, distinct question. We're focusing on the ordination of female deacons. And you can't blend the two. It's one sacrament of Holy Orders, and yet there's distinctiveness.
Being a deacon does not mean I have a vocation to priesthood, and being a priest doesn't mean that person has a vocation to be a bishop.
Some people seem to believe that if the Church ordains female deacons, in five years some will ask for female priestly ordination. Is this a slippery slope?
I always find it interesting when people make that argument, because it's such a negative assessment. After 50 years of male deacons, there hasn't been a run in chancery offices saying, "Now make me a priest!"
It's a very distinct vocation, and this is something we're very diligent about when we form deacons. We say, "If you're here because your vocation is the priesthood, but because you're married you can't do that, get out now."
The experience of the last five decades demonstrates that no, it's not a slippery slope. Let's say the law changes, and a woman can apply to be a deacon. The first thing we're going to ask is: "Do you have a vocation to priesthood or to diaconate?"
If you have a vocation to priesthood, we can't help you.
My focus has been on the diaconate itself, when some colleagues have focused on a female diaconate. I've always felt that before we move to that question, we first need to have a solid understanding of what we mean by a deacon of any kind. We've got to be clear about that, then we can start talking about who's eligible.
Some would argue, why can't the Church walk and chew gum at the same time?
We have to make it one step at a time. The key thing here is, "Does this person have a vocation, man or woman?"
When a married man enters the diaconate, his wife is supposed to be with him during the formation process. Aren't they ready to be ordained too?
Completing the course to become a deacon doesn't earn anybody the right to ordination. What's going on, and what might change is "Have we allowed that person to discern a vocation?"
This isn't getting a degree, it's a formation process. Until now, we haven't been allowed to have women go through this process.