Pope Francis tells Europe, 'I Have a Dream'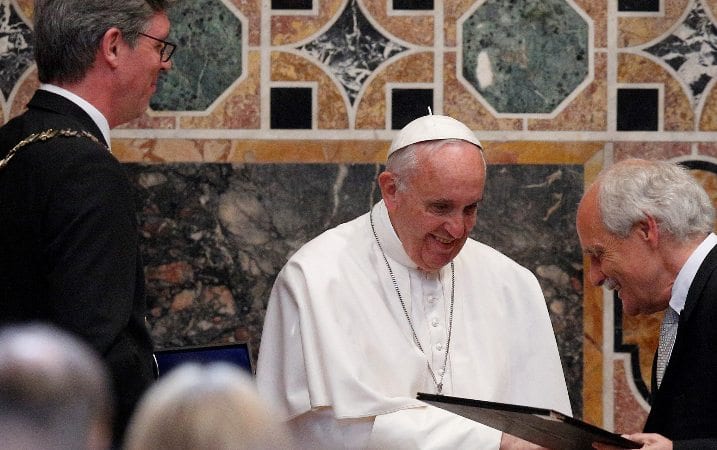 ROME—On August 28, 1963, Martin Luther King Jr. delivered a speech that became a defining moment in the American Civil Rights movement, laying out his dream for a racially reconciled nation.
On Friday, Pope Francis delivered his own "I have a dream" address, in this case dedicated to Europe, calling the continent to undergo a "memory transfusion" to avoid the mistakes of the past and to pursue a future based on economic justice, openness to newcomers, respect for life in all its stages, and dialogue with everyone.
"I dream of a Europe that is young, still capable of being a mother: a mother who has life because she respects life and offers hope for life," Francis said on Friday, as he was accepting the prestigious Charlemagne Prize, given yearly to personalities or institutions for their efforts towards European unity.
An Argentine born from Italian parents, the pope said that "with hope and without vain nostalgia, like a son who rediscovers in Mother Europe his roots of life and faith," he dreams of a new "European humanism," involving "a constant work of humanization" and calls for "memory, courage, [and] a sound and humane utopian vision."
His dream for Europe, the pontiff said, is of a continent that cares for children, one that helps the poor and newcomers "seeking acceptance because they have lost everything and need shelter."
On a continent where euthanasia or assisted suicide are legal in several countries, including Germany, Netherlands, Belgium, Luxembourg and Switzerland, Francis also said that he dreams of a Europe that cares for the infirm and the elderly, instead of setting them aside "as useless."
As the European leaders scramble to find a solution to what has widely been acknowledged as the worst migrant crisis since World War II, Francis says he dreams of a continent where being a migrant is "not a crime, but a summons to greater commitment on behalf of the dignity of every human being."
Pope Francis had already identified the European refugee crisis as his top social and political concern in 2016, and recently he brought 12 Syrian refugees back with him to Rome aboard the papal plane after a day trip to to the Greek island of Lesbos as a way of encouraging Europe to be generous towards new arrivals.
His dream for Europe also includes fostering a love for honesty, beauty and simple life among the young, instead of the "insatiable needs of consumerism."  It means a continent where getting married and having children "is a responsibility and a great joy, not a problem due to the lack of stable employment,".
"I dream of a Europe of families, with truly effective policies concentrated on faces rather than numbers, on birth rates more than rates of consumption," he said. "I dream of a Europe that promotes and protects the rights of everyone, without neglecting its duties towards all."
Francis ended his address saying that he dreams "of a Europe of which it will not be said that its commitment to human rights was its last utopia."
His remarks came Friday morning, as he was accepting the prestigious Charlemagne prize.
The award, he said, was not for him, but for Europe: "For ours is not so much a celebration as a moment to express our shared hope for a new and courageous step forward for this beloved continent."
The ceremony took place in the Sala Regia, in the Vatican's Apostolic Palace.
When the prize was announced, both the Vatican and the committee that presents it had said that Francis wouldn't travel to the city of Aachen to receive it. It's the first time the ceremony has been held somewhere else.
The only other pope to receive a similar honor from this committee was John Paul II, who in 2004 received an "extraordinary" Charlemagne prize.
Before speaking of what he hopes Europe could become, Francis pondered what has happened to a continent that was once a "champion of human rights, democracy and freedom."
"What has happened to you, Europe, the home of poets, philosophers, artists, musicians, and men and women of letters?" he asked. "What has happened to you, Europe, the mother of peoples and nations, the mother of great men and women who upheld, and even sacrificed their lives for, the dignity of their brothers and sisters?"
Preceding Francis' acceptance speech, European Parliament President Martin Schulz, European Commission President Jean-Claude Juncker, and European Council President Donald Tusk all gave their own remarks.
"Our European unity is founded on a simple insight: whenever we Europeans have been divided, the consequences for everyone have been disastrous," Schulz said, speaking in Spanish.
However, he added, "the forces unleashed by the crises we're facing are driving us apart, not bringing us closer together: national self-interest, renationalization and particularism are gaining ground."
Schultz, like Francis, was critical of nations that today are building fences to keep those fleeing ISIS in the Middle East away from their territories.  Most were behind the Iron Curtain 25 years ago, yet "[they] have clearly learned nothing from history."
Echoing the pope, he said the continent is going through a "crisis of solidarity" proclaiming this as "the time to fight for Europe."
Also present in the ceremony were German Chancellor Angela Merkel, Italian Prime Minister Mateo Renzi and the king of Spain, Felipe VI.
Francis is on record saying that he's never wanted to receive "honorary doctorates or awards" and saying that he finds it "offensive" to portray a pope as "Superman, a star."
Yet he decided to accept the Charlemagne award, and it was clear on Friday why: He had something to say to the continent, which he once warned risked "losing its soul" and becoming "elderly and haggard."
A warning which he reiterated on Friday, quoting from his remarks to the European Parliament in 2014, when he used the image of Europe as a "grandmother."
"[In that address] I noted that there is a growing impression that Europe is weary, aging, no longer fertile and vital, that the great ideals that inspired Europe seem to have lost their appeal," he said.
According to Schulz, who spoke to Vatican Radio, the pope received the Charlemagne prize because among those "critics" of Europe, Francis stands out for the fact that "he not only gives criticism, but he also reminds us that we could do better if we remembered our traditional forms of cooperation and especially our values."
And criticize and praise he did.
"This 'family of peoples'" that Europe has been since the end of World War II, Francis said, lately feels less at home "within the walls of the common home."
He criticized the "selfish interests" that put up fences "here and there," in a clear reference to countries such as Austria, Hungary, Croatia, Macedonia or Slovenia.
"I am convinced that resignation and weariness do not belong to the soul of Europe," the pope said, "and that even 'our problems can become powerful forces for unity.'"
Francis also listed three "capacities" with which Europe would be able to create a "new European humanism," that would lead to his dreamed version of his ancestors home: The capacity to integrate, the capacity for dialogue and the capacity to generate.
An integrated version of the European people, he said, would rediscover its soul, "born of the encounter of civilizations and peoples."
Without this capacity for integration, Francis warned that the words spoken by Adenauer would prove prophetic: "The future of the West is not threatened as much by political tensions as by the danger of conformism, uniformity of thoughts and feelings: in a word, by the whole system of life, by flight from responsibility, with concern only for oneself."
The second capacity Europe should have, according to Francis, is that of dialogue, saying that peace would only be lasting in the measure "that we arm our children with the weapons of dialogue, that we teach them to fight the good fight of encounter and negotiation."
"In this way, we will bequeath to them a culture capable of devising strategies of life, not death, and of inclusion, not exclusion," he said.
Lastly, the capacity to generate, with dialogue as a reminder that "no one can remain a mere onlooker or bystander" in building an integrated and reconciled society.
He called for the continent to find ways to offer employment to the youth, saying that they can't be called "protagonists" with high rates of youth unemployment, which in Greece reaches 48.9 percent. A continent that doesn't offer a future to its youth, Francis warned, can't avoid losing them in fear for their dreams.
"The just distribution of the fruits of the earth and human labor is not mere philanthropy. It is a moral obligation," he warned. "If we want to rethink our society, we need to create dignified and well-paying jobs, especially for our young people."
Lastly, in Francis' envisioned rebirth of "weary" Europe, the Catholic Church must "play her part."
"Her task is one with her mission: the proclamation of the Gospel," because only a Church rich in witness "will be able to bring back the pure water of the Gospel to the roots of Europe."
This witness, he said, must also include efforts towards full Christian unity.