World Refugee Day a reminder to turn away from indifference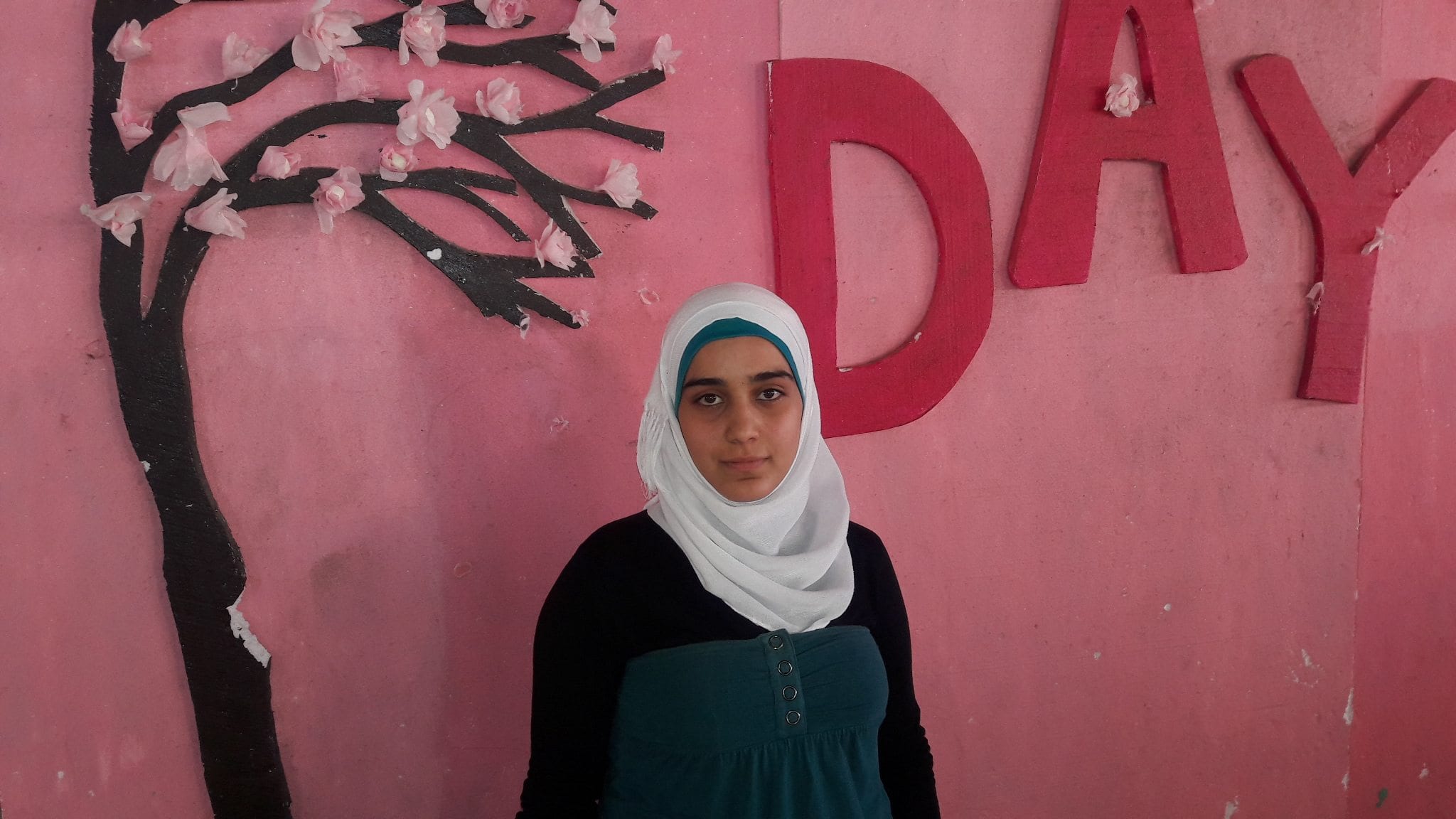 Zakiya Taleb, a seventeen-year old, is much like any other teenager in the world, with one major difference: She's a refugee from Syria, forced to flee from the ravages of war, with the rest of her family there more than five years ago, when the civil war first began.
Together with her parents and siblings, they're gradually trying to re-build their broken lives. A great support in this journey has been the Jesuit Refugee Service (JRS), which runs an education programme for more than four hundred refugee children in Jbeil, the same area where Zakiya and her family live.
The programme that Zakiya attends is a special remedial one, where focus is given to languages and computer skills. For Zakiya, learning and mastering English is a priority; with just a few months in the learning, she does not hesitate to write spontaneously in 'her' English her experience of participating in the JRS programme: "We are happy now" in the JRS school, she says, "the teachers treat us very good and they take care of us".
Zakiya, however, feels sad when she thinks of the way her beloved Syria is being destroyed.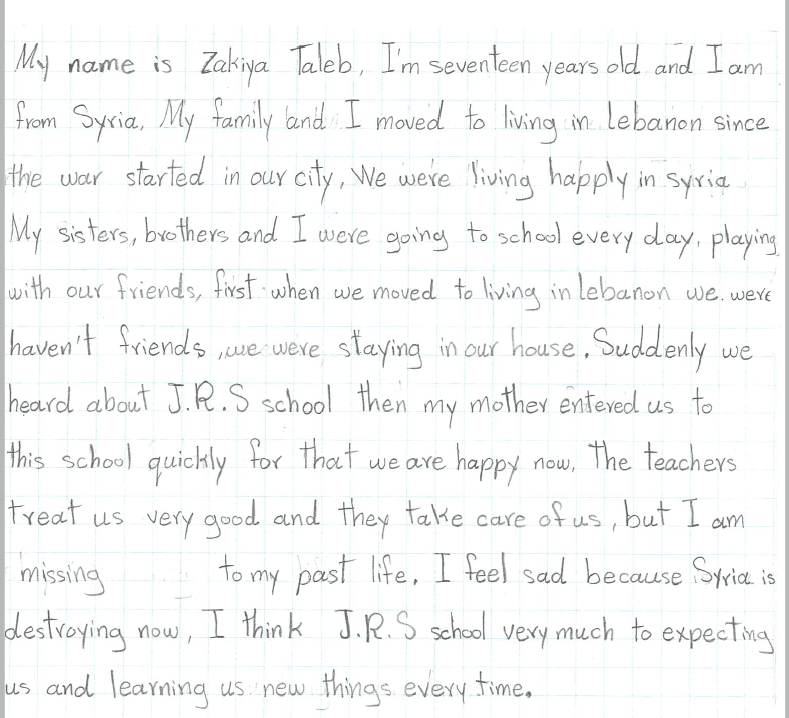 Syria is indeed destroyed! It's the sixth year of a bloody civil war, and, according to the UK-based Syrian Observatory for Human Rights, "this war has left more than 270,000 people dead; of these 80,000 are civilians including 13,500 children."
Unofficially the death toll is far higher, with an unknown number killed in detention at the hands of the government, rebels or militants. An estimated one million people have also been wounded. An unbelievable number suffer from trauma and other mental health illnesses, which any conflict of such an intense nature generates.
Above all, this civil war has spawned the greatest mass migration after World War II.
A United Nations report in January said that out of a pre-conflict population of 23 million, 13.5 million Syrians have been forced out of their homes and an additional 480,000 are living under siege.
Some 4.8 million Syrians have fled to neighbouring countries of Turkey, Lebanon and Jordan and significant numbers to Egypt and Iraq. Though the vast majority have remained in the region, hundreds of thousands have tried to make the perilous journey to Europe, though not all reach the European shores alive.
Most refugees and Internally Displaced Persons (IDPs) face acute problems, which include living in abominable conditions in makeshift housing, poverty, lack of employment and very little access to quality healthcare and education.
In addition, several local communities show reluctance to accept easily the refugees and IDPs and instead impose severe restrictions on their integration.
For Zakiya, the Jesuit Refugee Service is her life-line. The JRS is one of several Catholic organizations which has been deeply engaged in responding to the cries and sufferings of the refugees and forcibly displaced persons in the Middle East. Others include the Catholic Relief Services, CORDAID, and the CARITAS family.
Pope Francis has been inspirational in setting the tone and direction for a Christian response to the refugee crisis.
In July 2013, when he visited the Italian island of Lampedusa, he spoke out against 'the globalization of indifference.' He has kept the plight of the refugees and those who are forcibly displaced at the heart of his papacy.
On June 15th at his weekly general audience, he did not mince words saying, "This indifference and hostility can turn into aggression toward people often marginalized. How many times, when we see so many people on the street — people in need, the sick, those with nothing to eat — we feel bothered. How many times, when we find before us so many refugees and displaced people, we feel bothered. It is a temptation; we all have this, everyone, including myself."
He continued, "indifference to the needy makes us deaf and at times violent." Pope Francis has spared no effort to remind the world that the refugees are our sisters and brothers and they, too, are entitled to be treated as human beings.
On June 20, the United Nations observes World Refugee Day 'to honor the courage, strength and determination of women, men and children who are forced to flee their homeland under threat of persecution, conflict and violence.'
The UN High Commissioner for Refugees has launched the #WithRefugees petition to send a message to governments that they must work together and do their fair share, and in particular to ensure that:
Every refugee child gets an education.
Every refugee family has somewhere safe to live.
Every refugee can work or learn new skills to make a positive contribution to their community.
The unfortunate fact is that few of those in power are actually listening.
Cardinal Luis Antonio Tagle of Manila, the President of Caritas Internationalis, said it very strongly on a visit to a refugee camp in Lebanon in February 2016: "Refugees are not just numbers; they are human beings. They are children who want to go to school. They are mothers who wonder if the sons and daughters that they left behind in Syria are still alive."
 Zakiya Taleb is just one of the many refugees whose cries have been heard by a Catholic Humanitarian agency. There are many more Zakiya's, desperate for a new tomorrow.
June 20th is a reminder to turn away from our 'indifference and hostility" to refugees!
Father Cedric Prakash SJ is a human rights activist currently based in Lebanon and engaged with the Jesuit Refugee Service (JRS) in the Middle East on advocacy and communications.