2016 delivered a mixed bag for Jesus on the big screen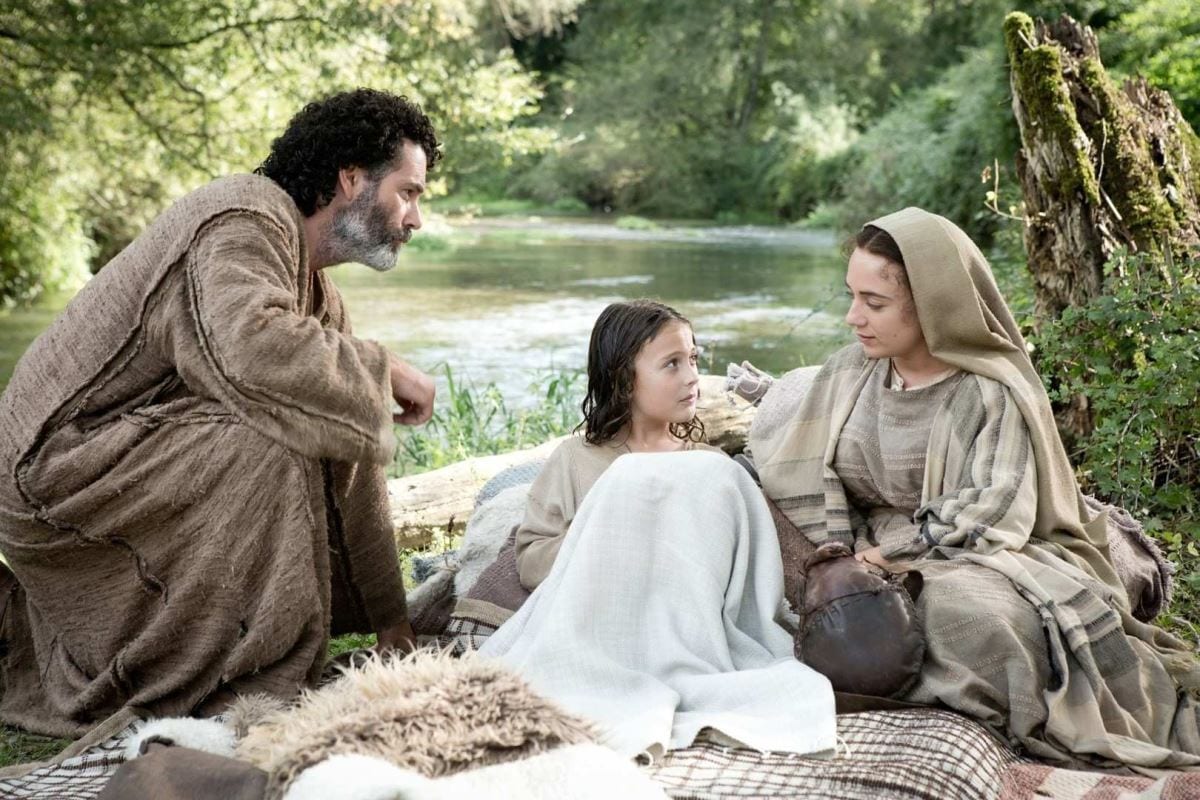 Each January, looking back at the movies of the year that was, I take stock, among other things, of how filmmakers variously interacted with or ignored religious themes, particularly things Christian and Catholic.
Some years it's pretty dry. (Take 2010, a year that had "Secretariat," the Coen brothers' "True Grit," the third Narnia film, "The Secret of Kells," a troubling indie called "Lourdes," and not much else.)
The last few years have been more interesting. 2014 gave us a pair of provocative Old Testament films ("Noah" and "Exodus: Gods and Kings"), the pious Jesus movie "Son of God," and some good roles for movie priests (notably "Calvary" and "Deliver Us From Evil").
2015 included the sublime "Brooklyn," the difficult but essential "Spotlight," and the Will Smith biopic "Concussion," among others.
Still, I can't think of another year quite like 2016.
To begin with, Jesus himself was on the big screen in an extraordinary number of screen incarnations.
It began in February with the Coen brothers' "Hail, Caesar!", a semi-musical comedy about 1950s Hollywood that lends its name to a film-within-a-film, a biblical epic in the tradition of "The Robe" or "Ben-Hur." (The imaginary film is called "Hail, Caesar! A Tale of the Christ," the subtitle borrowed from "Ben-Hur.")
In keeping with that tradition, Christ himself (or the actor playing Christ, or the actor playing the actor playing Christ) is only briefly seen in the imaginary film, and his face is never shown.
Instead, the imaginary film focuses on the impact of Christ's life and crucifixion on a Roman soldier played by George Clooney's character, highlighted by a scene that has some real power despite being comically undercut by the actor's lack of spiritual understanding.
More Christologically noteworthy is a theological round table of clerical consultants — a Catholic priest, a Protestant minister, an Orthodox bishop (actually a patriarch) and a rabbi — debate Jesus' divine and human natures and the significance of portraying him onscreen. Josh Brolin plays the devoutly Catholic protagonist, a studio "fixer" who earnestly facilitates the discussion.
Strikingly, "Hail, Caesar!" was followed by a pair of Jesus films that each relied on a Roman soldier character in just the same way as the Coens' film-within-a-film (and its 1950s inspirations) — a genre that critic Stephen Whitty dubbed "Good Pagan movies."
Both focused on a period of Jesus' non-public life, one before and one after his public ministry. Sean Bean played a centurion hunting for a possible survivor of Herod's slaughter of the innocents in "The Young Messiah," directed by Cyrus Nowrasteh ("The Stoning of Soraya M") and based on the Anne Rice novel "Christ the Lord: Out of Egypt."
"Risen" starred Joseph Fiennes as a tribune searching for the body of Jesus (or Yeshua, the Hebrew form of the name used here) after the resurrection.
The 1950s-style Jesus movies culminated in Paramount's remake of "Ben-Hur," directed by Timur Bekmambetov — not a "Good Pagan movie," of course, because Judah Ben-Hur is Jewish, but still a film that uses the conversion of a non-Christian character to tell the story of Jesus.
More daringly, Rodrigo García's art-house film "Last Days in the Desert," starred Ewan McGregor as both Jesus (again called Yeshua) and Satan (or "the Demon") in an dramatically defamiliarized gloss on Jesus' trials in the wilderness.
Even further off the beaten path, a faith-based 2016 indie, Jesse Low's microbudgeted "40 Nights," took a more scripturally inspired approach to the same event in Jesus' life, fleshing out the traditional temptations with flashbacks and flash-forwards as well as invented drama and dialogue (including a significant role for Gabriel, who confronts Satan and ministers to Jesus).
Another faith-based production, Daniel Goldstein's "Easter Mysteries," depicted Jesus' passion and resurrection as a stage musical filmed written and scored by Tony Award-winning Broadway producer John O'Boyle and filmed before a live audience.
Not to be confused with the similarly multiracial 2016 small-screen musical "The Passion" narrated by Tyler Perry, "Easter Mysteries" was staged in minimalist style, with no scenery or props and a simple geometrical set.
(Full disclosure: I co-moderated a panel discussion of diverse religious commentators — not entirely unlike the round table in "Hail, Caesar!", with two Catholic clerics, including a bishop, two Protestant leaders, a rabbi and a Muslim chaplain — that played with the film.)
Which, if any, of these films are actually worth seeing?
Critics weren't bowled over by any of them. The best reviewed of the lot was "Hail, Caesar!", the least acclaimed Coen film since 2008's "Burn After Reading." Audiences were more negative and box office was disappointing. At any rate, I thoroughly enjoyed it; I might almost be the ideal audience for this film, though it doesn't seem to play as well for everyone as it does for me.
That goes double for "The Young Messiah," a film few critics found as compelling and creative as I did.
Recent Bible films are generally one of two types. Some, like "Son of God" and "The Nativity Story," tell familiar stories in mostly familiar ways, with little to challenge or surprise viewers, and appeal to an audience composed mostly of the faithful.
Others, like "Noah" and "Exodus: Gods and Kings," are so startling and confounding that many of the faithful find them off-putting, but their artistic ambition may engage others, even nonbelievers.
These categories aren't homogenous, of course. "Son of God" was more popular with Catholics than the Protestant-toned "Nativity Story," and Darren Aronofsky's deeply Jewish "Noah" was better received by critics than Ridley Scott's ambitious but muddled, semi-demythologized "Exodus."
What we have yet to see in our day is a Bible film capable of bridging this divide: one that is both orthodox enough for the faithful and also original and inspired enough to engage a wider audience.
"Last Days in the Desert" doesn't even try to bridge the gap; it's a quintessential "Noah"/"Exodus" sort of movie, with a Yeshua who faces none of the canonical temptations, seems to know less about God and creation than the Demon does, and exhibits almost no sign of his divine nature or mission beyond an awareness of his identity as God's unique Son.
As a believer who found "Noah" brilliant and fascinating, I appreciated some aspects of "Last Days,"  but thought it not quite successful. Yeshua's ascetical journey and contention with the Demon is more interesting than the domestic drama of a family of desert dwellers García adds to the story, and the film lacks a redemptive or cathartic climax.
The first act of "Risen," with Fiennes' hard-nosed centurion cross-examining disciples and his own men, has "bridge" movie potential. Once the risen Yeshua shows up, though, it bogs down into a rather dull midrash of familiar stories seen through the eyes of a fictional participant.
Yeshua seems no more impressive or enlightened than Yoda or Aragorn (and this Yeshua is supposed to be glorified, not undergoing trials in the desert). Nor did the filmmakers have any clear ideas what to do with Fiennes' character, who isn't sufficiently developed as a character to have a clear redemptive arc.
After watching "The Young Messiah" twice, I had high hopes it might be the "bridge" movie I hope to see. A well-done reworking of canonical and apocryphal material, it's full of insights and inspired surprises, yet also offers a thoughtfully imagined divine-yet-human 8-year-old Jesus, not yet fully understanding humanly who he is and why he is so special.
Of the year's three films (along with "Last Days" and "40 Nights") pitting Jesus against Satan, only "The Young Messiah" makes Jesus more compelling than the Devil. I also appreciate that this Satan knows Jesus is something special but (like 8-year-old Jesus) isn't yet quite sure why.
To my chagrin, the film's reception was nearly the opposite of what I hoped for. Critics generally found it a dull, unremarkable film of the pious sort, while many conservative Catholics rejected it as dangerously heterodox for its portrait of Jesus' limited human knowledge (more on this controversy).
Despite this, I remain convinced that "The Young Messiah" is a better and more interesting film than it's been given credit for, though perhaps its appeal is more limited than I had hoped.
The faith-based indies "40 Nights" and "Easter Mysteries" are both honorable efforts with strengths and weaknesses. Of the two, I think "Easter Mysteries" depicts Christ more persuasively, through the eyes of his befuddled, conflicted disciples, particularly Peter. "40 Nights" makes Jesus himself the protagonist, a more difficult move.
"Ben-Hur," alas, was deservedly one of the year's biggest bombs. The involvement of "Son of God" producers Mark Burnett and Roma Downey didn't convince the faithful to show up.
The confused take on the story makes the antagonist Messala a more complex and interesting figure than Judah Ben-Hur, whose sentencing to galley slavery is both a noble sacrifice on Judah's part and also a matter regarding which Messala had no choice, so the revenge theme makes little sense.
Jesus' role has been beefed up to the point where he feels like an intrusive busybody. And the twist on the redemptive ending is so artificially imposed it's laughable.
In addition to all these, 2016 almost featured another notable big-screen appearance of Jesus, played by Israeli actor Aviv Alush — but "The Shack" was postponed until March 2017.
Finally, there's one more major 2016 film in which Jesus might be said to have a speaking role of sorts: Martin Scorsese's "Silence." I'll have more to say about that in a follow-up column on the rest of the year's religious films.
Editor's Note: This column has been updated to include the link to the follow-up column.