'Slum bishop' of Buenos Aires says pandemic exposes pre-existing injustice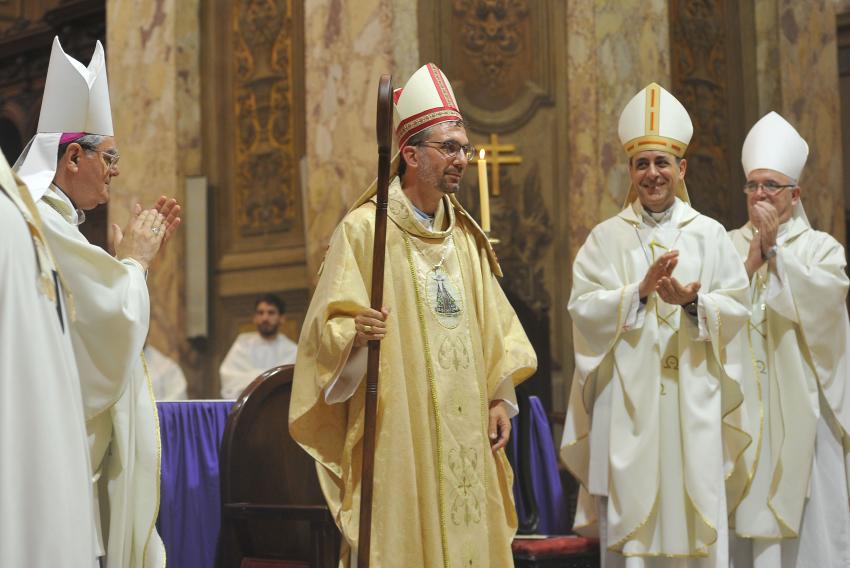 ROSARIO, Argentina –COVID-19 is growing in Argentina, particularly in the shantytowns of the greater Buenos Aires area.
The government made efforts to protect the country's estimated 8,000 slums and illegal settlements from the coronavirus, but it has been difficult in areas where hundreds of thousands live without access to proper healthcare and in many cases, even running water.
Around a third of the 8,783 confirmed cases of the coronavirus have been found in the country's slums. So far, 393 people have died.
Bishop Gustavo Carrara, an auxiliary of Buenos Aires known as the "slum bishop" because he lives in the deprived areas of the city, said that "the most painful face of this pandemic are the concrete deaths."
"For this reason, we have to adjust the situation in the popular neighborhoods both in the city and in the greater Buenos Aires region, to go out and look for possible suspicious cases to prevent contagions, to be there early and, in the end, save lives," Carrara told Crux in an WhatsApp audio interview on Tuesday.
"The virus has strongly affected some of the neighborhoods in Buenos Aires, and this is reason for concern," he added. "A stronger presence of the State, both in the city and in the province, at a national and a local level, is necessary."
Carrara also advocated for a stronger collaboration between the neighborhood parishes, social organizations, and government officials: "We need a united and coordinated action to mitigate the impact of the virus in the slums."
In the last week, four people died in Villa 31 – which is located in the heart of Buenos Aires and has a population of around 70,000 – including two social leaders, one of whom coordinated a health program in the neighborhood and one who ran a local soup kitchen;  and in the Villa del Bajo Flores, where Carrara ministers, eight people have died.
Outside of the capital, some regions of Argentina have started lifting lockdown restrictions, but Carrara has called for prudence, since the virus spreads very quickly putting the elderly and other vulnerable people at risk.
"I believe that as a country, we've put our focus on caring for the most vulnerable ones, and we have to continue doing so," the bishop said.
Carrara was close to then-Cardinal Jorge Mario Bergoglio – today Pope Francis – who appointed him as auxiliary bishop in 2017.
Asked if he'd been in touch with the pontiff recently, he avoided a direct response, instead saying that when the pope speaks, he does so "for everyone, and I think that what he's been saying about coronavirus can be applied in a very concrete way to our context."
"This pandemic has made everything we were lacking visible, particularly in the poorest sectors," he said. "I believe that once this is over, we cannot continue organizing the city, the country, the world, as we have been doing thus far, leaving the most vulnerable behind."
"Taking into consideration the many lives lost to this virus [323,000 globally], but also the many men and women who gave their lives saving others, being in the frontline at hospitals but also as volunteers running soup kitchens or distributing food, we cannot allow ourselves to let the world go on as it has been," Carrara said.
Archbishop Jorge Lozano of San Juan, the head of the Argentine bishops social ministry office, touched on this issue in his weekly Sunday column, saying there are many other pandemics that need to be addressed in society, and that they already have a "vaccine": "Justice and equity."
"This implies strongly saying no to weapons, no to obscene and spendthrift luxury, no to waste that throws 30 percent of the world's food production away," he said.
Quoting Pope Francis, Lozano noted that in the world, there are 4.3 million infected with coronavirus, and 300,000 dead. "This is an alarming figure that can grow to unpredictable numbers."
"But in the first four months of this year, 3.7 million people died of hunger," he said, still quoting Francis. "There's a pandemic of hunger. In four months, almost four million people starved to dead."
The archbishop said there are also other pandemics affecting the world.
"The pandemic of war is a scandal that calls to heaven. Large amounts of money are spent in the most sophisticated weapons to kill and destroy. Entire peoples with their citizens living in misery and abandonment, while their totalitarian governments use their economic resources to buy weapons. 'Civilized' nations that develop factories to manufacture weapons that sustain armed conflicts that spill blood and injustice casually far away from their own borders."
Lozano said the world is "not condemned to live in a universal inequality."
Follow Inés San Martín on Twitter: @inesanma