Is the Girl Scouts crackdown a joke?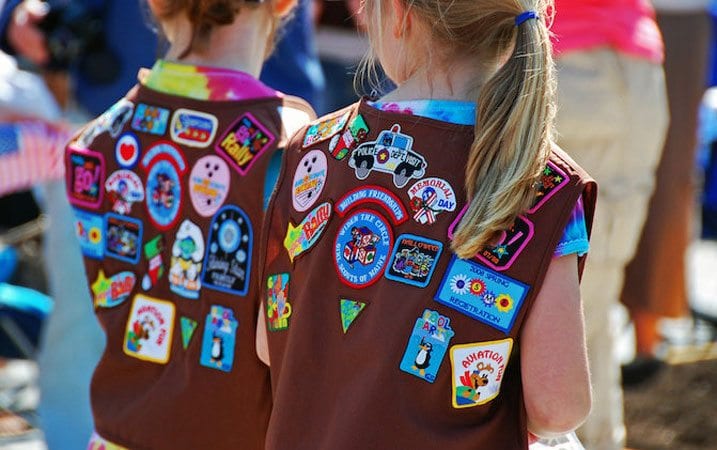 In a move which left some wondering: Is this a joke or for real? — the archbishop of St. Louis has announced a crackdown on an organization he views as a menace to Catholics: the Girl Scouts.
The Girl Scouts organization is exhibiting "a troubling pattern of behavior," Robert Carlson said in a letter to his parishes, one that is "becoming increasingly incompatible with our Catholic values," the St. Louis-Post Dispatch reported.
In an informational Q&A, the archdiocese website got right to the heart of the matter: "Can (Catholics) still buy Girl Scout cookies?" it asks. Then it answers: "Each person must act in accord with their conscience."
In other words, St. Louis Catholics may need to confess the sin of purchasing, then eating, any delectable Girl Scout Thin Mints.
Issues such as reproductive rights and abortion separate the Church from the Scouts and its related organizations, Carlson insists, though a Scout leader told the Post-Dispatch that Girls Scouts USA does not take a position on reproductive rights. Another leader said neither adult matter is discussed with young girls at troop meetings.
Carlson also objected to the Scouts presenting as role models the history-changing feminists Gloria Steinem and Betty Friedan. Plus, in May, the Scouts announced they would welcome transgendered girls, a problem for the archbishop as well.
Carlson now wants parishes to seek alternatives to the Scouts and has already organized a group to foster the formation of girls outside of scouting. He is not yet insisting that parishes where Girl Scouts now meet ban them from the premises, but is asking each pastor to review Church concerns with troop leaders.
The CEO of Girl Scouts of Eastern Missouri told the Post-Dispatch she was disappointed by the letter, noting that the organization has enjoyed a solid relationship with the St. Louis Archdiocese for nearly 100 years.
Most of the commenters on the Post-Dispatch website defended the Scouts and criticized the Church. The paper published a letter to the editor on the matter from Mary McKeehan of Edwardsville, who said she was a Girl Scout leader for eight years, meeting with her troop at Sacred Heart School in Florissant.
"In 2002, my daughter's 6th grade year, we were able to participate in several fun and educational activities sponsored by the Girl Scouts. That was also the year our parish pastor was taken away in the middle of night by the FBI for having pornographic images on his computer in the parish rectory," she wrote.
And yet the finger of "the patriarchal hierarchy is now wagging in the direction of — the Girl Scouts? Really?"