Pakistani Catholics condemn bombing of mosque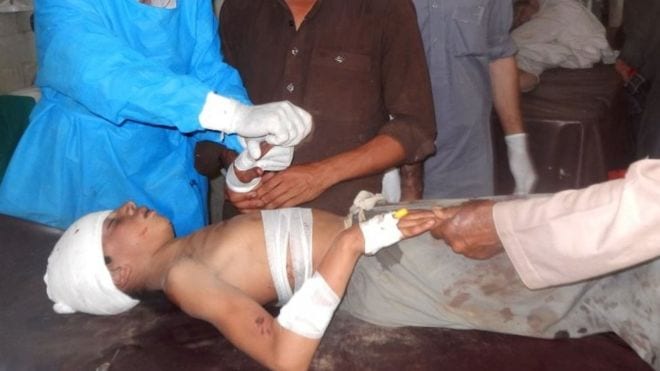 MUMBAI, India — A suicide blast Friday ripped through a crowded mosque in northwestern Pakistan, killing at least 25 people.  Reports suggest that more than 40 people were also wounded in the attack, many of them children.
The bombing targeted worshippers during Friday prayers in a remote village in the Mohmand Agency, north of Peshawar.
Reports say a faction of the Pakistani Taliban, Jamaat-ul-Ahrar, carried out the attack, which apparently targeted elders from a government-sponsored anti-Taliban militia taking part in an offensive against radical Islamic forces in the region.
About 200 people had congregated for Friday prayers in the village mosque in Ambar region when the explosion occurred, the BBC's Ilyas Khan reported.
A senior tribal administration official told AFP news agency: "The Friday prayer was in progress at the mosque when a suicide bomber blew himself up in the main room." Some reports said the attacker had shouted "Allahu Akbar" ("God is great").
Cecil S. Chaudhry, executive director of the National Commission for Justice and Peace, an organization of the Pakistani Catholic Bishops' Conference told Crux it was "an extremely tragic and horrific attack."
"Targeting innocent worshippers is a cowardly act, and the poor residents had to pay the price for the military operation that's ongoing," Chaudhry said.
"It clearly showed that this attack was in retaliation to the military offensive," he said. "We strongly condemn this attack and pray for the precious lives lost."
"A military offensive alone is not enough," Chaudhry said. "All the security and law enforcement agencies along with the locals need to be involved to increase vigilance … so that such attacks can be avoided in the future."
The bishops' official was pessimistic about the short-term future.
"I don't know when this menace of terrorism will ever end," he said. "Each time the forces claim they're gaining ground, the other side carries out such acts to respond."
Dominican Father James Channan, who runs a Peace Center in Lahore, told Crux, "It is really very shocking that Pakistan is faced with suicide bombings and terrorist attacks done by the extremists and radicals groups."
"The radicals have adopted this type of strategy, in which they prepare young people who are brainwashed to kill themselves and others," he said. "Our country is faced with such worst kind of terrorism in which more than 70,000 people, including around 7,000 army personnel, have lost their precious lives."
"Such incidents leave us under great shock and disbelief," Channan said.
"The government of Pakistan and our armed forces under the able leadership of General Raheel Sharif have started military operations against such radical elements," he said. "The military operation has had great success, but still the radicals keep on doing such attacks. It looks like an uphill battle, since radicals have strong footing in all provinces, particularly in the northern areas."
"It is very alarming and horrible that terrorist choose soft corners, especially places of worship such as mosques and churches and also places of reactions such as public parks and shopping malls," Channan said.
"Terrorists have increased their activities during this week, and a couple of places were targeted as Muslims had gone to the mosques to offer prayers for the grand feast of Eid Ul Azha," he said.
Jammatul Aharar, an offshoot of the banned Tehreek-e-Taliban Pakistan, has claimed responsibility for the bombing, claiming their target were the pro-government tribal members who were members of a peace committee.
"I offer condolences for the grieving families, and pray that God may save us from such attacks," Channan said.