Relics of St. Thomas More invite pols to examination of conscience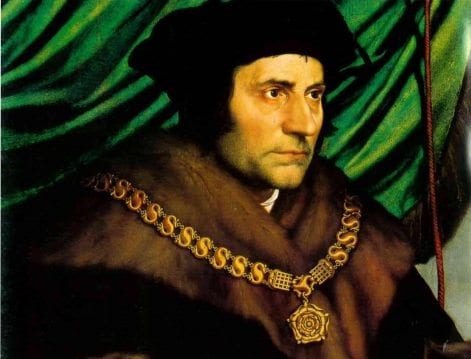 WASHINGTON, D.C. — Lord David Alton of Liverpool witnessed the enduring appeal of St. Thomas More when a future saint visited England some years ago. During that visit, Mother Teresa asked him to show her the spot where More's trial took place.
Alton, a Catholic who serves in Parliament as a member of the House of Lords, said he walks near that spot in Westminster Hall every day, and when he took Mother Teresa there, "she fell to her knees and kissed the ground."
Speaking at the Sept. 16 opening of an exhibit on the life and legacy of St. Thomas More at the Saint John Paul II National Shrine in Washington, Alton said More's story of staying true to one's faith and conscience is one "we need in our own time."
"The objects tell their own story, and they also inspire us in this generation," he said, after noting contemporary assaults on freedom of religion and the persecution being faced by Christians around the world today.
Alton said More's example offers a reminder that "a faith worth dying for is a faith worth living for."
The exhibit's title, "God's Servant First," refers to More's reported last words, "I die the king's good servant, but God's first," before he was beheaded in 1535 following his refusal to take an oath recognizing that King Henry VIII had supremacy over the Church of England. More had served as England's Lord Chancellor, the second in command to the king, from 1529-32.
More resigned from that post after refusing to support Henry VIII's attempts to annul his marriage to Katherine of Aragon, whom the monarch divorced and exiled before marrying Anne Boleyn.
Sponsored by the Knights of Columbus and the Christian Heritage Centre of Stonyhurst, England, the exhibit includes more than 60 artifacts, most from the Stoneyhurst College Collections, which has one of the world's most extensive collections of items related to the history of Catholicism in English-speaking countries.
Government and Catholic leaders and art experts said at the exhibit's opening that the artifacts show the human side to More and demonstrate that the famous "Man for All Seasons" is a saint for today.
"Nearly 500 years after his death, Thomas More shines brightly for a new generation. He is the most modern of saints," said Patrick Kelly, the shrine's executive director.
Organizers noted that the Saint John Paul II National Shrine – the only venue for the exhibit, which runs through March 31, 2017 – is a fitting place to remember St. Thomas More, because Pope John Paul II, who himself defended religious liberty in his native Poland when it was under four decades of Communist rule, in 2000 declared More the patron saint of statesmen and politicians.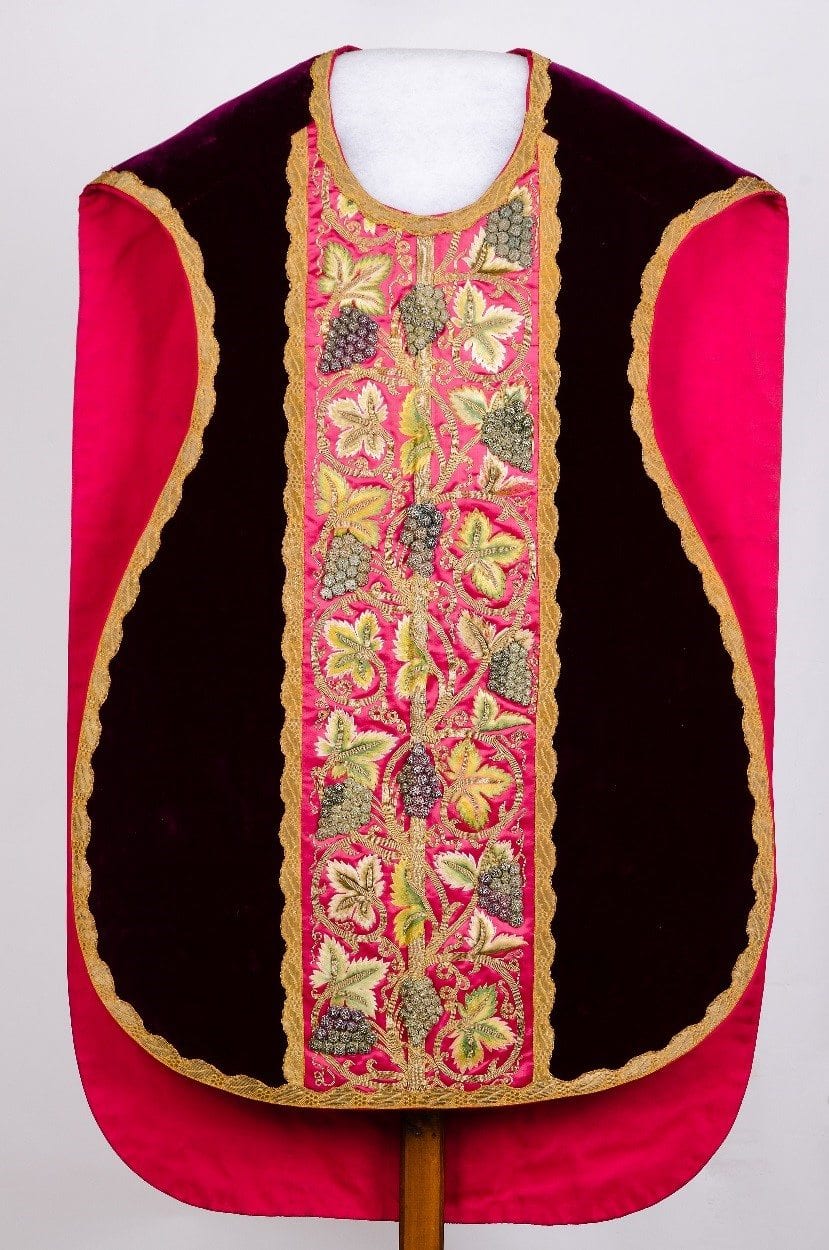 John Paul II said St. Thomas More was someone who epitomized "the inalienable dignity of the human conscience," which that pope called "the most intimate center and sanctuary of a person, in which he or she is alone with God, whose voice echoes within them."
Janet Graffius, the curator of collections at Stonyhurst College who curated the exhibit along with Bethany Bromwell, the curator of the Saint John Paul II National Shrine, noted, "These things bring us very close to the human beings at the center of this story… It connects us to a time when people of the past were facing the same problems we are."
One of the most poignant items on display is St. Thomas More's small gold crucifix that has rough spikes on the post, which when worn close to the skin would offer "a reminder of the pain and suffering of Christ at the crucifixion," Graffius said at a Sept. 17 lecture on the artifacts.
That crucifix is displayed near a recreation of More's cell from the Tower of London, that shows a small bed beside a writing table with a quill pen and papers. A larger cross owned by More that he may have had on his desk or in his cell during his imprisonment is also part of the exhibit.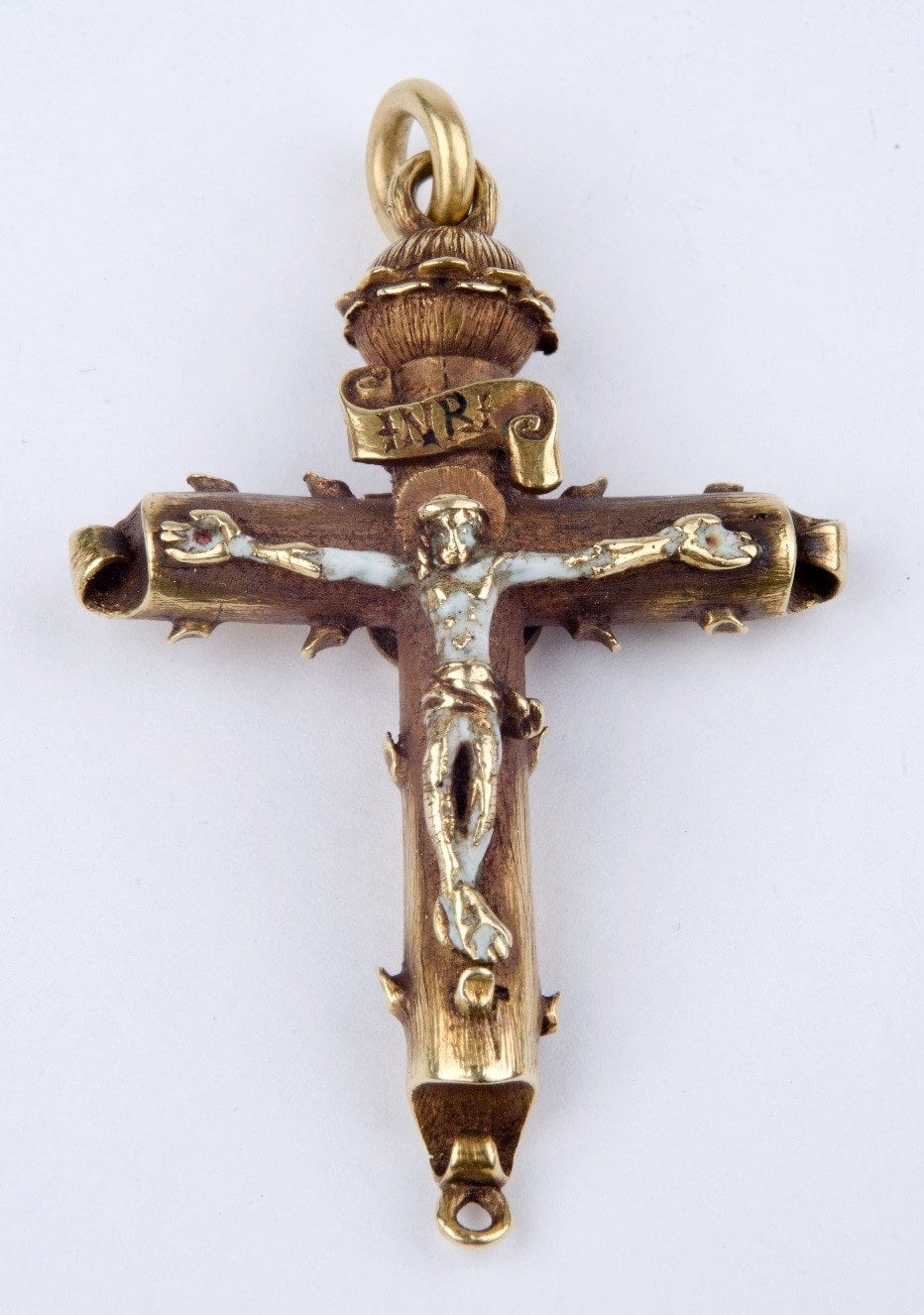 An example of More's "Tower works" – his writings during his 15 months as a prisoner of conscience – is on display. He was not able to finish his last work, a meditation on the suffering of Christ, because Henry VIII ordered that his writing materials be removed from his cell.
More was beheaded on July 6, 1535, and the exhibit shows a chopping block and ax, in front of a wall sized reproduction from a contemporary engraving showing a crowd gathered to view an execution at Tower Hill.
Nearby, the exhibit has two kneelers placed before a relic of St. Thomas More – a piece of his jawbone and one of his teeth – which guests can venerate. That relic was venerated during the recent Fortnight for Freedom commemoration at the Basilica of the National Shrine of the Immaculate Conception and other churches, along with a ring once owned by St. John Fisher, which is also part of the new exhibit.
Fisher was the only member of England's hierarchy who didn't comply with Henry VIII's Oath of Supremacy, and he was beheaded on June 22, 1535, about two weeks before More, on the eve of the Feast of St. John the Baptist, who also had refused to support a king's marriage.
Like precious heirlooms and keepsakes passed down through families, many of the artifacts in the St. Thomas More exhibit were given to Stonyhurst College for safekeeping by descendants of family members and friends of the martyr.
Stonyhurst is the oldest surviving Jesuit school in the world and traces its roots to a St. Omers College, founded in 1593 in what was then the Spanish Netherlands and is now part of France. That college became a place where English and American families could send their sons for a Catholic education, during periods in England and the colonies when Catholics faced persecution.
In 1609, it also began serving as a repository for English Catholic historical artifacts, making it the oldest museum in the English speaking world, and it safeguarded items at a time when Catholic shrines and relics were being destroyed.
In 1794, the college moved to its current location and became known as Stonyhurst. Today its collection of Catholic artifacts include items related to Salvadoran Archbishop Oscar Romero, including the alb he was wearing when he was shot while celebrating Mass in 1980.
Romero was beatified by Pope Francis in 2015.
Graffius said one of her favorite items in the St. Thomas More exhibit is the only surviving brick from his home, which was destroyed after his execution. To her, that charred red brick remains as a symbol of "the wisdom, scholarship, hospitality, merriment, humor and love" of More's house, where he raised his four children and entertained many friends and guests, including the scholar Erasmus.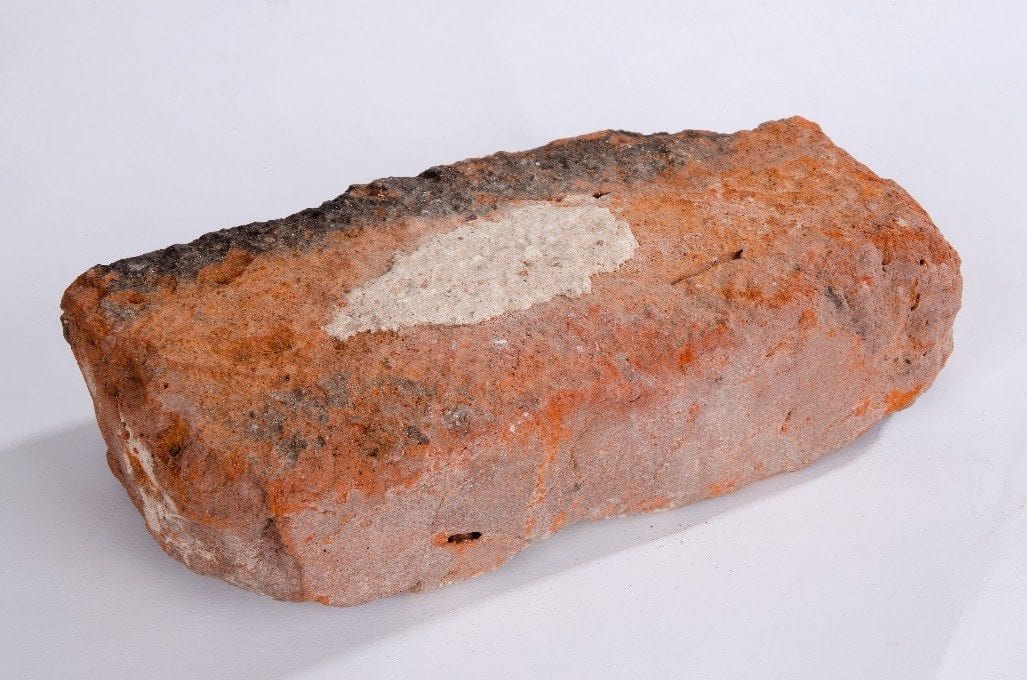 Noting More's versatility, the exhibit describes him as a man of law, of letters and politics, a family man and a man of God.
Also on display is a brown felt hat made of beaver fur that More wore as a teenager when he began studying law, and a now-faded linen cap that was once scarlet, that he wore at night to keep his head warm.
One of the most valuable items on display is a First Folio of Shakespeare, a book in pristine condition printed in 1623, open to "The Tragedy of Richard III." Graffius said Shakespeare's work relied heavily on a critical biography of that controversial monarch written by More.
A 1624 copy of More's most famous book, Utopia, is also part of the exhibit, as is a nearly seven-foot long engraving by the northern Renaissance master Albrecht Durer, depicting the Emperor Maximilian riding in a chariot, being pulled by six teams of horses. That work, completed in 1522 was given to the emperor's son, Charles V, a nephew of Katherine of Aragon.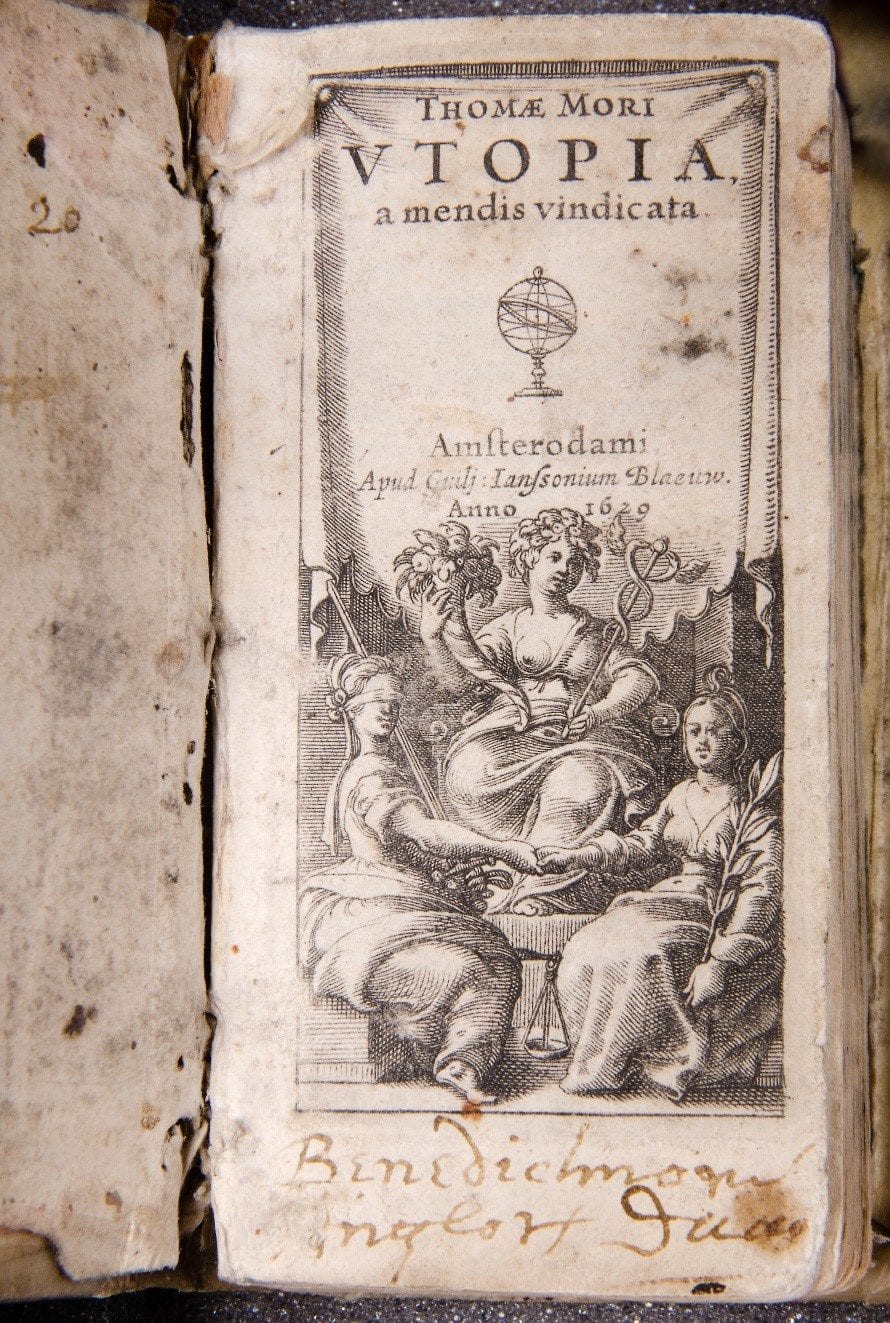 That exiled queen's handiwork forms another of the exhibit's works – an ornately embroidered chasuble that she sewed on purple silk velvet in the last months of her life. Before she died in 1536 at the age of 50, the devout Catholic wrote a last letter to King Henry VIII, expressing her love for and forgiveness of him, and concern for the state of his soul.
The shrine's Bethany Bromwell, who curated the exhibit with Graffius, said, "Katherine of Aragon is my personal hero. She is a symbol and representative of women who go through difficult circumstances. She never let what happened to her change who she was or what her beliefs were," said Bromwell, who said Henry VIII's first wife could be a patron for battered, abused, or abandoned women.
The exhibit also includes artifacts related to two American Catholic founding fathers who were deeply influenced by St. Thomas More – Baltimore Archbishop John Carroll, who became the nation's first Catholic bishop and founded Georgetown University, the nation's first Catholic college, in 1789; and Charles Carroll of Carrollton, a Marylander who was the only Catholic signer of the Declaration of Independence.
As boys, the cousins left Maryland at a time when Catholics could not publicly worship in that colony, to study abroad at St. Omers, where schoolboys doffed their hats every day when Thomas More's name was read in the martyrology. That saint's faith and belief in religious liberty shaped the lives and works of those two Catholic patriots.
One of their school books is displayed, as is a poem written in Latin by Charles Carroll which relates the story of St. Cecilia staying true to her conscience on the eve of her martyrdom. Also on display is a pectoral cross and saddle chalice used by Archbishop Carroll, loaned by the Archdiocese of Baltimore.
The exhibit also traces the Knights of Columbus' work  in defense of religious freedom issues in the United States.
The exhibit closes with the words of G.K. Chesterton, who in 1929 said, "Thomas More is more important at this moment than at any moment since his death, even perhaps the great moment of his dying; but he is not quite so important as he will be in about a hundred years' time."
At the reception's opening, Carl Anderson – Supreme Knight of the Knights of Columbus, whose organization operates the shrine and is co-sponsoring the exhibit, and who is also the main partner of Crux, said, "I'm sure some of us wish Chesterton had not been so prophetic." He said More's example "is especially relevant in this town, in this election season."
He told Crux that he hopes the exhibit will remind viewers of "the unity of faith and action, how we integrate our faith in our daily life so it makes a difference."
The exhibit's organizers noted how St. Thomas More continues to inspire people today. Pope Francis, who spoke about religious liberty during his September 2015 address at Independence Hall in Philadelphia, reportedly prays to that saint every day. Graffius said after the Tiananmen Square massacre in 1989, Chinese students in the pro-democracy movement have adopted More as a patron.
Rep. Chris Smith (R-N.J.), one of the guests at the exhibit's opening, told reporters that he is planning hearings on Sept. 22 on legislation to help Middle East Christians whom the State Department identified this past spring as being victims, along with other religious minorities, of genocide by ISIS.
Smith, who, like Lord Alton, has been a longtime champion of human rights and a strong opponent of abortion, said he hoped the exhibit will "inspire current day lawmakers and politicians to be men and women of conscience."
The member of Congress said he hoped the More exhibit would inspire people, especially future leaders, to "take seriously our moral obligation to stand up and defend the least of our brethren, as Jesus admonishes us in Matthew 25. That includes the unborn, the frail elderly, disabled persons and any other victims of violence."
Alton, who also serves as the chairman of the Christian Heritage Centre at Stonyhurst which is cosponsoring the exhibit, at its opening acknowledged some special guests in attendance – the Little Sisters of the Poor, whose challenge to the conscience provisions in the Affordable Care Act ended up in a Supreme Court case this year.
The Sisters and allied groups said the act would force Catholic and other Christian entities to violate their faith by providing employee health insurance for abortion-inducing drugs, contraception and sterilization procedures.
"Why should the sisters be involved in a legal battle with the (Obama) Administration and forced to do things against their conscience?" Alton asked.
Pointing to the suffering people of faith are undergoing in the Middle East, and in places like the gulags of North Korea, the British statesman said, "Why aren't these issues at the top of the agenda?… Instead of political correctness, we need another P.C. – political courage."
Later in an interview with Crux, the member of Parliament who was present in St. Peter's Square when Pope John Paul II named St. Thomas More as the patron saint of politicians and statesmen, said the saint's artifacts should remind today's people of faith how they should be guided and live by their conscience.
"When we have collective amnesia and don't remember who we are, we're in deep trouble," he said. "This exhibit is about remembering our story, and knowing who we are."
(God's Servant First: The Life and Legacy of Thomas More, is on display through March 31, 2017 at the Saint John Paul II National Shrine, 3900 Harewood Road, N.E., Washington. The shrine is open daily, 10 a.m. to 5 p.m. For more information, go to jp2shrine.org .)