Nun ministering to transgender women gets thumbs-up from Pope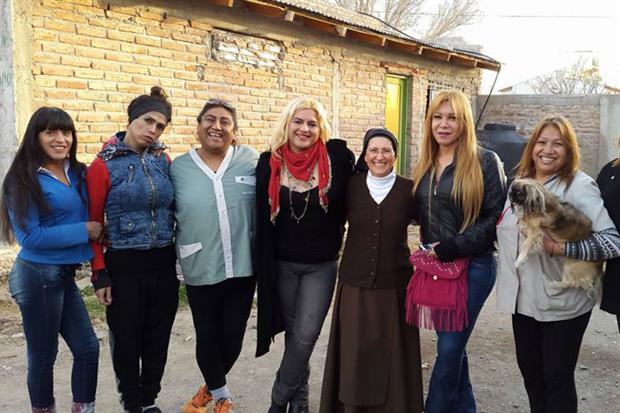 ROME— Even during the summer, when Pope Francis has a much more private profile, the energizer bunny of popes is far from being inactive. This year, for instance, he took the time to answer an email from Sister Monica Astorga, a Discalced Carmelite nun who works with transgender women in his native Argentina, helping them get out of prostitution and substance abuse.
Astorga wrote an email to Francis last Thursday, to update him on the new developments in the ministry she does in the southern Argentine province of Neuquen. It didn't take long for her to hear back from the pope: She told Crux his answer came in the next day, on Friday.
Astorga had written to the pope to inform him that the city had given her a plot of public land, where she planned to build 15 one-room homes for the transgender women she works with.
"I have you and the convent close to my heart, as well as the people with whom you work, you can tell them that," Francis wrote in his message.
The pope and the nun have known each other since "before he was a bishop," Astorga said. When then-Cardinal Jorge Mario Bergolgio visited the convent where she lives in 2009, she told him what she was doing.
"In that moment he told me not to abandon the border work the Lord had put me in," Astorga told Crux via Skype on Sunday.
She began working with transgender women when she was asked to speak to one of them, Romina, who arrived at the convent on July 7, 2006.
"I listened to her for two hours without being able to say a word," she said.
"I invited her to search for others who wanted to leave prostitution, and she came back five days later with four more. I invited them to pray, and then asked them to tell me their dreams," Astorga said, using the feminine pronoun in Spanish to refer to this transgender group, which Crux has maintained in order to be faithful to her remarks.
"I felt stabbed when Katy told me, 'I want a clean bed where I can die,'" the nun recounted.
She's been unable to "rest at ease" thinking of what transgender women go through when living on the streets, from abuse to murder. "I always say that to accompany one of them, we have to listen to them from the heart."
Katy today has her own sewing shop, Astorga said, and has been going to AA meetings for over four years.
Since that first encounter in 2006, some 90 transgender women have gone through the convent, and Astorga has no intention of slowing down, despite the hardships she's encountered in her ministry.
The majority of the people she serves, Astorga says, want to leave prostitution and build a better life for themselves, but it's not easy.  Finding a job for them has proven harder than expected, she said, because "people don't want to help when they find out it's for them."
After 11 years, just two months ago the sister managed to find a permanent job for two people. In the meantime, she's received a house where some of the transgender women live on a temporary basis, and she's now working on building a home for the elderly managed by transgender women, because they "have a special sensibility but also the strength needed."
Another challenge has been finding out who some of their clients are, many of whom Astorga knows personally. She refuses to reveal their identities because she fears for the life of the transgender women she helps.
The sister has also found indifference and even opposition, including from some of the people who live in the neighborhood of the plot of land they just received. When 15 transgender women went to mark its limits last week, they needed a police escort to leave, after the neighbors started screaming at them, saying they weren't welcome.
But she's also encountered support. On the one hand, there's Pope Francis, who's written to her before. Some years ago, he sent her another note, saying that "In Jesus' times, the lepers were rejected. They are the lepers of today. Don't leave the frontier work you were given."
Though indistinct in English, that time Francis used the female pronoun when saying that the transgender persons are the lepers of today. Back in 2016, during an inflight-press conference coming back from Georgia and Azerbaijan, the pope spoke about a transgender man, whom the pontiff welcomed in the Vatican.
RELATED: Pope says walk with trans persons, but fight gender theory
"He who was a she, but is a he," Francis said, referring to the trans person who had written to him from Spain.
"Life is life, things have to be accepted as they come. Sin is sin," the pope said. "Tendencies, hormonal imbalance, have and cause so many problems… we must be attentive. Not to say that it's all the same, but in each case, welcome, accompany, study, discern and integrate. This is what Jesus would do today."
Before moving on to the next question, Francis added: "Please don't say that the pope will sanctify trans [transgender people], because I read the headlines in the newspapers."
"I want to be clear, this is a problem of morals. It's a problem. It's a human problem that has to be resolved as it can, always with God's mercy," he said.
Within the local Church, Astorga's bishop, currently Bishop Virginio Bressanelli and his predecessor, Bishop Marcelo Melani, both support her work with transgender women, and it was a priest who first asked her to speak with Romina.
During her conversation with Crux, Astorga underlined the faith these transgender women have. "They've always told me that 'without believing in God, we wouldn't survive. Each night, before going out on the street, we light a candle and ask God to take care of us.'"
For the women she's helped, this Catholic nun is a "sister, mother and friend," but her ministry is now growing beyond those who look for her in the convent. She's been added to several Facebook groups around the world by transgender women in similar situations.
Astorga became a cloistered nun when she was 20, and back then, over 30 years ago, her main concern were those of her same age who were getting drunk or using drugs, so she would focus her prayers on them.
Sometime later, she began exchanging letters and phone calls with inmates, and prison ministry remains a big part of her day-to-day activities, though she rarely leaves the convent.
However, as per her own need and the pope's advice, the center of her life is being a Carlmelite sister: "Without my moments of prayer, alone and in community, and fraternal moments, I wouldn't be able to accompany these people," she said.
Personal notes such as the one he sent to Astorga don't stop coming from the Santa Marta residence, where Francis lives. Another example is an Italian nine-year-old boy who wrote to Francis after he went with some 130 children in a "Pilgrimage of Joy" to the Marian Shrine of Loreto, in Italy.
The young boy, Andrea, sent a letter to Francis in the name of all the children who'd taken part in the pilgrimage, including a photo of the group. In his message, he asked for the pope's blessing so that "tomorrow we can be as good as you" and extended an invitation for the pope to join them next year for the pilgrimage organized by the Rome-Lazio chapter of the National Italian Union of Transportation of the Sick to Lourdes and International Shrines (UNITALSI).
In his response, Francis left the door open: "Thanks for the invitation you have made me to go on a pilgrimage with you, being with children is for me the greatest joy. A proverb says: 'Never say never.' Therefore let us entrust this dream into the hands of Providence."
Both letters, that of Andrea and the pope, were shared by several Italian newspapers.
"We are more than 130 children, and many are sick, others in wheelchairs and others are going alone and are accompanied by some nuns," Andrea said in his letter, in which he also wrote that they're praying for the pope daily.
In his response, Francis thanked Andrea for the letter, and said it was nice "to hear about the enriching adventure you experienced with UNITALSI during the Pilgrimage of Joy to Loreto for children.
"Thanks also for the group photo you sent me, where I could see that there are many of you, and you all look so nice. As I was looking at each face in the photograph, I was praying to Our Lady of Loreto for you, and I blessed you straight from the heart, along with your parents, volunteers, priests and the UNITALSI leaders," Francis wrote.