NAIROBI, Kenya — Peaceful voting and an impressive turnout are buoying Kenya's clergy, who made an energetic effort to quell the often fatal violence that Kenyans fear on election days.
In the weeks before Tuesday's election, ethnic tensions ran high, prompting religious leaders — Christian and Muslim — to preach for peace. Memories of the 2007 election in particular, which sparked violence that resulted in at least 1,300 deaths, are still fresh.
Clergy seemed almost to will a better outcome this year.
"We are confident peace will prevail. We still call for peaceful voting," said Anglican Bishop Julius Kalu of Mombasa, who noted the strong turnout in his region. "There is a lot of work that has been done to sensitize the people on the importance of maintaining peace."
Lines formed early morning across the country, with thousands braving morning drizzle in Nairobi to cast their ballots. The voters came despite the weather and fears of violence. Kalu attributed the strong turnout to voter education, carried out by churches and other religious and secular groups.
On Sunday, thousands had camped in churches to pray for a peaceful election. Pastors and priests had stressed in sermons that it was the people's right to vote, and urged them to choose leaders who would please God.
"Go vote leaders of integrity, who are faithful and trustworthy. It is a sin for you not to vote. You shall be accountable how you vote before God," the Rev. Joseph Ndebe, an African Inland Church pastor in Nairobi, told his followers.
Sheikh Yusuf Murigu, deputy chairman of the National Muslim Leaders Forum, said during an interfaith service in Nairobi on July 27: "We are all one people. I don't see why brother should turn against brother. Islam is a religion of peace and we Muslims join in the call for peaceful elections."
Kenya is about 80 percent Christian and 10 percent Muslim.
Pastors and imams got some help before the election from former U.S. President Obama, whose father was Kenyan.
"I urge Kenyan leaders to reject violence and incitement, respect the will of the people," Obama said in a statement quoted by the Daily Nation, a Kenyan newspaper. "I urge Kenyans to work for an election — and aftermath — that is peaceful and credible — reinforcing confidence of your constitution and the future of your country."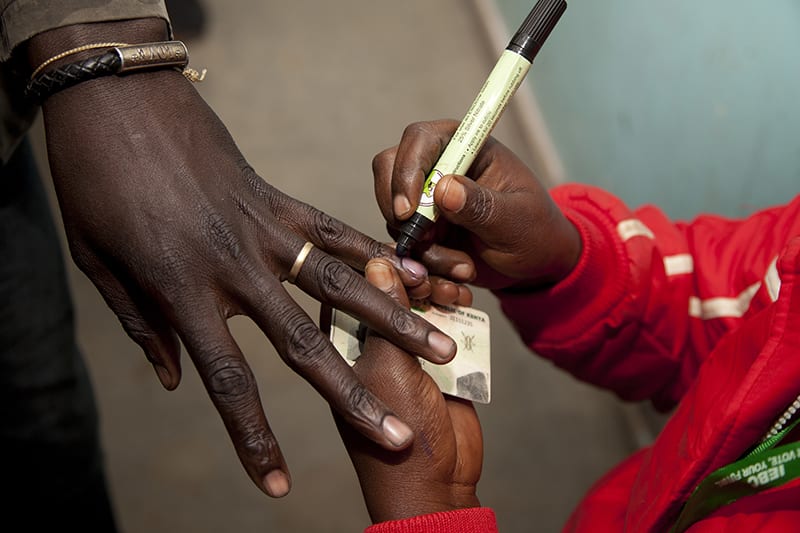 The election pits President Uhuru Kenyatta, 55, against opposition party leader Raila Odinga, 72. Opinion polls weeks before the election showed that the two were running neck and neck.
Adding to anxiety were a flurry of fake news reports disparaging candidates and the killing of a high-ranking election official last week.
"We are the ones to determine the future. That is why we cannot let anyone decide for us, and lead us on the path of 2007. We must be heralds of hope, warriors for peace, and rebels resisting any war cry! We bear in our hands the future of our lives, and that of our children," said Roman Catholic Bishop Anthony Muheria of Nyeri in a statement he sent to news outlets.
Ethnic rivalries, the perceived dominance of certain tribes in politics and widespread corruption has fueled much of the violence in this country of 48 million.
"I think the people are looking back at 2007 when a similar situation caused a lot of violence. The same appears to be true (today). … There are perceptions that the election will be stolen," said Kalu, who added that Kenya's ethnic diversity should be viewed as a strength rather than weakness.
Exacerbating tensions, al-Shabab, the Somalia-based al-Qaida affiliate in East Africa, threatened to disrupt the election in the coastal county of Lamu. The group is widely suspected of bombing a power plant in the region recently and an attack on a vehicle, which injured two people.