MUMBAI, India – A Catholic nun who was sexually assaulted nine years ago during some of the worst anti-Christian violence in India's history participated in a moment of healing and reconciliation during the commemoration of a Hindu festival in a local prison.
Kandhamal is a district of the eastern Indian state of Odisha, formerly known as Orissa, where an orgy of violence descended upon the impoverished Christian minority in August 2008. A series of riots led by radical Hindus left roughly 100 people dead, thousands injured, 300 churches and 6,000 homes destroyed, and 50,000 people displaced, many forced to hide in nearby forests where more died of hunger and snakebites.
RELATED: Where the Church absolutely incarnates the smallness of God
Sister Meena Lalita Barwa, a Catholic nun of the Servite order, was in Kandhamal when she and a local priest were dragged into the streets by frenzied attackers shouting, "Kill Christians!"
Barwa was raped by at least one member of the mob before being paraded through the streets to the howls of the mob.
On August 6, 2017, Barwa – together with three other religious sisters – visited a prison in the state of Madhya Pradesh to perform a ritual associated with the Hindu festival Raksha Bandhan, which was celebrated the next day.
Raksha Bandhan means "the bond of protection" in Hindi and traditionally celebrates the relationship between brothers and sisters. It is also celebrated in other Indian religions, such as Jainism and Sikhism.
In modern times, the festival has taken on an added significance, and celebrates any relationship between men and women which has the characteristics of a brother-sister bond.
The festival involves the woman tying a special threadlike bracelet – called a rakhi – to the wrist of the man, often while prayers are recited, while the man reciprocates with a small gift.
The rakhi symbolizes the obligation of the man to honor and protect the woman.
During her trip to the prison, Barwa personally tied rakhi onto ten prisoners, who through the ritual became her "brothers."
"I was filled with peace, so many emotions filled my soul, a feeling of compassion for them overcame me," the nun told Crux. "These are human beings who have committed mistakes and are incarcerated, but they too have sisters, they too come from families."
During the ceremony, the three nuns and 16 other women tied rakhi to 89 inmates. They also sang songs, and applied "kumkuma" powder to the men, as well as giving them sweets to eat (a traditional part of the festival.)
"Usually we look down upon people who are in prison, thinking that they got their due punishments," Barwa said. "Very rarely do we think of them and talk to them, even when we do it is in more of a negative way."
Barwa told Crux that as the women began to sing, the men began weeping: and the tears increased at the point the rakhi were tied to their wrists.
RELATED: New life stirs at site of 2008 anti-Christian massacres
"It was indeed meeting of brothers and sisters," the nun said. "Seeing these, my heart filled with compassion and love, many of us also cried. Many thoughts ran in my mind."
Some of those thoughts went back to the attack nine years ago, and the further injustices suffered by Christians in the district, where they still suffer discrimination and persecution.
"For me, it was like a gentle healing of the violent trauma I suffered, in August 2008," she said.
"In the past nine years, I have gone [into jails] before to identify the accused with fear and anxiety thinking that they may attack me. And this time I felt they are normal humans as any one of us with all feelings and emotions. My understanding towards these brothers deepened," Barwa continued. "After this visit and tying rakhi they are lingering in my mind, thinking about their family, job, future, their acceptance in family and society. Many of them are young boys – what will be their future? A great feeling of peace overwhelmed me."
RELATED: Church in India vows to protest acquittals in nun rape case
The Brahma Kumaris, a Hindu religious educational institute, is promoting the rituals of Raksha Bandhan to draw attention to crimes against women, and to educate men "to treat other women with respect as they treat their own sisters for whose wellbeing they feel responsible."
"Tying a rakhi is a symbol of a bond of chastity or purity in thought, word and deed. We face difficulties when we come under the influence of the vices and commit wrong actions. No action goes fruitless – good or bad, we will face the consequences," the organization said in a statement.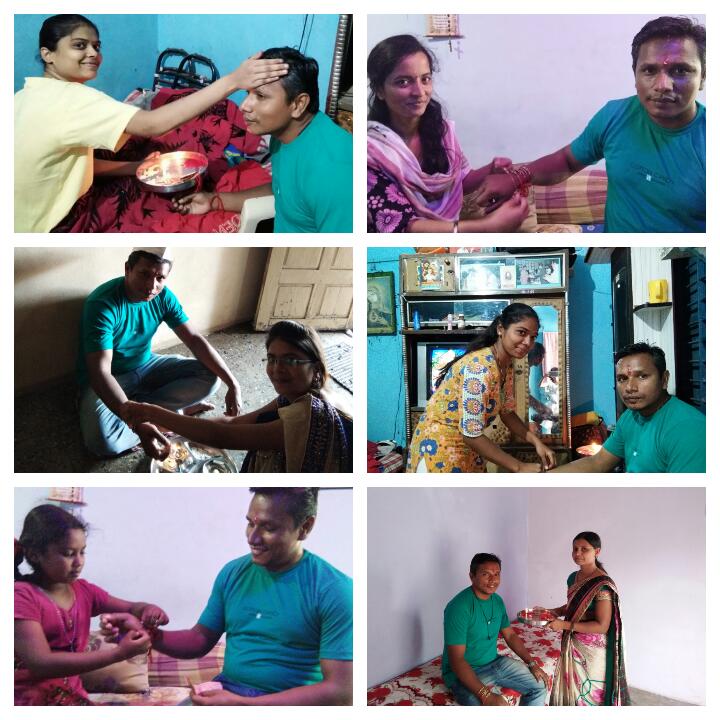 The universal meaning of the festival means it has been adapted by other religious groups in India, such as Christians and Muslims.
Carmelite Sister Marie Gemma, the prioress of the cloistered Carmelite monastery in Baroda, Gujarat, told Crux the sisters celebrate Raksha Bandhan in a distinctly Christian way – by tying  rakhi to the wrist of Jesus, their elder brother, and the one who protects them.
"By tying ourselves to Jesus, longing for His closeness, we observe this Indian festival; as in the Song of Songs, it is written, 'Set me as a seal on your arm, as a seal upon your heart'."