Indian nun gets results in work with migrants, domestic workers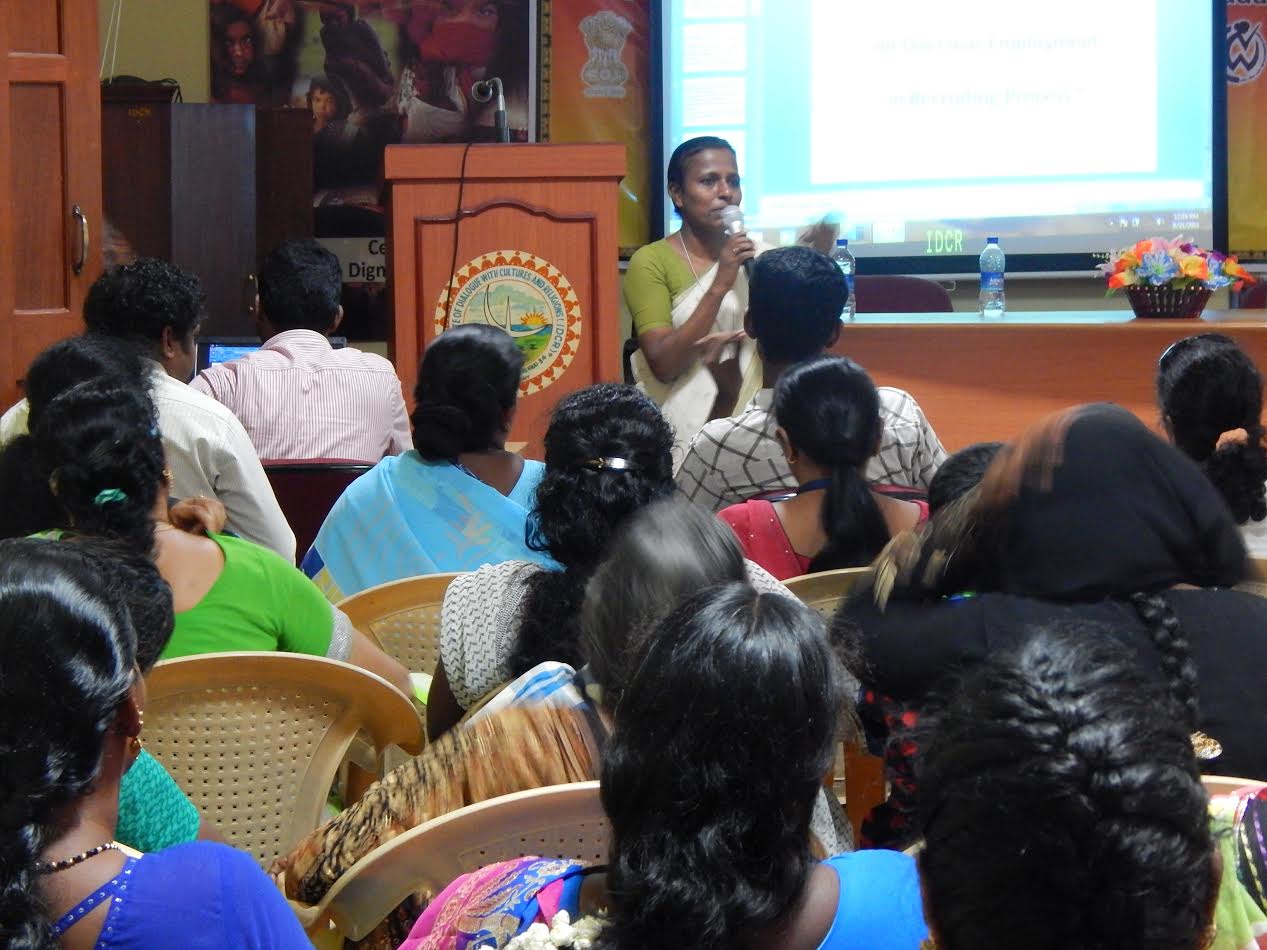 BANGALORE, India — Sister Josephine Amala Valarmathi was not surprised when she got a telephone call around midnight in the last week of October 2016. On the other end was a fisherman who goes by the name Veerghese.
He was among 15 fishermen from the southeastern Indian state of Tamil Nadu being kept in custody without food and water on Kish Island, off the southern Iranian coast. The Iranian Coast Guard had arrested them for entering their territorial waters Oct. 22, 2016. The Indian workers of a fishing firm in Bahrain, across the Persian Gulf from Iran, were seized as they were returning home in three boats after deep-sea fishing.
Valarmathi promised help and ended the call. The member of the Missionary Sisters of the Immaculate Heart of Mary spent the next six months working on their behalf.
Finally, April 6, 2017, the fishermen landed at the airport in Chennai, the capital of Tamil Nadu state. Among those present to receive the distraught group was Tamil Nadu's fisheries minister, who also arranged buses to take them home.
"But for Sister Josephine, we would be still languishing in the Iranian jail. Her prompt and efficient intervention saved us. We are so grateful to her," Veerghese, captain of one of the boats, said in a phone interview from his home in Kanyakumari, Tamil Nadu's southernmost district.
Valarmathi, who is based in Chennai, said she often gets such distress calls from migrant and domestic workers of Tamil Nadu's coastal towns, where she has spent 15 years as a social worker. Thousands of people from the region work in the Persian Gulf countries, Malaysia and Singapore as construction workers, drivers or cattle ranchers, or doing domestic and unskilled work.
"I am quite familiar with the problems of Indians working overseas," said Valarmathi.
She said providing free legal aid to migrant workers in their destination countries is necessary to end their exploitation by employers and employment agents. Numerous cases could be avoided, she said, if Indian embassy officials would join civil society organizations in those countries to educate workers on local laws.
The nun said her priority since 2003 has been to organize awareness programs for migrant workers on safe legal migration procedures so that they could avoid exploitation and fraudulent recruitments.
"Workers going overseas must be given pre-departure orientation and training. This will make a huge impact on their lives and work in a foreign country," she said.
She also wants bilateral policies to respect international conventions that could prevent abuse and exploitation of migrant workers.
In 2011, in addition to the training and policy work she was doing, she was forced to take up the tedious and time-consuming rescue operations after she started receiving complaints about exploitation overseas.
In Veerghese's case, Valarmathi contacted Tamil Nadu ministers and government officials the same night she received his call. The following day, she contacted federal external affairs officials and the Indian embassy in Iran. She alerted Indian government officials on Twitter. She also contacted a few Indians working in Iran to make arrangements to take food and water to Veerghese and his companions.
The result came after six months of lobbying the Iranian government, but it was worth the trouble, Valarmathi said. "I could bring happiness to many people at last."
Making others happy was what attracted her to Jesus, whom she first learned about when she studied in a Catholic high school in Tamil Nadu.
"I was so much attracted by the spirit of Christian love, charity and service to people. I wanted to become Christian and a sister to serve people and experience the living Christ in them," she said.
She overcame stiff opposition from her Hindu family to become a Christian in 1990. After nine years, she joined the Immaculate Heart of Mary sisters. Later, she studied for a bachelor's degree in commerce and master's in social work.
Since 2003, she has handled scores of migrant worker cases.
One involved Shanti Mary, a 52-year-old woman who worked in Saudi Arabia. The trained English teacher paid about $1,500 to a recruitment agent for a job in Kuwait. The agent, however, sent her to Saudi Arabia. In Riyadh, the Saudi capital, the agent's people took her to a house. Only then did she realize she was employed as a maid. She wanted to leave but could not.
She then remembered a phone number that an immigration official in Tamil Nadu gave her to call in case she faced problems in her new country. It was Valarmathi's number. After Mary explained her predicament, Valarmathi quickly contacted an agent in Riyadh and organized Mary's return ticket. Within a week, Mary flew back home.
Mary described Valarmathi as a "Godsend savior," calling her "genuine, humane and committed."
Valarmathi made Chennai her base in 2006, when she began her efforts for domestic workers in Tamil Nadu. Currently, she coordinates the Tamil Nadu branch of the National Domestic Workers' Movement founded by Belgium-born Immaculate Heart Sister Jeanne Devos in 1985 in Mumbai.
The movement fights for just wages and humane working conditions for domestic workers and supports them through education, capacity-building and campaigning.
The movement's Tamil Nadu unit is registered as a trade union and now has some 3,000 paid members. It holds monthly meetings to educate the members about the basic rights, duties and responsibilities of a domestic worker.
Valarmathi also works with the Child Rights Movement, a national subsidiary of the domestic workers movement. Although India has banned child labor, thousands of children are seen working in restaurants, workshops and factories in Tamil Nadu, neighboring Kerala state, and other parts of India.
The movement targets former and potential child domestic workers and children of domestic workers. It serves as a platform for children to develop their potential and capacities to become change agents in society, the nun explained.
Valarmathi says her faith in Jesus gives her the strength to work for others.
"I can do all things in Christ who strengthens me," she says.
She believes in the maxim that "God has a plan, trust it, live it, enjoy it."
– – –
Mathew is a journalist based in Bangalore. He edits Asia Pacific Ecumenical News and writes for Matters India, a news portal that focuses on religious and social issues.