Central African Republic "tired" of conflict, fearful for future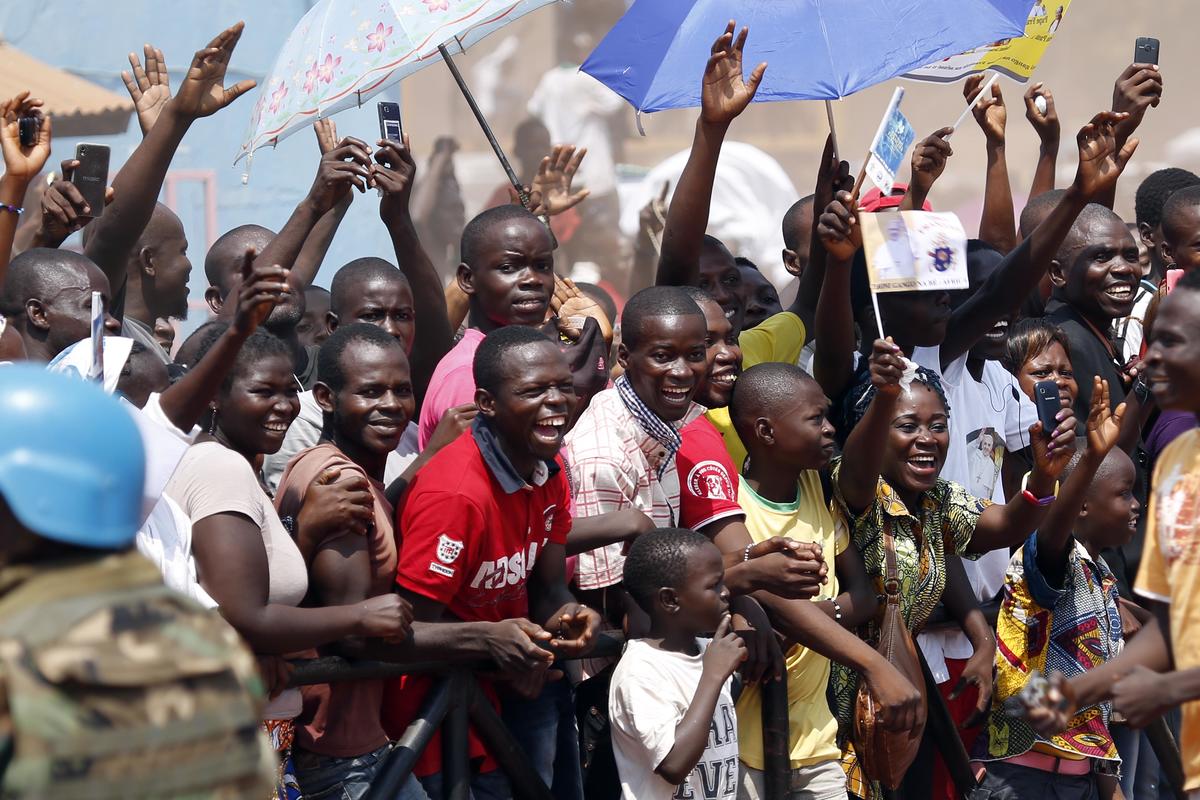 YAOUNDÉ, Cameroon – After five years of crisis, the people of the Central African Republic are tired of conflict.
Christophe Droeven, the Catholic Relief Services country representative for CAR, told Crux that although the situation is improving in the capital Bangui, the violence is getting worse in the rest of the country.
"What's especially concerning is that violence against civilians is increasing, driving even more people from their homes," he said.
The country has experienced instability since 2013, when Seleka, a Muslim-majority militia movement, overthrew the government. The Christian-dominated Anti-Balaka militia then formed to fight the Seleka. French and African peacekeepers were deployed in January 2014 and drove the Seleka forces from the capital, Bangui.
With a newly elected government unable to move beyond Bangui, armed groups and militias have taken control of more than 70 percent of the country.
The United Nations says the conflict has left at least 1.1 million people destitute and homeless, with about 2.5 million people – more than half of CAR's four million inhabitants – now in need of humanitarian assistance.
RELATED: Priest's death shows fragility of peace in Central African Republic
Droeven said access for humanitarian workers is almost completely cut off in certain areas, and it is becoming more dangerous to operate in the country.
In 2017, 16 humanitarian workers were confirmed to have been killed in the country.
"That's 16 too many," Droeven told Crux.
The CRS staffer said the people in the country are scared that anything could happen to them at any time.
"This is a place where armed groups roam freely and there are rarely consequences to their actions. What people here want more than anything is to go back home to a normal life and to a restored peace. They want to send their children to school and to cultivate their land," Droeven said.
Catholic Relief Services has been trying as best it can to bring respite to the affected people. The U.S.-based aid agency has partnered with other relief agencies in an interfaith effort to build the peace in the Central African Republic.
RELATED: What it's like to be a missionary in Central African Republic
These partners include the CAR Interreligious Platform, Aegis Trust, Islamic Relief Worldwide, and World Vision International to support sustainable social cohesion through the CAR Interfaith Peace building Partnership (CIPP).
"Through CIPP, CRS and our partners have reached more than 8,000 people with services ranging from trauma healing and inter-communal dialogues to livelihoods recovery. Perhaps more importantly, our interventions are supporting grassroots civil society and religious organizations of all faiths to implement community peace- building initiatives – ensuring that those closest to the problem are empowered to solve it," Droeven told Crux.
Pope Francis visited Bangui in 2015 and met with Muslim leaders, emphasizing the need for inter-religious peace and dialogue.
Christians make up about 80 percent of the population of the Central African Republic, and Muslims about 15 percent.
The Muslim population is concentrated in the north of the country, touches on the Sahel region of Africa, although there are many Muslim traders in the south.
The southern city of Bangassou has become a flashpoint in the conflict. Rebels attacked a Muslim quarter on May 13, 2017, leaving 115 dead, including six UN peacekeepers.
RELATED: Central African bishop accuses U.N. forces of rape, abuse
The Catholic cathedral in the city has become home to some 2,000 Muslims who live under the protection of the Catholic bishop, Spaniard Juan José Aguirre Muñoz.
In trying to forge a peace, CRS and its partners have to deal with people suffering from trauma, some of whom have already lost faith in life itself.
"CRS's trauma healing approach focuses on helping people understand the causes and symptoms of their trauma as well as how to manage those symptoms," Droeven said to Crux.
He told the story of a woman whose home was recently destroyed, but who was able to overcome the traumatic experience, thanks to one of CRS's workshops on how to deal with such experiences.
"If I hadn't participated in the (trauma healing) workshop, I don't know if I would have been able to handle this loss. But I'm keeping my courage, and I keep reminding myself 'after everything, life continues,'" Droeven quoted the woman as saying.
He said preliminary results from an impact study conducted by Palo Alto University on CIPP's trauma healing and peace education approaches showed that the interventions reduced anxiety, depression, and Post Traumatic Stress Disorder (PTSD) symptoms among participants.
RELATED: Cardinal laments deadly year for Church in Central African Republic
While the needs for humanitarian assistance continue to rise, the capacity of both the UN and the government of the CAR to intervene are limited, said Droeven.
"The UN Peace mission is trying to secure the countryside and bring back peace, but it's stretched beyond capacity by the growing violence in this vast country," he said. "It needs more support from the international community because its mandate and mission are not comparable to the amount of support it receives."
Droeven emphasized the need for the government, UN peace mission, relief agencies, civil society and religious leaders to work together to bring back peace and hope to the population of "this forgotten country."