Cameroon bishops urge dialogue to prevent 'civil war'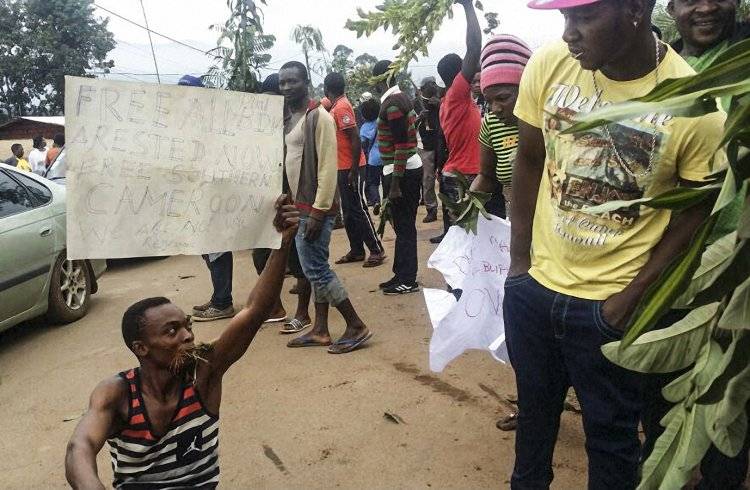 Catholic clergy in Cameroon once again have taken central stage to denounce escalating violence in Cameroon's Northwest and Southwest regions, effectively positioning the Church as a possible mediator in case the government initiates a national dialogue for which many Cameroonians have called.
In a letter addressed to the Cameroonian people, the president of the bishops' conference and Archbishop of Douala, Archbishop Samuel Kleda, called on the various parties to the conflict to lay down their arms in order to avoid an impending catastrophe.
"We, the Bishops of Cameroon, believe that there is urgent need for mediation as a way of getting out of the crisis," the letter states.
"Let us stop all forms of violence, and let us stop killing each other," it says. "Let us spare our country, Cameroon, an unnecessary and baseless civil war."
"Since 2016,the Northwest and Southwest regions have been living under difficult conditions, marked by inhuman, blind and monstrous violence and the radicalization of the population, which worry us," the letter says.
Noting that divine intervention will be needed for any peace to be built, the bishops called on Cameroonians to pray for divine intervention.
Cardinal Christian Tumi, the retired Archbishop of Douala who has been a virulent critic of President-for-Life Paul Biya's government, said he was deeply saddened at the killings and burnings taking place in Cameroon's English-speaking regions.
"As long as people continue to be killed – be they civilians or soldiers, because every life is precious – the impasse will continue," Tumi said. "We pray that terrorism should stop as early as possible, and that everyone should come to the dialogue table. As long as there will be no dialogue, the crisis will continue."
Almost everyone agrees on the need for dialogue, but not on the parties to that dialogue. The bishops, as well as civil society organizations, have called for an all-inclusive dialogue premised on the unconditional release of all those arrested in connection with the crisis. The Biya government, however, says it cannot dialogue with "secessionists and terrorists."
Even the issues that should be put on the table also divide the various parties. English-speakers have been calling for a return to a federal system of government which, more or less, provided them a measure of protection from the French-speaking majority, but the government instead opted for decentralization, with Biya insisting that there can be no discussion about the form of the state.
Kleda has a different view.
"Let us put both options on the table. Those who favor federalism will seek to convince the others on why their form of governance is better. Those supporting decentralization will do the same. That way, a solution can be found," he said.
(English-speakers first called for a return to the federal form of government. When the state insisted that this wasn't possible, they started calling for outright secession, triggering the current crisis.)
As Cameroon celebrated its National Day on May 20, violent confrontations between separatists and government forces in the country's Northwest region left at least five civilians dead and one soldier killed.
According to Caritas Mamfe, where the fighting has been most intense, hardly a day goes by without reports of people being killed, houses burned and people chased from their homes. The Catholic charity estimates that at least 150 people, including 64 civilians, have been killed since the uprising started in October 2016.
Pain and anguish
Those who have fled the violence tell gory tales of the pain and anguish they now face. Peter Nde from Munyenge village in the Southwest region told Crux that he had to flee his village after soldiers stormed the area.
"I ran into the forest. When they left, I came back and my house had been burned," Nde said. "I lost everything: money, a generator and chemicals I had bought to treat my cocoa farm … everything went."
Cradling a malnourished two-year girl in her arms, Rebecca Ngonde said she managed to escape only with the loincloth she was wearing and a pair of slippers.
"I had gone to the farm to harvest cassava. Then, I heard gunshots in the village and people screaming. And then, smoke billowed into the atmosphere," Ngonde said.
"Then I saw so many villagers running into the forest, and I followed them. My neighbor told me that my house had been burned and my son shot by the soldiers. I strapped my daughter on my back and we trekked in the forest for two days before getting to Buea," a city considered the capital of Cameroon's English-speaking region.
"I came with nothing, except for the clothes I am wearing now," she told Crux.
While thousands have fled from the hinterlands to more peaceful urban settings such as the regional capital, Buea, the United Nations High Commission for Refugees now estimates that at least 43,000 Cameroonians have fled across the border to neighboring Nigeria.
The crisis that started as lawyers and teachers' protests against the use of French in Anglophone schools and Common Law Courts has morphed into calls for secession by the Anglophones in Cameroon, who constitute 20 percent of the population.
Some of those Anglophones actually declared a separate state in October 2017, called "Ambazonia," with its own flag, national anthem and passports. The leadership of the rump state was seized in Nigeria by unknown parties in January, prompting the appointment of an acting president.