Blair's ex-homeless czar wants Pope, Vatican to lead the fight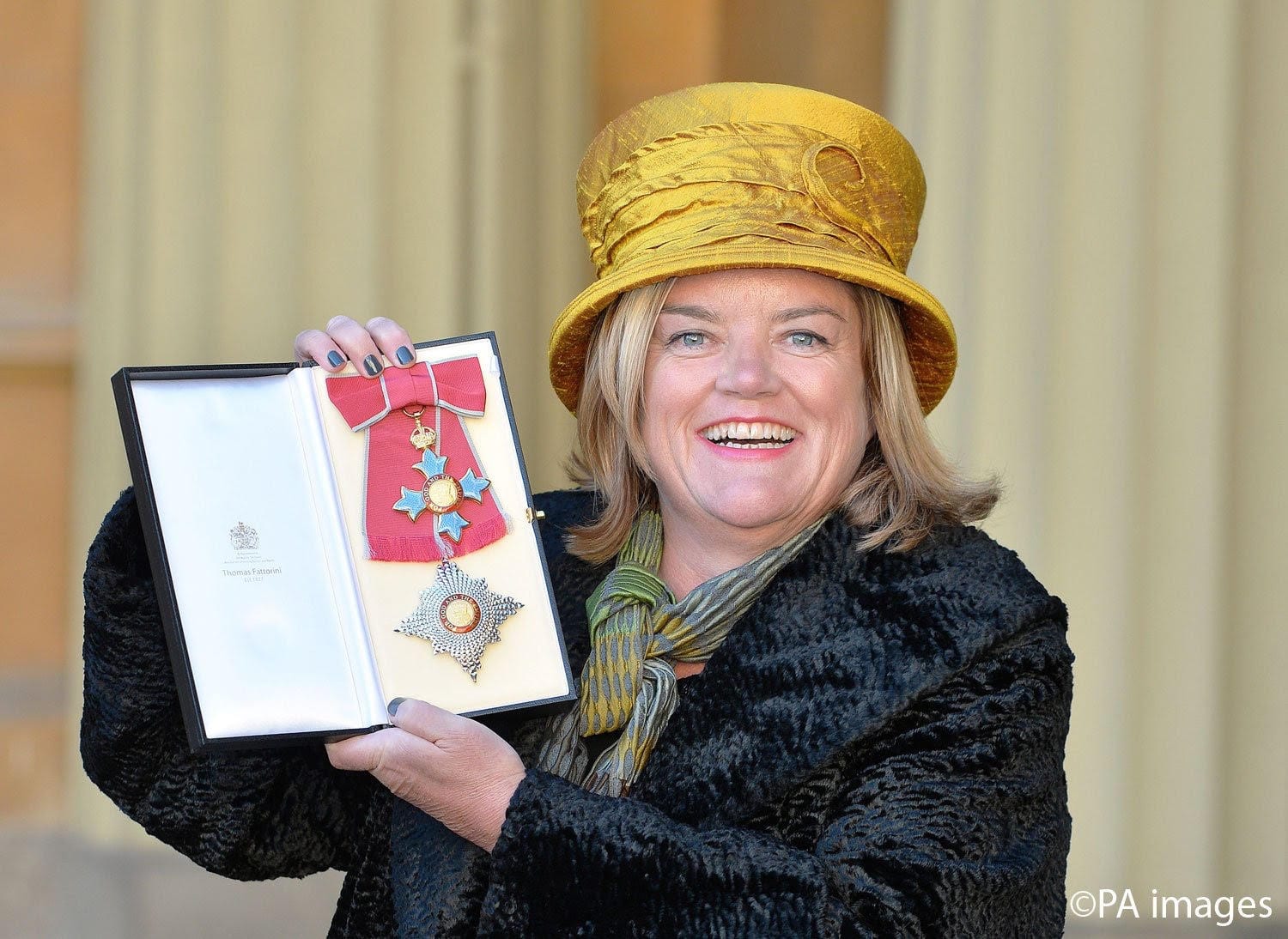 LONDON — Visitors from around the world come to Trafalgar Square to admire famed works of art in the National Gallery, the towering Lord Nelson column, and to get a glimpse of Big Ben at the end of Whitehall. Yet for Dame Louise Casey, who served as Britain's homelessness czar under Tony Blair, she wants passersby to look past things, and at the people.
Not the individuals dressed in three-pieced suits off to their next appointment in Westminster, or the hordes of tourists queuing for a double-decker bus ride, but the unseen individuals — the ones without a home to call their own.
Below the famed Trafalgar Square church of St. Martin in the Fields, I met Casey, who chose the location not simply because it's conveniently located in the heart of central London, but also to illustrate a point.
The church crypt, before being turned into a café, was one of the most popular day centers for homeless individuals in London. Now, the center has been relocated across the street and the café is primarily staffed by formerly homeless individuals from the day center.
In turn, proceeds from the café support the work of the day center — proving one of Casey's central tenets: when it comes to tackling homelessness, it's more than just about putting a roof over someone's head, but instead, it requires a commitment to understanding the full scope of one's life's circumstances and providing the proper structures for success.
"Quite often, it's people in the system that get to decide what people on the street need or want," she tells me over tea and scones.
Casey — who began working in this arena by doing charity work in her twenties and a decade later serving as the government's point person, cutting the street homelessness population by over two-thirds — said she started off by simply asking questions.
What she instinctively knew was that crafting a government response required more than statistics or clever theories. She needed to talk to homeless women and men to understand how they ended there in the first place.
"You wake up and you realize you have to ask people why they're there," she told Crux. "It could be about loneliness, isolation, or mental health issues."
"At all times, your guiding light must be to remember that we're here to serve the person, and then you have to change the system, which can get really de-personalized," she insists.
When talking about the issue, the metaphor she prefers is an overflowing, clogged bathtub.
"If you're really serious about tackling homelessness, you have to switch the taps off. In order to get the job done you're going to have to reach into the bath itself," she continues.
"When you reach into the bath, that's going to require some flooding and it's going to get messy, but that's the hard work of getting at the cause of the problem, which is unclogging the drain so things can begin to flow again."
Despite a booming global economy, homelessness around the globe is on the rise. By some estimates more than two percent of the world's population is homeless, and even more lack affordable housing.
While both the public and private sector often use strong rhetoric when talking about ending homelessness, Casey said that her approach — as both a government official and now a private sector advocate — is to set actual targets and to convince people to learn to think creatively and think of innovate solutions.
"You actually have to decide you're going to solve something rather than just doing things," she maintains. "A lot of people like doing and I include myself. But the question is: 'are you solving it?'"
After spending the first decade of her professional career in charitable work, then spending two decades in government under four prime ministers, Casey is now back in the private sector where she's helped to found the Institute for Global Homelessness, a partnership between DePaul University in Chicago and DePaul International, a London-based organization that advocates for the homeless and provides direct services.
Although they share the same "DePaul" name, the institutions were previously unaffiliated — until now.
Father Dennis Holtschneider, recently retired president of DePaul University, told Crux that after attending a conference eight years ago in Paris on new approaches to poverty, he and Mark McGreevy of DePaul International felt compelled to collaborate on a project that could help cities better tackle homelessness.
Their project, hosted out of Chicago's DePaul University, brings together experts around the world with the aim of "training cities" on how to end homelessness. The program, which is not degree-granting, brings together leading global practitioners.
That's where Casey comes in. She serves as chair of the advisory committee, and through her professional reputation has been able to recruit fellow leaders in the field.
"Louise doesn't spend her time just talking theory," said Holtschneider. "She talks about what works."
At present, the Institute has a dozen cities with committed targets for homelessness reduction. By 2030, they have a goal of having 150 cities on board.
"Louise has a forceful inner mission," Holtschneider told Crux. "No one else is able to sound out city officials and do a quick audit of their problems like she can."
While some places, such as Chicago, New York, or London may have obvious homelessness problems, Casey is also spending time working in places like Little Rock, Arkansas where a street homelessness population has spiked.
When she travels to new places, she doesn't spend her time in boardrooms observing PowerPoint presentations. Instead, she insists that officials take her out to the streets in the middle of the night so she can observe firsthand the conditions and talk to homeless individuals directly.
Casey says it's often community organizations — particularly churches — in the trenches doing the grunt work.
"I've traveled around the world and everywhere I go, so many agencies and so many organizations are activated by charities who are Catholic, especially religious sisters."
"Catholics are the backbone in many, many places," she continues.
It's for that reason, Casey has also recently spent time at the Vatican working within the Roman curia, as she's hoping that Pope Francis will lend his voice to the global challenge of tackling homelessness.
"If you get the Catholic Church and the pope to do something, I don't have to lobby everyone. I don't have to take on every government around the globe," she says.
While Casey is herself a Catholic, she says that this isn't just a personal bias but a practical strategy.
"If you get Rome to do something on homelessness, there's nothing greater," she insists. "Never ever underestimate the power of the Church."
On numerous occasions, Francis has insisted it's not enough for Catholics to do charity by giving money to people on the street or simply mailing in checks. Instead, he insists that one must look individuals in the eyes, ask their name, and engage with them as neighbors.
That's effectively Casey's strategy and while she's dedicated an entire organization to helping cities and governments set targets, she also believes that "volunteers can be your best assets."
"You have the ability to look at someone and say, 'I'm not being paid to sit here. I'm here to help you'," she says.
While not everyone may have the time or the ability to jet set around the globe, Casey believes that all individuals have the capacity — and the duty — to act within their own communities to provide for those less fortunate.
Before departing for a fundraising event, Casey takes one last sip of tea to summarize her philosophy.
"I'm not going to spend the rest of my life complaining because of who is in the White House or 10 Downing, I have to take personal responsibility," she insists. "We all do."