Notre Dame faithful take over Boston for matchup against Boston College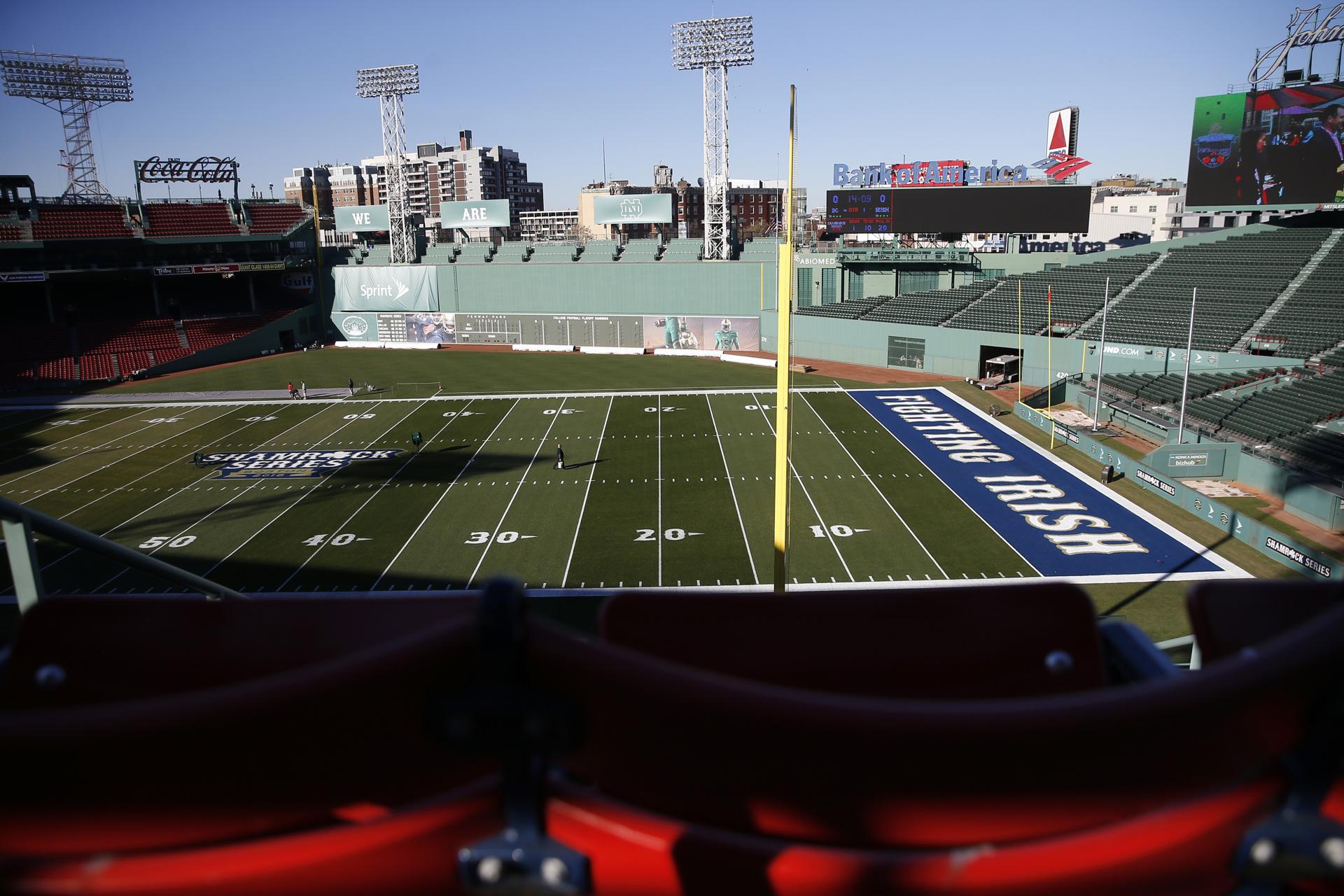 BOSTON — When the Notre Dame football team arrives this week for its unconventional Saturday night matchup with Boston College at Fenway Park, it will mean more than just a few busloads of players are rolling into town.
The team will also bring as many as 30,000 members of its notoriously passionate fan base.
With the weekend's meeting officially designated as a Notre Dame home game — and with the vast majority of available tickets going to the Fighting Irish — Boston residents should be prepared for a very noticeable influx of blue-, green-, and gold-clad visitors.
As Katherine J. Igoe, vice president of Notre Dame's local alumni contingent, put it recently, "The Irish are taking over Boston."
It's not hyperbole. The Shamrock Series — an annual arrangement in which the Fighting Irish elect to play one home game per season at a neutral location — operates as a full-fledged civic infiltration, a kind of wide-ranging roadshow designed, essentially, to re-create South Bend, Ind., in whichever city the team happens to be playing.
This year, that means that students, faculty, a pregame Catholic Mass, and a satellite university bookstore are all headed to the Hub — bringing loyalists who have found themselves on more than a couple of most-insufferable-sports-fans lists.
"The idea truly is to take Notre Dame on the road," says John Lloyd, academic advancement director for the Notre Dame Law School, who'll be in Boston for this weekend's festivities. "And depending on your perspective — Notre Dame is kind of a polarizing place, you either love them or hate them — but we're operating under the theory that it's good for people to see as much as they can about Notre Dame."
For days now, a large billboard near Fenway Park has been touting Notre Dame's arrival. At Target's Fenway location, a special section near the entrance is devoted to Fighting Irish and Shamrock Series merchandise. And while Fenway-area bars aren't exactly strangers to big crowds, even they have been scrambling to make accommodations for what is expected to be a daunting number of visitors.
"Usually Marathon Monday is our biggest day of the year," says Casey Ridge, event coordinator at Game On Fenway, which will be hosting a 600-person Notre Dame event on Friday evening. "They're saying it's going to be bigger than that."
While the centerpiece of the weekend will be Saturday's game, which pits the Eagles (3-7) against a 9-1 Fighting Irish team battling for one of four spots in the College Football Playoff, it's the festivities surrounding it that will make the weekend a novelty.
Among the various events scheduled are Notre Dame-affiliated academic discussions, community service projects, and pep rallies.
Things kicked off Thursday with a Boston Massacre "retrial" at the Old South Meeting House, in which representatives from the law schools at Notre Dame and Boston College held closing arguments in a modern-day reenactment of the Boston Massacre trial.
On Friday night, the university's band will hold a drummers' circle at Copley Square, and the following morning will bring the Shamrock Series 5K at Boston Common and Notre Dame Mass at the Cathedral of the Holy Cross, followed by the Shamrock Series Fan Fest, a full-fledged tailgate held at the Brookline Avenue parking lot near Yawkey Way.
"It's an opportunity for us to use the athletic program to showcase the other important components of the University of Notre Dame," says Dennis Brown, a university spokesman.
As for Boston College, which will have the unusual distinction of playing a road game less than 4 miles from its own stadium?
"Strange? Perhaps," says BC director of athletics Brad Bates.
"[But] we have a longstanding tradition of playing at Fenway. It was our home field for years, and it really just connects our past with our present in a really meaningful way."
It will be the first football game played at Fenway since the then-Boston Patriots concluded their 1968 season at the venue.
The idea for the Shamrock Series traces back, appropriately enough, to Knute Rockne, the legendary Notre Dame football coach who between 1918 and 1930 led the program to five undefeated seasons and three national championships.
Back in the 1920s, Brown explains, Rockne developed a reputation for being willing to take his team across the country to face any team, any time. Taking on Army, Yale, and USC brought exposure to a still-emerging program. Even the team name back then, the Ramblers, was a nod to how the program "rambled" all over the country playing football games.
And it worked, as Rockne's program played a vital role in helping turn a small, relatively unknown Catholic university in the Midwest into a nationally recognized institution.
Now, nearly a century later, school officials are pulling a page out of the old coach's playbook in taking Notre Dame on the road.
From a marketing standpoint, it's a boon for the university, which each year gets to inject its brand into a market that might not otherwise be exposed to it. Since holding its first Shamrock Series game in San Antonio in 2009, the team has taken its roadshow to New York City, Washington, DC, Chicago, Dallas-Fort Worth, and Indianapolis.
Related: Boston is the spot for college football on Saturday
And despite a little awkwardness for the school that's actually located here — Boston College received an allotment of only 5,400 of the roughly 37,000 tickets for Saturday's game — the arrival of thousands of people should pump significant business into Boston.
"It's a great time of year for Boston to get an injection of spending impact," says David O'Donnell of the Greater Boston Convention & Visitors Bureau.
As for the, uh, polarizing nature of Notre Dame's fan base?
Local Fighting Irish fans who have attended previous versions of the Shamrock Series admit the influx of Notre Dame loyalists might be jarring to those unfamiliar with the fans' passionate reputation.
"It can be [disconcerting] — especially if you weren't aware of it before — to walk outside and into a sea of blue and green and gold," says Igoe, the alumni group vice president.
But, she assures, "I have a feeling that the energy is really going to be infectious."
Dugan Arnett can be reached at dugan.arnett@globe.com.