In Lebanon, Catholics can't afford the Church's culture wars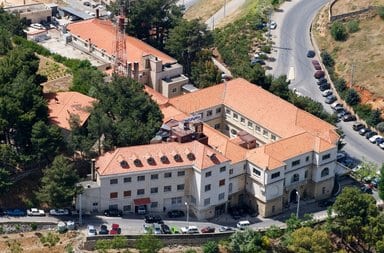 ZAHLÉ, Lebanon – As a rule of thumb, people fight wars of culture only when they don't have literal shooting wars to worry about. Cultural battles, in other words, often are a luxury of affluent and basically stable societies, while places with more urgent fires to put out simply can't afford them.
In Lebanon, for instance, you won't find many Catholics obsessing over debates about the merits of Amoris Laetitia, or the fine points of liturgical practice. Equally, nobody's really wrangling over how much Catholic symbolism in venues such as schools, universities or hospitals is too much in a pluralistic age.
That's not say there aren't real and crucially important theological and pastoral issues at stake in those tussles, only that Catholics in societies overwhelmed by more existential threats generally don't have much time left over to engage them.
In Catholic circles in Lebanon, for instance, traditional faith and practice is largely taken for granted as a source of strength facing multiple external challenges:
Concern that ISIS, though temporarily in retreat, could return and revive its genocidal push to drive Christians to the sea.
The strains of a massive influx of refugees from Syria, at a time when the national economy is already undergoing a prolonged slump and the country's infrastructure appears at a breaking point.
A sense of isolation and abandonment by the rest of the Christian world, while all around them Christians see their Shi'ite neighbors receiving substantial help from Iran and the Sunnis benefitting from Saudi largesse.
My Crux colleague Inés San Martín and I are in Lebanon this week, taking the temperature of the remarkably resilient Catholic community in this small Middle Eastern country, the only one in the region where Christians represent a robust 35 to 40 percent of the national population of around 6 million (which now includes 1.5 million Syrian refugees.)
Moving around, it's striking how little Lebanese Catholics appear animated by debates that often characterize European or American Catholicism.
First of all, most of the Catholic population belongs to one of several Eastern churches, with the largest being the Maronites and the Greek Melkites. Attending their liturgies, it's clear no one is really arguing over the details of liturgical translation, or the degree to which the priest needs to face the congregation in order to make a liturgy participatory, or whether liturgical architecture and design ought to be more traditional or more modern.
Eastern liturgies exude a sort of timeless look and feel, which most Catholics here will tell you is reassuring in a part of the world where uncertainty abounds, and everything else in life often feels on the brink of chaos.
Similarly, there's relatively little debate over the lay role in the Church. It's more or less a given that this is an "all hands on deck" situation, and one can see laity playing remarkably active leadership roles on behalf of the Church without anyone perceiving it as an ideological or theological statement about clericalism.
San Martín and I got a special education in the absence of the culture wars when we visited the Tel Chiha Hospital, sponsored by the Greek Melkite Archdiocese of Zahlé in the country's Bekka region, and met CEO Joseph A. Boustany.
The hospital is undergoing renovation in order to enhance the quality and range of its services. It features roughly 100 doctors and 350 employees, and offers virtually every medical specialty except open-heart surgery. Currently, plans are on the drawing board to equip it with a pediatric intensive care unit.
Although the hospital is an archdiocesan enterprise, Boustany made it clear that he doesn't conceive its mission in sectarian terms, insisting that it's open to Muslims and Christians alike, and also that it makes no distinction between native Lebanese patients and Syrian refugees.
He bristled when we asked what percentage of his patients at any given time would be either Christian or Muslim, responding only with "our arms are wide open to everyone." He offered the same basic response when I asked what percentage might be composed of refugees as opposed to native Lebanese – he didn't dissent when someone else volunteered the guess of 35 percent, but made it clear he didn't really approve of the question.
"I just don't think of things in these terms," he said, though certainly not by way of apology.
When an archdiocesan spokesperson explained that the church pays expenses for Christians which aren't covered by the national health service system, while Muslims registered in large camps get help from the United Nations High Commissioner for Refugees, it was critical for Boustany to explain that the hospital itself makes no distinction in treatment decisions based on who's paying the bills.
He emphasized that although he experienced the Lebanese civil war and subsequent Syrian occupation of the country first-hand as a young man – when, he said, the Lebanese people and Christians in particular "had to fight for our land and our existence," and had no support system – he doesn't resent the fact that a wide range of services are available to today's Syrian refugees, Muslim and Christian alike.
"We may feel it on the outside," Boustany said, referring to mounting Lebanese resentment of the country's huge refugee population, "but not in the hospital. We don't allow it here."
In other words, Boustany is no apostle of the church militant, wanting Christian charity to be primarily for Christians. He stressed the universality of the Christian call to charity, and the importance of respecting others. (As an example, he said that as a general rule he'll place Muslim patients in rooms with other Muslims, so that Islamic rules about dress and exposure to others can be upheld.)
Yet he's also defiantly not one for compromise on the hospital's Catholic identity, despite its "open arms" ethos.
Boustany's irritation about our questions on the share of Muslims and Christians in the 125-bed facility, for instance, paled in comparison to his reaction when I started inquiring about basic expressions of Catholicity.
When we asked if Mass was celebrated in the hospital, he choked out a "yes" while looking as if I'd asked if water is wet; when asked if it was every day, the derision while replying "of course" was palpable. (Later, he explained that the hospital also sponsors Eucharistic adoration every Thursday, and that he's among the attendees.)
When I got around to asking if the hospital might remove crosses on the walls from Muslim patient rooms in order to accommodate their sensibilities, it was just too much, and he couldn't restrict himself to simply saying "no."
"This is not us being fanatical," he almost shouted. "I believe the cross will give help to these patients. Jesus came for all."
When I explained that these are often questions with which Catholic facilities in Europe and the States struggle, he was incredulous, saying he found the question itself virtually impossible to understand.
Finally, when asked what message he wanted to deliver to Catholics in other parts of the world, Boustany's answer was immediate, and it had nothing to do with material aid or political advocacy: "What I ask most is that you pray for us," he said.
He again drew on his experience of Lebanon's civil war.
"During the war, some people used to say that the rosary of Rome won't give us any weapons to defend our presence," he said. "But what I learned is that when you're face-to-face with the devil, you have to fight with the right weapon."
Father Elian Chaar, the chief financial officer for the Greek Melkite Archdiocese of Zahlé, perhaps expressed where Lebanese Catholics stand vis-à-vis the culture wars best.
"Definitely, we follow what's going on in Rome, and we're well aware of what's happening," he said on Wednesday.
"But our pastoral work is here, we're fighting to stay here, and we're trying to figure out how to do that with all the chaos around us," Chaar said, "Frankly, that doesn't leave much time for anything else."
This reporting is sponsored by Aid to the Church in Need-USA, a pontifical foundation serving persecuted Christians around the world. www.acnusa.org.