Bangladeshi religious leaders have high hopes for pope's visit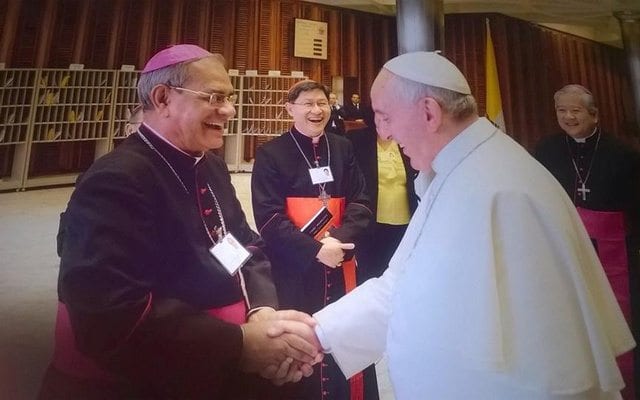 DHAKA, Bangladesh — Bangladeshi religious leaders of different faiths hope Pope Francis's upcoming visit will promote harmony and tolerance in the Muslim-majority nation.
However, one hard-line Muslim group warned it would protest if the pontiff said or did anything "unexpected and unacceptable," ucanews.com reported.
The Nov. 30-Dec. 2 visit will be the third by a pope to the populous, impoverished country. Blessed Paul VI made a 1970 stopover lasting a few hours in what was then East Pakistan to express sympathy for victims of a devastating cyclone. St. John Paul II came to independent Bangladesh Nov. 19, 1986.
During his trip to Dhaka, the capital, Francis will meet Prime Minister Sheikh Hasina and President Abdul Hamid as well as members of the diplomatic corps and civil society. He planned to pay respects at two national memorials and celebrate Mass for more than 100,000 people in Dhaka, where he will ordain 16 deacons to the priesthood.
Interfaith and ecumenical gatherings and a visit to a home for destitute people run by the Missionaries of Charity, the congregation that St. Teresa of Kolkata founded, also are on the pontiff's itinerary.
Francis's visit will celebrate a 46-year Vatican-Bangladesh relationship, said Cardinal Patrick D'Rozario, archbishop of Dhaka.
The Holy See was among the first states to recognize Bangladesh after it gained independence from Pakistan in 1971 and established full diplomatic relations in 1973.
The relationship was based on universal values such as compassion and human dignity that transcend ethnicity and politics, D'Rozario said. Past international expressions of sympathy when Bangladesh suffered from natural disasters and the 2013 Rana Plaza collapse that claimed more than 1,100 lives cemented the relationship, he said.
"I have seen the joyful feeling in people, who are eager to have an encounter with the leader who is a symbol of unity of the church," the cardinal said.
On another front, a senior leader of the hard-line Hefazat-e-Islam group welcomed the pope's visit, but said he would closely monitor it.
"Pope Francis is the supreme leader of Christians and head of the Vatican state, so we welcome him in our country," Mufti Faizullah, a joint secretary of the group, told ucanews.com. "We will be closely watching what he says and does during the trip. If we find anything unexpected and unacceptable, we will protest and issue statements if necessary."
The group has pushed for rigorous implementation of an anti-blasphemy law, execution of atheists, Islamization of school textbooks and removal of idols and statues from public places and has attacked what it sees as Christian evangelization in some areas.
Maolana Fariduuddin Masoud, president of the liberal Muslim group Bangladesh Jamiyat-ul-Ulema, said he expects love and hospitality will be highlighted during the pope's visit.
"Pope Francis is a saintly figure and a global leader, so people are honored to have him in Bangladesh and they will offer him overwhelming love," Masoud told ucanews.com.
Bangladesh's pluralistic and tolerant image has been tainted by a lethal rise of Islamic radicalism in recent years. Since 2013 Islamic militants have murdered some 50 people including atheist bloggers, writers and publishers, gay rights activists, liberal Muslims, religious minorities and foreigners. A government crackdown resulted in about 70 militant deaths and dozens of arrests.
Despite the government's actions little has been done to combat radical ideology fueling violence despite attempts to promote interfaith dialogue.
Rana Dasgupta, a lawyer and Hindu leader in Dhaka, said the pope might look at lapses in Bangladesh's battle against extremism.
"Extremists wanted to attack the heart of the nation, our pluralism and harmony, so they killed people who held liberal or critical views on religion or adhere to other faiths," Dasgupta said.
"This extremist ideology is not part of our culture, but little has been done on this front to present a counter-ideology. Pope Francis has been soft on Islam, refused to associate it with terrorism and called for dialogue between religions to combat violence and extremism," he said.
Dasgupta said the Bangladeshi government efforts to promote dialogue and harmony were insufficient.
"Maybe the pope can offer some guidance on how best dialogue can be used for harmony and peace," he said.
Ashoke Barua, a Buddhist leader, said the papal visit would be a boon for religious harmony.
"Pope Francis's trip will reinvigorate religious harmony and bring people of all faiths closer," he said. "It is also a great opportunity to present Bangladesh's goodness to the world."
Despite recent setbacks, D'Rozario said he expects that Pope Francis realizes the nation remained committed to harmony and peace.
"Our nation is like a river," the cardinal said. "Sometimes you see strong currents fueled by strong winds, but at the riverbed there is calmness. And this comes from the basic religiosity and pluralism of people."
Bangladesh is struggling to cope with a refugee influx triggered by violence against Rohingya Muslims in Myanmar. The pope is expected to take up the issue publicly or privately during his visit.
D'Rozario noted that Bangladesh had lived up to its "traditional values" by accepting fleeing Rohingya. "The pope is coming for harmony and peace, not for just Rohingya but for all," he said. "He is not coming to solve any problem, but he will surely have a message for them and for everyone."
The cardinal noted that the Rohingya crisis had similar elements to violence against marginalized communities around the globe, including where "big world powers" are involved.
"The pope will not just talk about Rohingya," he added, "but other persecuted people and maybe he will be critical of those who 'shed crocodile's tears' for Rohingya but not for others, like Christians in the Middle East."