Pope tells displaced persons they're 'seeds of a new South Sudan'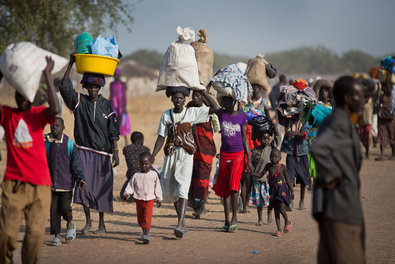 JUBA – Pope Francis joined other Christian leaders Saturday in meeting with internally displaced people in South Sudan, saying he shares their suffering and urging them to be protagonists in building a better future for the country.
Speaking to those present in Juba's Freedom Hall, the pope said he had long wanted to visit, and that he had come "to express to you all my closeness, all my affection. I am with here you, and I suffer for you and with you."
Francis, who is on an official ecumenical visit alongside the Archbishop of Canterbury, Justin Welby, and the Moderator of the Church of Scotland, Iain Greenshields, said "we would like to give wings to your hope."
"We hope and believe that now, even in the camps for displaced persons, where sadly you are forced to live due to the situation in your country, a new seed can sprout, as from the dry and barren soil: A new seed that will bear rich fruit," he said.
"You are the seed of a new South Sudan, a seed for the fertile and lush growth of this country," he said, noting that they come from different ethnic groups and that despite their suffering, they "do not want to respond to evil with more evil."
By choosing to adopt an attitude of fraternity and forgiveness, "(you) are even now cultivating a better tomorrow" built on cooperation and communion, he said, telling them to be "seeds of hope" for South Sudan's future.
Pope Francis's visit to South Sudan is the second stop in a two-leg journey that also included the Democratic Republic of the Congo, and which is meant to bring consolation and support to the people of the conflict-ridden nations.
South Sudan has been embroiled in an internal war since 2013, just two years after its independence, which has left millions dead and displaced amid a growing humanitarian crisis.
Though most of the fighting has stopped as a result of a 2018 power-sharing peace agreement among warring parties, that accord has yet to be fully implemented, and more than two million people are still displaced as violence continues at a local level throughout the country.
Conflict and natural disasters such as flooding have left millions in need. According to the Internal Displacement Monitoring Center (IDMC), roughly 60 percent of South Sudan's population of 11 million experienced food insecurity and malnutrition in 2021, and that number has risen and is expected to rise further this year.
Most of the internally displaced live in camps, but some have fled to precarious bush or swamp areas, and women and girls remain at high-risk for sexual and gender-based violence.
Sara Beysolow Nyanti, Deputy Special Representative of the Secretary General of the United Nations Mission in South Sudan, gave the pope, Welby, and Greenshields an update on the humanitarian situation during Saturday's meeting.
Nyanti said South Sudan currently ranks fourth on the list of the world's most neglected displacement crises, and it is also represents Africa's largest refugee crisis.
In addition to sexual violence, flooding, trafficking, and a drop in humanitarian aid have all compounded the problem, she said, noting that in 2022, there were 390 recorded incidents of violence against humanitarian workers, nine of whom died.
Pope Francis remembered the humanitarian workers that have lost their lives and asked that they be protected, saying, "They should not become targets of assaults and vandalism."
He lamented that "being a displaced person or a refugee has become a common and collective experience" in South Sudan, and issued an appeal to political leaders "to end all conflict and to resume the peace process in a serious way, so that violence can end, and people can return to living in dignity."
"There is no room for further delay," he said, noting that many children are born in camps and don't know another reality. "The future cannot lie in refugee camps," he said.
Pope Francis, Welby, and Greenshields heard from three youths who currently live in different camps for the displaced throughout South Sudan, one of whom was Joseph Lat Gatmai, who lives at a UN-run camp near the northern town of Bentiu.
A Presbyterian, Gatmai, 16, said he and his parents have been living in the camp since 2015, and that his dream is to attend university.
He thanked humanitarian workers for making their survival possible, saying, "If there had been peace, I would have been in my home of origin, lived a better life, and enjoyed my childhood." He called on South Sudanese leaders "to bring lasting peace, love, unity and prosperity to our country."
Likewise, Johnson Alex Juma, a 14-year-old Episcopalian, lives in the northeastern Malakal Civil Protections Camp, and has been there with his parents since 2014.
Juma said his parents have no jobs, so they receive help from an uncle in Juba who sends money periodically, allowing him to buy new clothes.
"Peace is good, problems are not," he said, saying, "We want peace so that people can go back to Malakal, to their homes…I want to have a good future, where there is peace and children can go to school."
Rebecca Nyakuor, who lives in a camp for the displaced near Juba and who is a member of the Holy Trinity Catholic parish in Juba, thanked Pope Francis for coming, saying, "We know that you are a great leader because despite your bad knee you have come to be with us, bringing hope and a message of peace."
She asked for a blessing for the children of South Sudan, saying, "Thank you for being a great messenger of God. We will never forget this day."
Francis said children have the right to grow up in peace, and to play and receive an education, as well as the opportunity "for different groups to mingle and to form a single people by embracing the challenges of integration."
He stressed the need to go beyond one's own ethnic group and to welcome and accept those who are different, saying, "it is absolutely essential to avoid ostracizing groups and ghettoizing human beings."
Women, he said, "are the key to transforming the country. If they receive the proper opportunities, through their industriousness and their natural gift of protecting life, they will have the ability to change the face of South Sudan, to give it a peaceful and cohesive development."
He asked that every citizen of South Sudan work to ensure "that women are protected, respected, valued and honored," saying, "Please, protect, respect, appreciate and honor every woman, every girl, young woman, mother and grandmother. Otherwise, there will be no future."
Speaking of the importance of intergenerational ties, he said these relationships between youth and elderly can help open "a new chapter of encounter, which does not forget past sufferings, but radiates the joyful light of fraternity" and peace.
"May you, young people of different ethnicities, write the first pages of this new chapter," he said. While the first years of South Sudan's existence have been scarred by violence and conflict, "you must be the ones to rewrite its history as a history of peace," he said.