Lay missions a test that 'embeds itself into far reaches of your soul'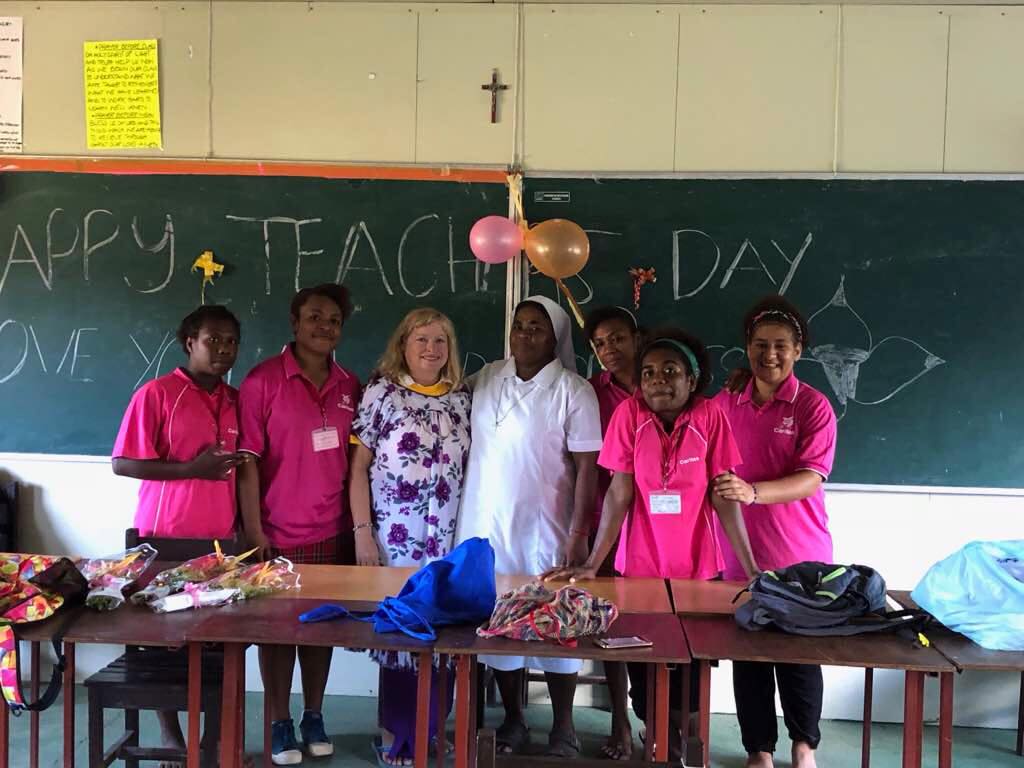 "Can you believe I now attend Mass every day at 6:30 am?" said Danita Kurtz who recently began serving a three-year mission term with Lay Mission-Helpers in Papua New Guinea. "It's the highlight of my day because of the beautiful singing and dancing!"
Danita is working as a teacher at Caritas Technical Secondary School, a girls' boarding school, and the school day begins with Mass. She teaches English to 9th graders and literature to 11th graders. One of her favorite assignments was when she asked the class to present five items that represent their culture.
"It was fascinating!" says Danita. "I learned so much about the different regions of the country."
And on May 15, National Catholic Teachers' Day, her students presented her with one of those cultural symbols, a purple floral merriblouse – a dress and undercloth typical of what women in Papua New Guinea wear today. The class then took her to the chapel where students performed a variety of dances for the teachers, and concluded the day with a feast.
"My homeroom made chicken and rice, sausages, fried sago, fruit and chocolate cake for dessert," she says. "Yum!"
"I feel lucky to work with such a great staff and wonderful students," says Danita.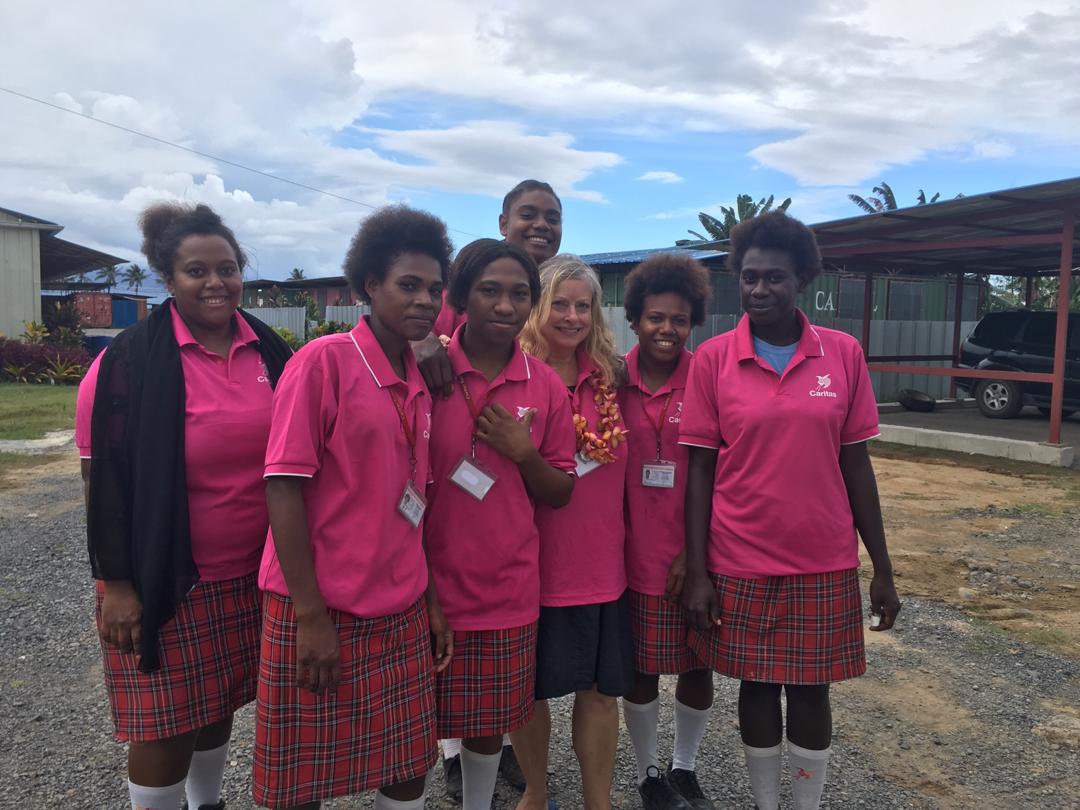 There is another school in the diocese that had hoped to have Danita teach at its site, because they are also in need of teachers for their bright, young students. Lay Mission-Helpers, like Danita, serve as professionals in mission dioceses around the world.
LMH was founded over 60 years ago when Monsignor Anthony Brouwers returned from the 1955 Marian Congress in Nigeria, Africa. He spent some time after the Congress visiting various countries and dioceses in Africa, and what he heard over and over from the bishops there was, "We need help!"
That was 63 years ago. Since then LMH has served in 36 countries and has sent over 700 missioners:  teachers, nurses, engineers, administrators, pastoral workers, computer technicians, pilots, mechanics and just about every other profession you can think of.  They have served hundreds of thousands of students, patients, villagers, parishioners, and children living in some of the most remote, poverty-stricken and under-served regions of the world.
Missioners who have served abroad return from the field a different person.
"Serving as a Lay Mission-Helper in Sierra Leone changed me in many ways," says LMH Director Janice England, Class of 1989. "I thought I was 'bringing God' to the people, only to find out that not only was God already there, but also I came back more sensitive to what it means to be a stranger in a different land, to the gift of hospitality, and to the importance of welcoming those who are different from ourselves."
"Mission is a journey, a test," says Ashley Hansen, Class of 2015, who served in Cameroon. "It will embed itself into the far reaches of your soul and create in you a totally new person, altered by your experiences and all the better for it."
But the most important lesson of all that missioners learn is that God is bigger than they ever imagined. "I promise you will find opportunities to expand your horizons for service to God and to our Catholic Church; meet new and diverse friends; increase your working skills and teach them to others in developing countries; experience liturgies that are alive with color and music; and exponentially increase your love of God and neighbor," says Deanna Bowers, Class of 2003, who served in Cameroon with her husband, Warren.
Danita invites others to consider serving as a Lay Mission-Helpers. "I can only pray and encourage you to become a missionary and let God take you by the hand and lead you on your own personal discernment journey with him at your side," says Danita. "God bless you as you move forward in life."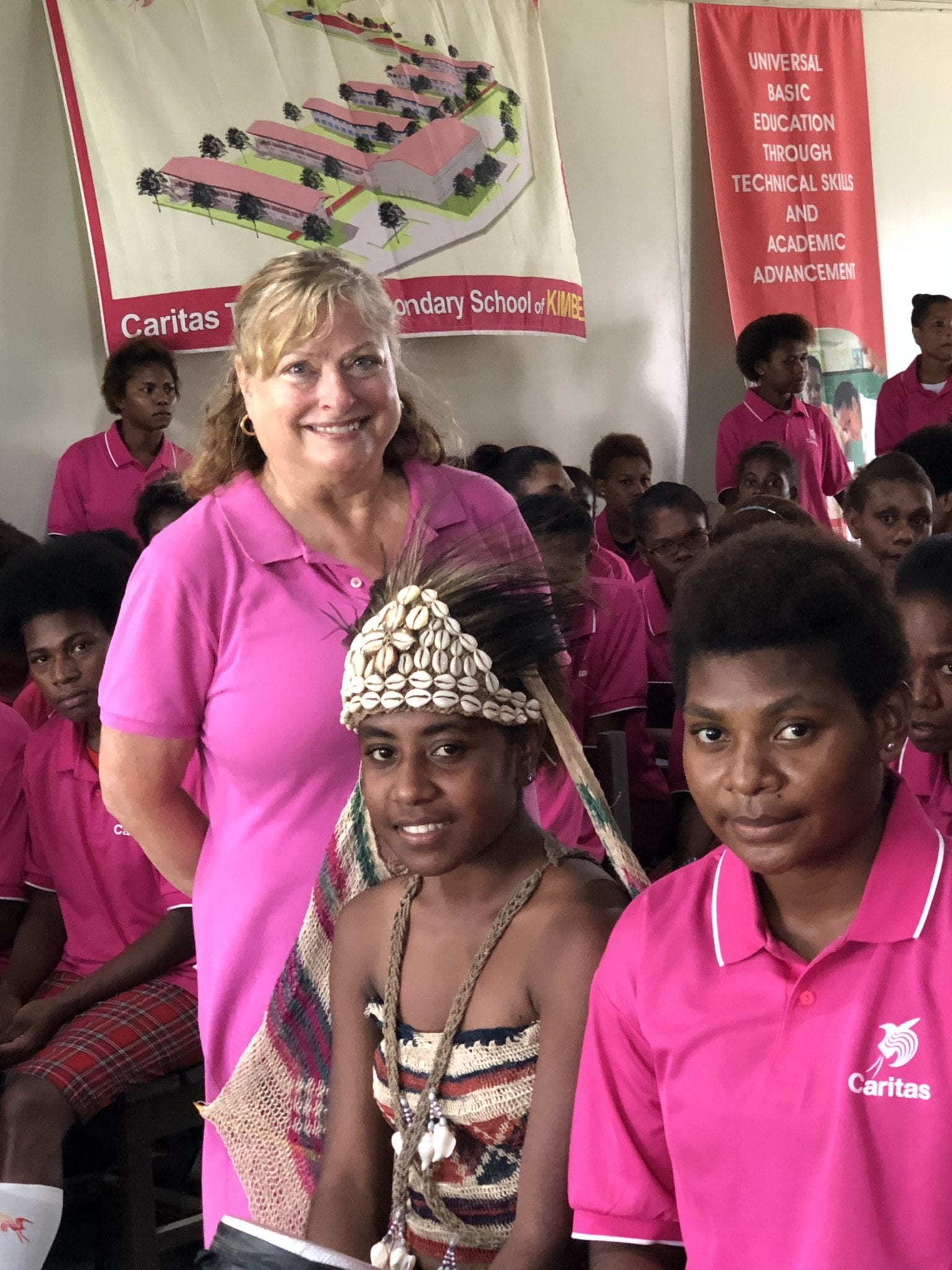 For more information about Lay Mission-Helpers, we invite you to visit our website www.LayMissionHelpers.org or call (213) 368-1870.
Sarah Scopio is communications manager for Lay Mission-Helpers, the first program in the United States to send lay Catholics to serve in the foreign missions.