Iraqi youth tells synod martyrdom isn't the only form of persecution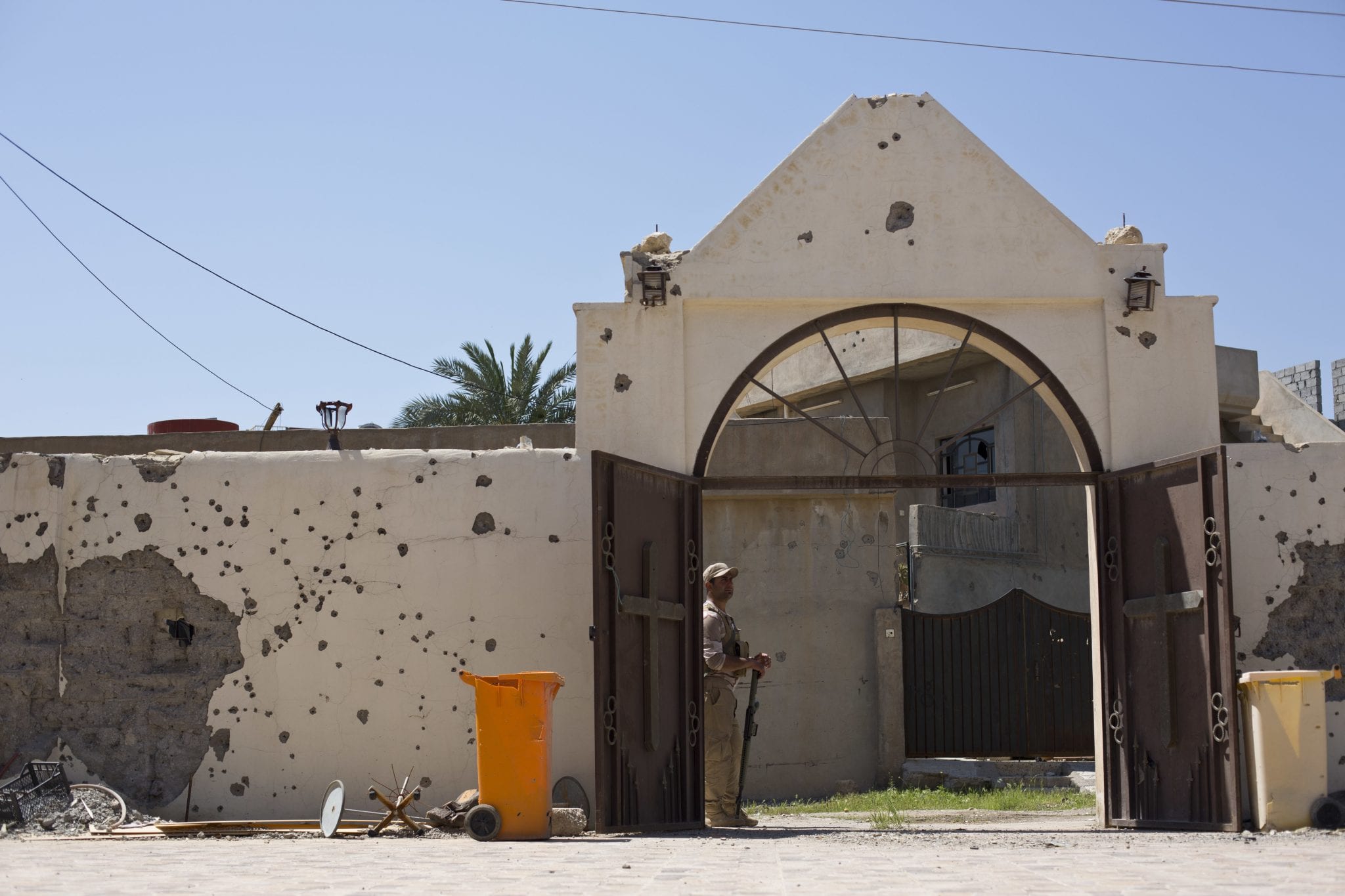 ROME — For Safa Al Alqoshy of Iraq, the trauma of terrorism goes beyond killing. It's experienced in a more lasting way through the insecurity felt by those who have survived, but who face a future full of questions and frightening possibilities.
"It's very important to pay attention that there is not only persecution by killing, there is a persecution by psychology, by feelings. You feel that you are alone, that you are not supported," Safa Al Alqoshy said in an interview with Crux.
These feelings come about through a combination of factors, including a decline in employment opportunities, the quality of education, the lack of international support, but also primarily through the exodus of Iraq's Christian community due to immigration, he said.
A Chaldean Catholic from Baghdad, Al Alqoshy, 26, was the only Iraqi youth delegate to the Oct 3-28 Synod of Bishops on young people, faith and vocational discernment. He left the synod unexpectedly earlier this week to be with his ailing mother, after delivering an emotional speech to synod participants that garnered the longest round of applause of the gathering thus far.
Christians in Iraq want to stay and witness to their faith, but the situation is unstable, he said, recalling how for some 120,000 people on Iraq's Nineveh Plain, their lives were turned upside down during one night when ISIS invaded their towns in the summer of 2014.
"It's not easy…They want to stay but at the same time they think about the future, the children of their children. So, between thinking of staying or emigrating, some events or something maybe happens like the ISIS invasion, and it makes them decide immediately to emigrate," he said, calling such exits one of the most pressing problems Iraq faces.
With nationwide instability and an uncertain future, many people choose to go abroad, leaving previously tight-knit families torn apart by distance, he said, noting that his own family has suffered the same fate after several aunts, uncles and cousins chose to move abroad.
"Maybe from time to time on Facebook we tell each other hi," he said, adding that "if we think about that, it has a psychological effect, because you start to feel that you are lonely. To each friend you say, 'I hope to see you soon,' but you will never see him again because he will go to Australia or America and you cannot reach there."
In addition to the separation of families and the departure of loved ones, there are also the after effects of trauma or violence, Al Alqoshy said, recounting how he himself was kidnapped at age 12 by a group of terrorists who then returned him to his family after realizing they had taken the wrong child.
To this day, he still has occasional nightmare about being taken and blindfolded. On top of this, Al Alqoshy recalled how in 2009, he lost two friends in a car bomb attack outside of his parish.
"We were four standing there. Two of us said we would go, so see you next Friday, and the other two went to the bishops' home to work, so they said 'see you next week,' but we never saw them again because they were killed by a car bomb waiting for them outside of the church," he said.
"Now we are still laughing and joking and working in Iraq, but these things are still in our minds, even if now the situation is better. There are not a lot of car bombs, the kidnapping has become less, but every young person, every Iraqi, has these memories in their mind. So maybe this will have a negative effect in the future."
In his speech, Al Alqoshy not only recounted the difficulties of living in a nation plagued by political instability where the Christian population is dwindling year by year due to persecution and, increasingly, emigration, but he also spoke of the murder of his friends and parish priests.
In his comments to Crux, he said that although ISIS has been defeated, security is still a widespread concern, even in the capital city of Baghdad. While terrorism and kidnappings have decreased, many people think "something will happen similar to what happened to the Christians in the north."
"What's the guarantee? Do I have any guarantees? No," he said, noting that this is the question currently on everyone's mind, prompting many people, especially Christians, to move abroad.
Because of this, emigration "is one of the most serious problems we have in Iraq," he said, voicing concern that if the current emigration rate continues, Iraq will be empty of Christians in a matter of years.
When he speaks of the number of people who have been killed in recent years, most unfamiliar with the situation are "shocked," Al Alqoshy said, noting that at least half of those who have died have been young.
"So you can imagine a family of five, one of the young people, one of the children, was killed, so this family will emigrate. So when one is killed, this family, four or five members, will emigrate," meaning the losses are in fact much higher, he said, noting how in 2004 there were some 1.5 million Christians in Iraq, compared to the mere 400,000 left today.
"If the situation continues as it is, there will be no Christianity in Iraq," he said, adding that "each young person in Iraq now, even if they don't want to emigrate, they are thinking about it, because if they want to get married, they will think that they can't make a real Christian family in this situation."
"Maybe no one was expecting that Mosul and the towns on the Nineveh Plains would be occupied in five hours, so that makes even us in Baghdad think that maybe at any time something will happen like it did in the Nineveh Plains or Mosul."
Al Alqoshy said a vast amount of misinformation on Iraq and the Middle East is put forward in the news and on social media, and as such, one of his main goals of the synod was to convey the reality of the situation.
"I have the responsibility to make a clear picture of my country, of my area, because a lot of people, even in social media or the news, they don't show the reality of what's going on. There are a lot of details, a lot of events, a lot of important things they don't know about, so I have to talk about what's going on in my country and my region," he said.
On the other hand, Al Alqoshy said another objective is to keep in touch with the other young people he has met from all around the world who are also living in "miserable circumstances," such as Vietnam, Pakistan and even some places in Europe.
"Maybe in Europe or America, their problem is not related to terrorism, it's not related to persecution, but it's also important, because the youth have enough freedom, but they are still away from the Church for other reasons," he said, and cited the dangers of social media and the breakdown of the family as key concerns for western nations.
The reason he stays in contact, he said, is to remind himself that "I'm not alone, that there is someone praying for me, there is someone living in the same circumstances as me," even if the situation is different.
In terms of what can be done to help young people, especially Christians, stay in Iraq and the Middle East, Al Alqoshy said more than emotional speeches are needed.
"We appreciate and need prayers, but we need more than prayers," he said, "because every time when someone from Iraq gives a speech, all people start crying and clapping, but after that everyone forgets and goes home."
Though some homes in Iraq's Christian villages are being rebuilt, many people still have no place to stay, or they question how secure the situation is. Security is a major question for young people in particular, he said, adding that "young people are the foundation of the family, of society, of the Church, so we have to support these young people."
For the situation to improve, Al Alqoshy suggested international pressure as a strategic means of helping Iraq get its act together.
As an example, he cited a story recounted during the synod by Cardinal Joseph Coutts of Karachi, who told the story of how a religious sister was forced to leave Pakistan because she was denied a visa, but it was later granted after the Vatican and other European countries began denying visas to Pakistanis.
"So, if we need or if we want to do something we will. We need some pressure on the governments, not only on Iraq, but on the European and American governments to make more effort to support these people," Al Alqoshy said, adding that "we don't only have clapping and crying."
"We have to be more serious. We have to be more honest," he said, noting that he has many tragic stories he could recount of life in Iraq, but more than sympathy, "we need actual movement."
"I need something when I stand with young people from Iraq, talking with them, (telling them) not to emigrate, that when he asks me what I can do in Iraq, I have something to say other than 'it's our land, we are here from the first century.' He knows that, but he wants something he can touch, some guarantee."