ROME—In a surprise yet expected visit, Pope Francis on Tuesday went to Amatrice, the Italian city devastated in late August by a magnitude 6.2 earthquake. He also went to the "red zone," closed off because it's considered unsafe.
"From the first moment, I felt the need to be here. If I didn't come before it is because I didn't want to disturb you, considering your situation" Francis said.
"I pray for you. Closeness and prayer, this is what I offer you."
Talking to journalists on his way back from Georgia and Azerbaijan, Francis had confirmed his intention of going soon, saying that there were three dates being considered, including as far off as December.
"I'll do it privately, alone, as a priest, as a bishop, as Pope, but alone, that's how I want to do it," Francis had said on Sunday. "I would like to feel, to be close to the people."
Close to 300 people were killed, thousands injured and displaced, and churches, shrines and other artifacts of Catholic culture damaged or destroyed in the August 24th earthquake.
In Amatrice alone, 234 lost their lives that day. According to the mayor, the town basically is "no more." The town, some two hours away from Rome, is known to generations of Catholics around the world as the birthplace of a fabled pasta sauce called amatriciana.
The earthquake caused an estimated $4.5 billion in damages.
During his private visit, which was a surprise for most, Francis greeted hundreds of people, including some 100 children from the local school.
The Vatican announced later in the day that the pope had lunch at a residence for the elderly in the province of Riete, called "San Raffaele Borbona." He greeted the 60 patients- most of whom lost their homes in the earthquake- one by one, and had lunch with them.
Pope Francis with elderly left homeless by the #Amatrice earthquake pic.twitter.com/XAfcBnaz8t

— Greg Burke (@GregBurkeRome) October 4, 2016
Greg Burke, Vatican spokesman, shared several images on Twitter, including one of Pope Francis praying in silence and another of the pontiff comforting a man who'd lost his wife and two children.
Silent Prayer#PapaFrancesco #Amatrice pic.twitter.com/8CPporjOof

— Greg Burke (@GregBurkeRome) October 4, 2016
Pope and Pastor#PapaFrancesco greets a man who lost his wife and two children in the earthquake pic.twitter.com/7rxgE00Mci

— Greg Burke (@GregBurkeRome) October 4, 2016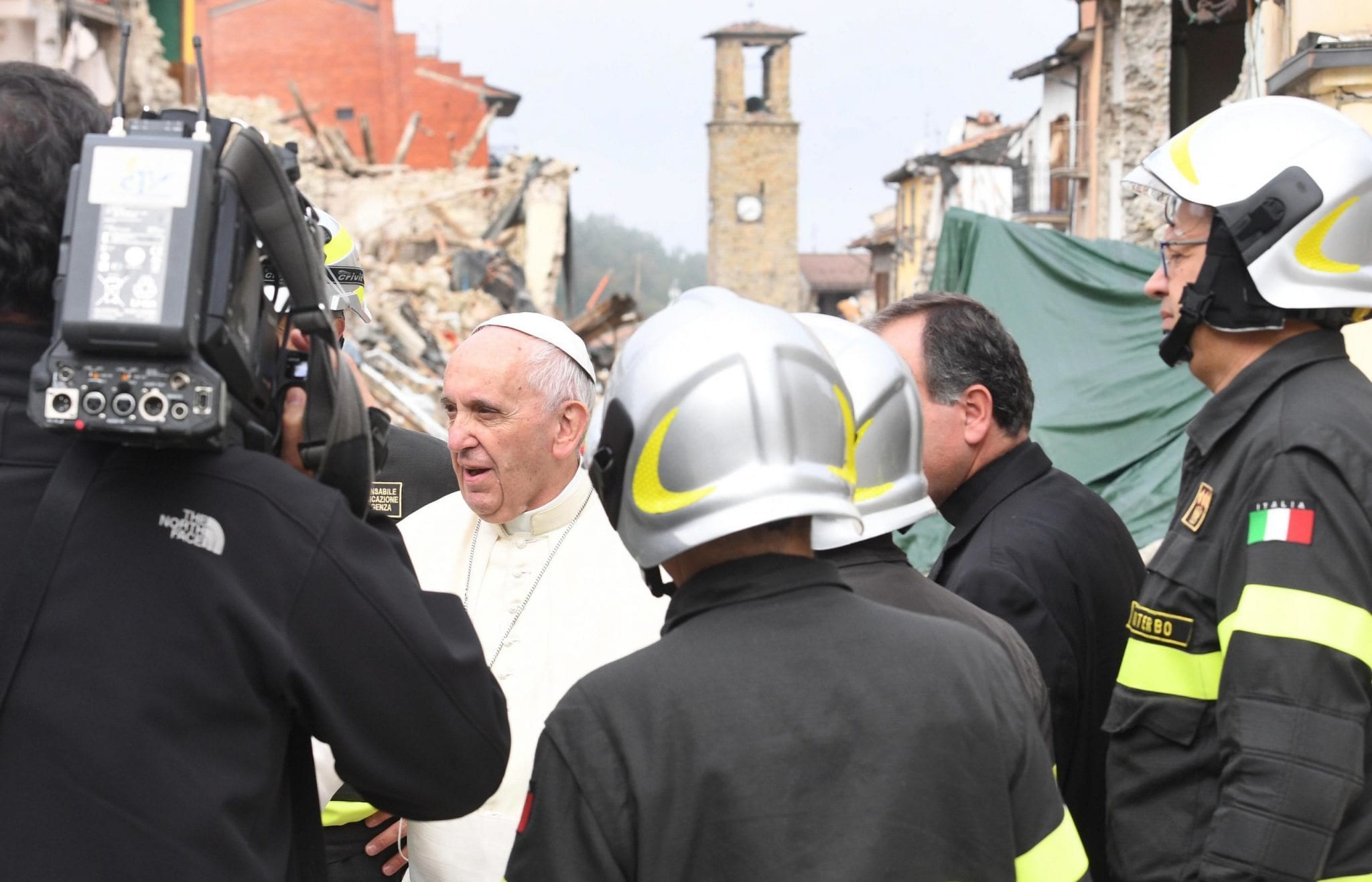 In the Middle Ages, this region of central Italy was known as the frontier of the pope's civil authority in the country, and the local population became legendary for its ferocious loyalty to the Successor of Peter. Facing various invasions and threats in Rome, at least seven popes took up residence here, knowing they could always count on local forces to protect them.
Currently, thousands of people are living in hastily constructed camps, waiting for the day when they can go back home – if it ever comes.
On Sept. 18 Italian churches organized a special collection for helping those affected by the earthquake. Even before then, Caritas Italia had raised more than 5 million euros to support relief efforts, but much more is needed for long-term rebuilding, and also to provide physical, psychological and spiritual care of the people whose lives have been upended.
Francis's visit to the earthquake-devastated region also included stops in Accumoli, Arquata, Pescara del Tronto and Norcia, with the last destination being the epicenter of the 6.2-magnitude tremor.
In Arquata del Tronto, the pontiff took the time to greet over 100 people, talking to them before leading them in prayer.
"Good afternoon to all. I wanted to be close to you in this time, and tell you that I carry you in my heart," he said. "I know about your suffering and your anguish, and I know also of your dead ones and I'm with you."
"It's for this reason I wanted to be here," the pope said.
Afterwards, he prayed for the "dear ones who stayed behind and [those who have] gone to heaven."
"Have courage," he said, "and always go forward."
Crux is joining efforts with Catholic Relief Services, the U.S. branch of Caritas, and the Diocese of Orange County to help.