Ecumenism and the quest for peace may carry Francis to South Sudan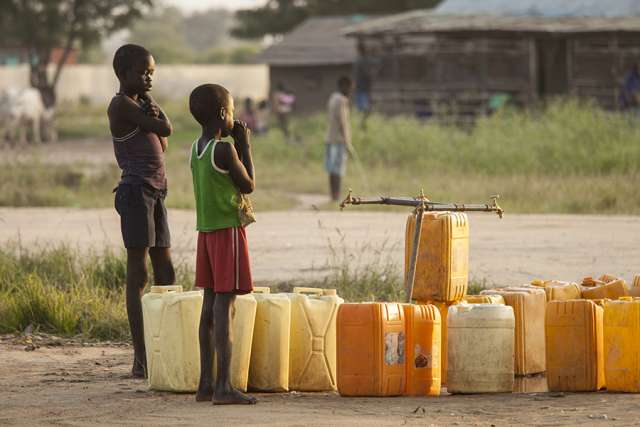 ROME — During the early days of his pontificate, Pope Francis promised a reduced number of foreign trips compared to those of his predecessors. Yet in less than four years, he's made 17 trips outside of Italy, visiting 26 countries.
Some of those trips had been decided before his pontificate even began or were more or less foreordained. Others, however, reflect Francis's personal priorities and sometimes amount to desperate attempts from a man grasping at straws to make his message of peace, mercy and bridge-building a reality.
That's why he visited the Central African Republic in 2015, and it's the same reason he wants to go to South Sudan this year. An ongoing war didn't stop him before, and odds are, it won't get in his way now either.
A possible papal trip to the world's youngest country has been rumored for months, with a visit late last year from an ecumenical delegation from South Sudan to the Vatican fueling it.
In October, Catholic Archbishop Paulino Lukudu Loro of Juba; Reverend Daniel Deng Bul Yak, Archbishop of the Province of the Episcopal Church of South Sudan and Sudan; and Reverend Peter Gai Lual Marrow, Moderator of the Presbyterian Church of South Sudan, traveled to Rome at the invitation of the Pontifical Council for Justice and Peace, today part of the Dicastery for Integral Human Development.
As was expected, the three Christian leaders delivered an invitation for Francis to visit the war-torn nation. However, they upped the ante by asking the pope to do so along with Justin Welby, the Archbishop of Canterbury.
Francis has already made this combination of ecumenism and outreach to the peripheries a hallmark of his travelling style. Recall his visit to the Greek island of Lesbos to make a pro-refugee statement in the company of Patriarch Bartholomew of Constantinople last April, for instance, or his peace-building visits to Armenia and Azerbaijan, where he was constantly surrounded by other religious dignitaries.
Francis is clearly committed to the ecumenical cause, as his trip to Sweden to mark the 500th anniversary of the Protestant Reformation showed, and for a visit that would also bring him to a more peripheral nation badly in need to healing, it's hard to imagine he won't do everything in his power to get there.
The pope confirmed as much on Sunday, during his visit to Rome's All Saints Anglican Church, where he said that the ecumenical South Sudanese delegation had asked him, "Please, come to South Sudan, even for a day, but don't come alone, come with Justin Welby."
"We are looking at whether it is possible, or if the situation down there is too dangerous," Francis said. "But we have to do it, because they – the three [Christian communities] – together desire peace, and they are working together for peace."
According to ReliefWeb, the specialized digital service of the UN Office for the Coordination of Humanitarian Affairs, an estimated 7.5 million people across the country are in need of humanitarian assistance and protection.
Since the ethnic conflict began in December 2013, about 3.4 million people have been forced to flee their homes, including nearly 1.9 million people who have been internally displaced and about 1.5 million who have fled as refugees to neighboring countries.
Horrendous atrocities have been reported by several humanitarian agencies, including widespread sexual violence, with civilians fleeing attacks by government and rebel troops alike.
Food insecurity and malnutrition have skyrocketed, problems that according to the country's Catholic bishops have been compounded by problems of unemployment, soaring inflation and poor rains, meaning that the country has now entered a critical time.
RELATED: South Sudan bishops condemn atrocities, appeal for help to prevent famine
On Feb. 20 the United Nations declared a famine in parts of the country, saying that 100,000 people are on the brink of starvation, with a million people headed towards the same fate.
"Our worst fears have been realized," said Serge Tissot, the UN Food and Agriculture Organization's representative in South Sudan in a news release. "Many families have exhausted every means they have to survive."
Citing government predictions, the South Sudanese bishops' estimations are even worse: 4.9 million people would be facing famine by April and about 5.5 million people by July.
The United Nations describes this as "a man-made famine" – caused by the civil war which has divided the army largely along ethnic lines. A political row between President Salva Kiir and rebel leader Riek Machar, who has fled the country, led to killings in the capital and fighting which has spread across the country.
The BBC reports that Machar is now in South Africa, where he fled in July, after a fragile peace deal collapsed.
The original plan was for Kiir and his former deputy, not the Christian leaders, to meet Pope Francis in the Vatican, but Machar couldn't be reached to receive the invitation.
According to Erkolano Ludu Tombe, Bishop of Yei, "everybody, even the non-Christians, all South Sudanese, are delighted to hear that the pope may come to South Sudan."
Speaking to Vatican Radio, Ludu Tombe said that since the pope had expressed "hope" about a possible trip, but not promised it would happen, the South Sudanese are praying for said visit to become possible.
He also said that the Catholic Church is taking an active part in the process for mediation and dialogue, because it's "part and parcel of the mission of the Church to contribute to peace-building and dialogue."