Trump is going to Italy in May, so will he meet the pope?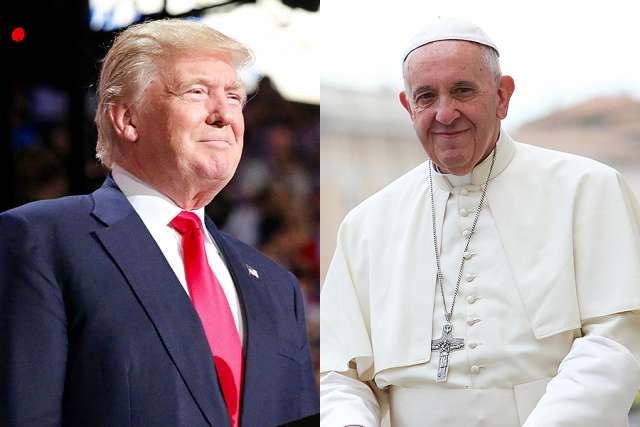 ROME—The White House announced on Sunday that President Donald Trump will be travelling to Italy to attend a G7 summit in May, and some believe this might be an opportunity for him to meet with Pope Francis.
The possibility of the two leaders' first meet-and-greet was first suggested by Christopher Lamb in The Tablet, who quoted a diplomatic source saying that if Trump came to Italy without seeing the pope, it would be seen as "a snub, particularly given their earlier clashes over migration."
There's no official confirmation a meeting will take place, among other reasons because the Vatican never reveals the pope's schedule so far in advance.
The United States currently has no ambassador either to the Vatican or to Rome, but several sources have confirmed to Crux that as a head of state, there's no rule that prevents Trump – or the White House – from engaging with the pope, who beyond being the spiritual leader to 1.3 billion Catholics is also head of the Holy See, a sovereign entity under international law.
A possible visit to Italy could, however, establish a hard deadline for Trump to name his ambassador to the Vatican because though he could, he probably wouldn't want to visit the pope without an ambassador in place.
Typically Republican administrations are faster in appointing ambassadors to the Holy See than Democrats. Bill Clinton didn't name Raymond Flynn until March 1993, and Barack Obama appointed Miguel Diaz in May 2009.
But with Republicans, appointments came slightly faster. George H. Bush appointed Thomas Melady in February of 1989, and George W. Bush appointed Jim Nicholson almost as soon as the campaign was over, because it was the assignment that Nicholson, who had helped spearhead the Bush campaign as head of the Republican National Committee, wanted.
The G7 summit is scheduled for May 26–27, in Taormina, a small city on the east coast of Sicily, the largest island in the Mediterranean located right at the "toe" of Italy's boot.
Also participating will be the prime ministers of Canada, Justin Trudeau, Italy's Paolo Gentiloni, Japan's Shinzō Abe, the UK's Theresa May as well as Germany's Chancellor Angela Merkel and European Union representatives Jean-Claude Juncker and Donald Tusk.
France is holding elections before the summit, so it's unknown if the new president will attend- or who that person will be. The group, formerly known as the G8, used to include Russia, but since March 2014 it's been decided that meaningful discussions with the country were not possible.
It would be odd for a U.S. president to visit Italy and not the pope, though it wouldn't be unprecedented.
Woodrow Wilson was the first sitting president to travel to Europe- where he spent nine months after the end of WWI. As such, he was the first commander in chief in modern times to meet the pope, on Jan. 4, 1919, when he had an audience with Benedict XV.
Since then, most presidents paid a visit to the pope when travelling to Italy, with Franklin D. Roosevelt being one exception. In 1943, he traveled to the country to see Allied military installations as part of a Nov. 20-Dec. 9 tour that took him to several countries, including Malta, Senegal, Tunisia and Egypt.
Bill Clinton visited Pope John Paul II during the first of his two visits to Italy in 1994, one in June and the second in July. Two years later, he returned to Italy, but avoided Vatican City and the pope, presumably because he visited four military bases in four countries in one day: Italy, Hungar, Bosnia-Herzegovina and Croatia.
In 1997, Clinton again stopped in Italy en route to and from Bosnia, with no papal greeting.
In 1999 Clinton was in Italy for a two-day conference on Progressive Governance for the 21 century but no meetings with John Paul II were scheduled.
The second President Bush met with the pope during five of his trips to Rome. There was a sixth one, in April 2005, but it took place only days after the death of John Paul.
Trump and Francis have had no interaction since the election, save for a congratulatory papal note on the day the American president was sworn in. The two have many issues on which it would be hard for them to reach an agreement, such as Trump's immigration policies and his intention to build a wall along the U.S.-Mexico border, something the pontiff has called "un-Christian."