Vatican cricket club takes interreligious tournament to Fatima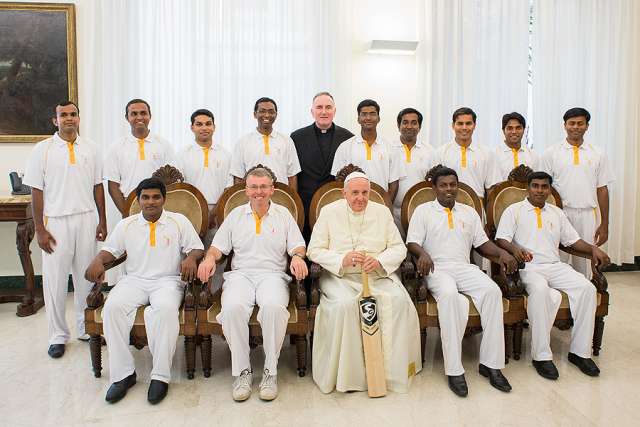 FATIMA, Portugal — St. Peter's Cricket Club, the Vatican's cricket team, is traveling to Fatima April 19-22 for an interreligious tournament ahead of the 100th anniversary of the appearance of Our Lady to three shepherd children in the country.
The team's third international tour, the tournament will include Muslim, Hindu, and Jewish teams coming from Portugal, Spain, and the United Kingdom.
It takes place just three weeks before the pope's pilgrimage to Fatima May 12-13 to join in the centenary celebrations.
Established in 2013, St. Peter's Cricket Club is made up of priests, deacons, and seminarians currently living and studying in Rome.
Current and past members have hailed from England, India, Sri Lanka, and Pakistan. The team was formed under the Vatican's Pontifical Council for Culture as a way to creatively engage with people from other Churches, ecclesial communions, and religions.
The first day of the trip will be dedicated to visiting the shrine at Fatima, and the three following to the tournament. The team is hosted by the municipal council and people of Miranda do Corvo, near the historic university city of Coimbra.
This is the cricket club's third "Light of Faith Tour." The first was held in England in 2014. On April 23, 2016 the team played their second cricket match against the Royal Household in Rome to mark Queen Elizabeth II's 90th birthday.
Their second "Light of Faith Tour" was also held in England, in September 2016.
In June 2014, the pope told a crowd of Italian youth gathered in St. Peter's Square for a field day event that "Sports in the community can be a great missionary tool, where the Church is close to every person to help them become better and to meet Jesus Christ."
And in October 2016, he told participants in an international conference on sports at the Vatican that the beauty and joy found in sports, whether playing or watching, is something that benefits and unites everyone, regardless of religion, ethnic group, nationality, or disability.
"Sport is a human activity of great value, able to enrich people's lives," he said. "As far as the Catholic Church is concerned, she is working in the world of sport to bring the joy of the Gospel, the inclusive and unconditional love of God for all human beings."