ROME – Mothers and women have always had a central role in the Catholic Church. The Virgin Mary is the ultimate example of its devotion to motherhood, to the point that one could say that every day is Mother's Day in the Vatican.
Pope Francis, following the legacy of the previous two pontiffs, has taken steps to turn the Church's devotion to women and mothers into facts, in part by calling for more women to be appointed to positions of prominence in the Vatican and throughout the Church.
"A Church without women would be like the apostolic college without Mary. The Madonna is more important that the Apostles, and the Church herself is feminine, the spouse of Christ and a mother," Pope Francis told journalists on the flight back from Rio de Janeiro in Brazil in 2013.
"We cannot limit the role of women in the Church to altar girls or the president of a charity, there must be more."
And more followed, with women being appointed by the Argentine pope to roles that had always been occupied by men. Some of the pope's "firsties" are also mothers, and a few of them accepted to talk to Crux about their experiences, challenges and projects.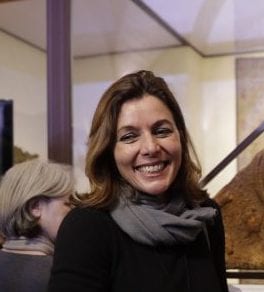 BARBARA JATTA – Having it All
Name: Barbara Jatta
Nationality: Italian
Position: Director of the Vatican Museums
Role model: St. George
Quote: "It's a matter of energy and will"
Barbara Jatta, the newly elected director of the world-famous Vatican Museums, is the poster child for the Vatican's openness and encouragement of women and mothers in positions of management in the Church.
A mother of three and a Vatican employee for the past 20 years, Jatta recognizes that there has been a shift in society in regard to the role of women, and that the Vatican is reflecting that shift.
As a mother, Jatta told Crux in an interview "obviously one is more used to being patient and finding compromises!" Yet she also adds that making it in the Vatican is not a question of male or female, but of hard work.
"I am very lucky because I married a pediatrician!" Jatta said. "Family makes everything simpler in life for a mother who spends many hours a day out because she has to go to work."
But for Jatta, women, just like men, can have it all, if they're willing to make the necessary sacrifices.
"It's a matter of energy and will," she said.
When it comes to creating more opportunities for women in the Church, Jatta said that "a lot has already been done," citing the fact that many employees in the Vatican museums are female and are paid the same as men for the same job.
"But one thing I am trying to accomplish is to open a nursery school for Vatican Museum employees, both men and women," she said. "Talking as a director, if a mother or father is more relaxed because their child is taken care of, he or she will work better!"
Jatta's youngest child is named after St. George, who is also her source of inspiration.
"St. George is the saint who battles dragons, and there are many dragons," she said. "They exist in today's society and in one's personal life and in everyone's journey."
But the biggest challenge for Jatta on the job is "to work well, and to make sure that everyone else works well too."
SUSAN VOLPINI – The Divas in the Vatican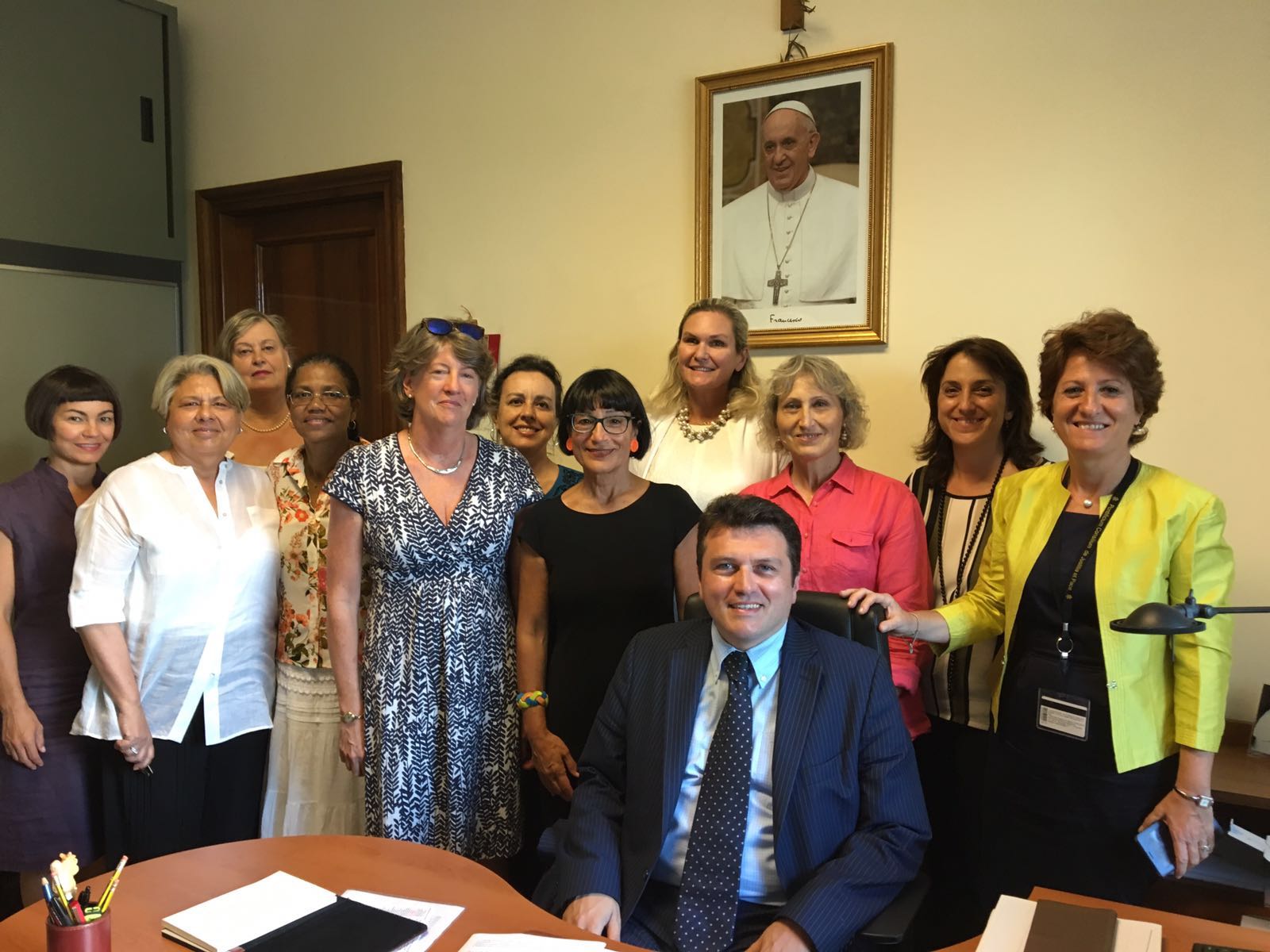 Name: Susan Volpini
Nationality: American
Position: Secretary of the Women in the Vatican Association
Role model: St. Mary Theresa of Calcutta
Quote: "Charity is shown first of all at home, then at work and everywhere"
Of the nearly 5000 lay and religious employees working for the Vatican, 750 are women. The proportion of women started growing rapidly in 2015, and as of September 2016, there is now even an Association of Women in the Vatican.
The group, called Divas for short due to its Italian acronym, is aimed at forming a network of help and support for the growing ranks of women in the Vatican.
Susan Volpini, the secretary of the Diva's, told Crux in an interview that the Church has always had a special regard for women throughout its history, but today there is a growing number of laywomen with children who work at the Vatican.
Volpini, a mother of three, recognizes that "having to juggle kids, work and all activities regarding our children definitely offers a mental openness which helps us approach various aspects of our work."
Motherhood, according to Volpini, "gives you that extra drive which allows us to handle more things at the same time.
That's true "especially within the Church, because charity is shown first of all at home, then at work and everywhere," she said. "And it's simpler for us, because we are used to giving our love in various aspects."
One of the main role models in her work is St. Mary Theresa of Calcutta, who offers and example of giving "everything for the poorest of the poor."
Volpini enjoys her work offering a place of encounter and exchange between the women in the Vatican, but her concern also goes to the broader spectrum of women, and especially mothers, who are alone in the world.
"My heart goes out to mothers who have no food to give their children and have nothing," she said, and while acknowledging that the Church has been very active in helping women and children in need, Volpini added "We can always do more, because it's never enough."
MARIELLA ENOC – The Spiritual Mother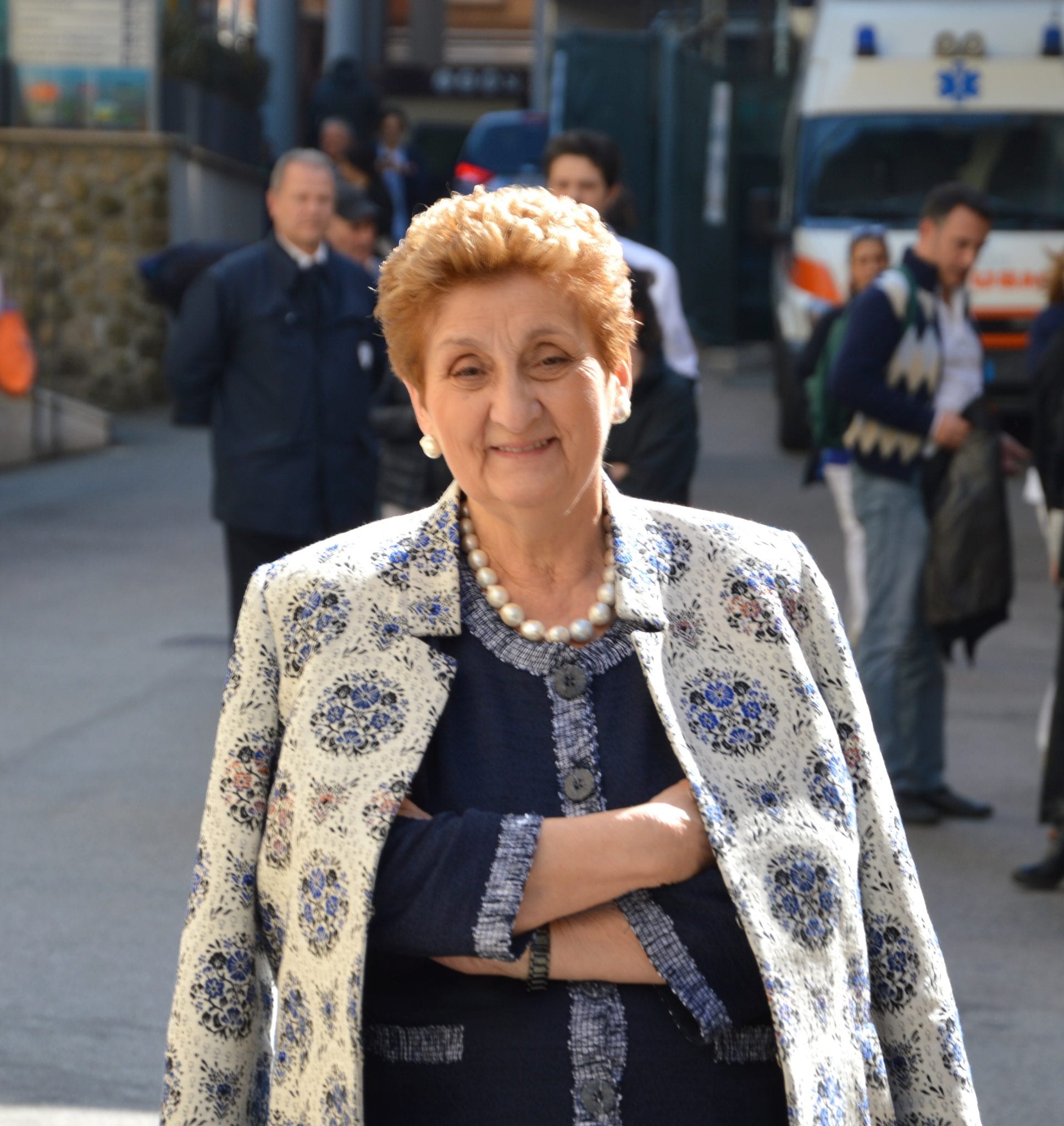 Name: Mariella Enoc
Nationality: Italian
Position: President of the pediatric Hospital Bambin Gesu
Role model: Virgin Mary and the Holy Spirit
Quote: "Of all human spheres, women are more able to pick up aspects tied to maternity, relationships and tenderness"
Mariella Enoc was nominated by Pope Francis as president of the Vatican's famed pediatric hospital Bambin Gesù on February 12, 2015. If family is the key word at the hospital, then Enoc, who does not have any children, "is a little bit like a mother," as the pope said during an audience this April.
"When we are talking about children, we are talking about a family," Enoc told Crux in an interview. "Being a woman president of a pediatric hospital, I assure you, is a great joy!"
The nomination of Enoc made a big splash in the news at the time, since she became the first female president of the hospital, but she credits her long professional history in management and her devotion to the Church as the reasons behind the hire.
"I believe that a really beautiful thing the pope does when choosing people for these (important roles) is that for him there are no walls, not even between men and women," she said.
Enoc says her maternal instincts guide her in her work, and that she tries to create an open environment where people can freely talk to her when issues emerge.
"I think of all human spheres, women are more able to pick up aspects tied to maternity, relationships and tenderness," she said.
As a woman in management, Enoc knows about the importance of communicating with her colleagues.
"I always say that what counts is the ability to not be bossy but authoritative," she said. "I have to exude authority, commitment, hard work."
"I actually work in a world of men," Enoc said but she doesn't feel like this poses any obstacles, though she confessed to be saddened by the fact that at the hospital's highest management level there are no other women.
Though Enoc says she's never been discriminated against because she's a woman, she added that sometimes she "will pick up on some minor tension."
"Is it because I am a woman? Is it because I have a new way of performing this job? Is it because Pope Francis is my great inspiration?" Enoc asked. "I don't know."
Enoc's main role models in her work are Mary and the Holy Spirit.
"I pray a lot to the Holy Spirit because for me it is the great force of love that moves and gives meaning to my Christian faith," but she also said that the strength, courage and love of the mothers of sick children at the hospital also fuels her drive.
"I wish well to mothers, the real mothers and the spiritual mothers," Enoc said. "In this world, I believe that we should all hope that motherhood always be a happy moment."