ROME – Corruption is at the root of slavery, unemployment and disregard for nature and the common good, Pope Francis said in a new video message titled 'Say NO to Corruption' released on Thursday.
"Corruption, a process of death that feeds the culture of death," the pope said, "because the thirst for power and possessions knows no limits."
The video is part of a series released each month by the Pope's Worldwide Prayer Network on a wide range of issues. For the first time, the Vatican's Dicastery for Promoting Integral Human Development collaborated on the making of the video in light of the department's interest in the topic.
The key to fighting corruption is not to remain silent, because that only strengthens criminal organizations and must be contrasted with justice and beauty, the video states.
"Corruption is not countered with silence," the pope said. "We must speak about it, denounce its evils, and try to understand it so as to show our resolve to make mercy reign over meanness, beauty over nothingness."
The video ends with the pope's call to action to "those who have material, political or spiritual power," and to pray so that they "may resist any lure of corruption."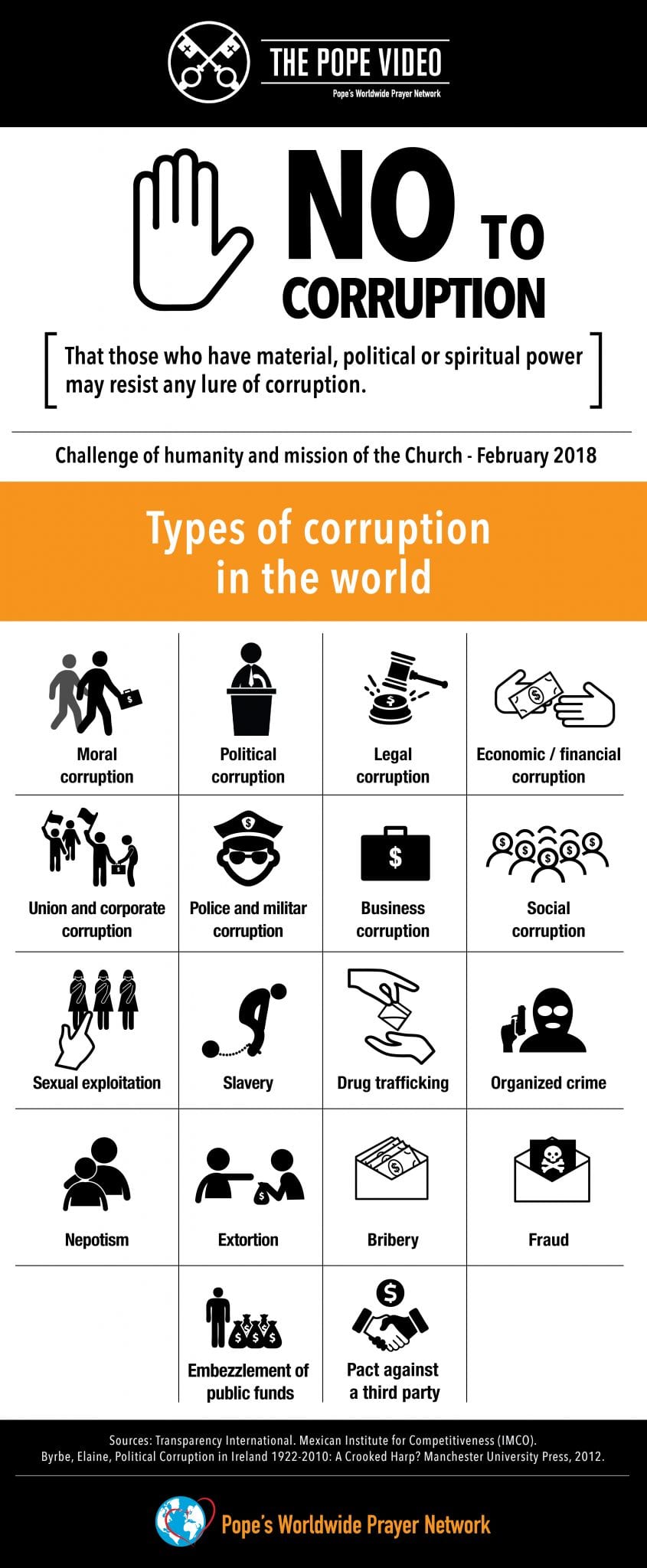 The pope's message will be shown Feb. 3 to participants at a conference titled 'Corruption, Apocalypse of Democracy' that will take place in Naples. The Southern Italian city has long suffered socially and economically due to widespread corruption and criminal organizations such as the Camorra mafia syndicate.
Francis has spoken out against corruption on many occasions. During his most recent trip to Chile and Peru, the pontiff openly denounced the "scourge" of corruption and stressed the importance of transparency among public entities, the private sector and civil society.
The Dicastery for Integral Human Development has also been actively involved in the fight against corruption, seeing it as a necessary step to ensure the dignity and wellbeing of all humanity.
It launched an International Conference on Corruption in June of last year, which drew some 50 participants from all over the world, including anti-mafia and anti-corruption magistrates, bishops, Vatican officials, representatives from the U.N. and various states, heads of movements, victims and ambassadors.
As a result, the dicastery issued a joint text providing 21 goals and action points they hope to accomplish in the coming year and setting February as the month dedicated to the topic.
"We shouldn't speak about resolving the issue of corruption in theory. Instead we should confront corruption in every sector," said Ghanaian Cardinal Peter Turkson, who presides over the dicastery.
"It is the poor who pay for the parties of the corrupt."