Women ambassadors to Vatican use Zoom to keep in touch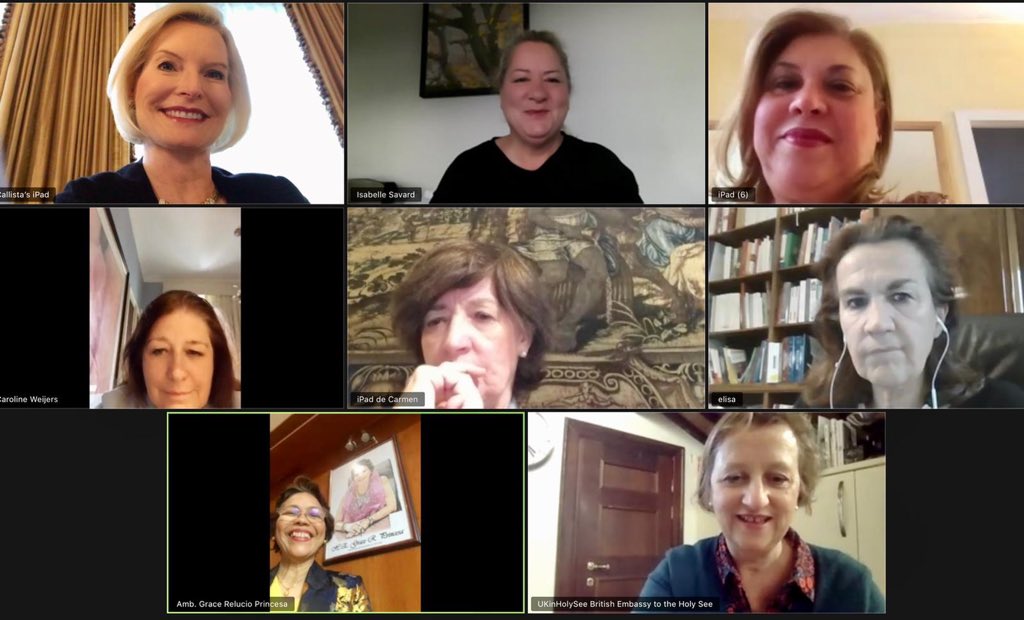 ROSARIO, Argentina – Staying healthy, active and keeping in touch with friends and family has been a challenge for people across the world during the lockdowns caused by the COVID-19 coronavirus pandemic.
A group of women ambassadors accredited to the Holy See are no exception, and they decided to honor a very British custom last week, with a twist of modernity: a Zoom meeting at tea time.
"It was an opportunity to swap notes on what is happening – so there is the professional side, and there is the personal side," said Caroline Weijers, ambassador of The Netherlands to the Holy See. "For the colleagues who are here without partner or family it also confirms we are looking out for each other."
"And yes, it was only tea," she clarified, for those who might have wondered if instead of tea, a "caffe corretto": In Italy, this is an espresso with dash of liquor, usually grappa, but sometimes sambuca or brandy.
One of the things the group discussed, she told Crux, was how to stay fit during the mandatory lockdown, which is into its fourth week across most of Italy.
"Mens sana in corpore sano, as my husband never ceases to say," she said.
Sally Axworthy, British Ambassador to the Vatican, told Crux that the diplomatic community at the Holy See is close-knit, "and after 2.5 weeks of lockdown we felt we were missing the usual exchanges on global and local politics, so we decided not to let physical barriers get in our way."
Weijers said that the idea for the tea Zoom summit was of Isabelle Savard, chargé d'affaires of the Canadian embassy, but it was Axworthy who contacted everybody, and dealt with the logistics of getting everybody together. The response, she said, "was unreservedly enthusiastic," and there's a plan to have a second go at it, probably with a larger group once certain technical challenges have been addressed.
Axworthy told Crux that the dean of the diplomatic corps to the Holy See, George Poulides of Cyprus, has been doing a great job of keeping the diplomatic community connected.
"We are facing the challenges together, as we all try to help our respective citizens," Axworthy said. "We are grateful to the Holy Father for the pastoral support that he is offering the world at this difficult time."
Callista Gingrich, the United States ambassador to the Holy See, told Crux that throughout this time, "we're all looking for creative ways to engage with each other through the incredible technology we have at our disposal."
Most ambassadors in recent weeks have been more active on social media than they normally would, as they know it's a way to raise awareness of what is going on and promote prevention measures. For instance, last week several diplomats took part in the #SafeHands challenge that went viral on Twitter, promoting users to share pictures of themselves washing hands. Gingrich was nominated by the U.S. ambassador to France, Jamie McCourt, and in turn nominated Eduard Habsburg of Hungary – arguably one of the funniest ambassadors in social media.
"Social initiatives not only create a sense of solidarity between peers, they also have the ability to inform a wider audience about important topics, like washing your hands!" she told Crux.
But, beyond what might seem like an anecdotal tea party, diplomats accredited to the Vatican are working hard to keep their citizens safe and up to date with what is going on regarding COVID-19.
"Our top priority during this health crisis is the safety and security of U.S. citizens and our staff and their families," Gingrich said. "We have no higher duty than to protect Americans."
She explained that the U.S. Department of State has launched an "unprecedented global effort" to bring home American citizens from every corner of the globe. The role of the embassy she leads, much like that of other missions around the world, "is to inform and safeguard Americans abroad."
"With an embassy like ours, which has a global footprint, this means messaging quickly and effectively to U.S. citizens around the world," Gingrich said. "One way we've been doing that is by strongly encouraging all Americans abroad to enroll with STEP.State.gov and monitor the relevant Embassy's website to ensure they receive the most up-to-date information."
But the Tri-Mission Community the United States has in Rome – to the Italian government, the Holy See, and the U.N. offices based in city — has also been working to support relief efforts in Italy, the country that so far has suffered the most devastation due to coronavirus.
"We just worked with the Office of the Vice President to help Samaritan's Purse, a U.S. faith-based organization, deliver and open a 68-bed Emergency Field Hospital in Cremona, Italy," Gingrich said. "Samaritan's Purse worked with the Italian Government to provide nearly 20 tons of medical equipment, a specialized respiratory care unit, and 60 disaster response specialists, including an emergency medical team, an ICU medical team, respiratory therapists, biomedical technicians, pharmacists, doctors, and nurses."
The ambassador said that the "broad support from the U.S. has been impressive," and the U.S. Army and Air Force have also contributed "much needed supplies," as has the private sector, with "more than 12.5 million Euros."
"Americans working for faith-based organizations like Samaritan's Purse are risking their own lives to save others," she said.
Gingrich also said that another way of protecting American citizens is continue to advance the nation's interest overseas through diplomatic efforts, continuing "our vital work with our friends from other nations and the Holy See."
"It is also important for everyone to stay connected with their personal networks," she said. "We are all in this together, so I encourage everyone to stay in touch with your friends and family. By supporting each other we will overcome this crisis. And we can do this while practicing social distancing; technology has made this easy."
Similarly, the Embassy of the Netherlands to Italy is working "around the clock," according to Weijers, in close contact with the Ministry in The Hague, the Italian Authorities, travel agents and others, to help Dutch nationals getting back home – "and many of my colleagues worldwide are providing this kind of consular assistance as well."
In addition, the Embassy to the Holy See "continues its work in its own area, which obviously has received another dimension due to the circumstances. Reform in the Vatican has not stopped, the political aspects of international relations are still very much there, the unsurpassed network of the Holy See remains a valuable asset; peace, security and human rights stay high on the agenda of both the Holy See and The Netherlands."
"The corona virus crisis however, casts a shadow over many of these files, and means one looks at them differently," Weijers said. "Furthermore, in these days it is more important than ever to be in touch and keep in touch with people; reason why I was happy when several bishops, WHO Director-General [Tedros] Ghebreyesus and others insisted on using the term 'physical distancing' as opposed to 'social distancing'."
As regular activities in the life of a diplomat such as one on one conversations, group discussions and visits, that allow for information gathering and reporting, have become impossible, ambassadors are becoming creative to guarantee they can continue working.
"Fortunately, utilities and basic services – water, electricity, gas, fresh food, garbage collection and internet – have continued functioning impeccably, and I would like to stress how grateful I am to the people who ensure this on a daily basis," Weijers said. "Phone calls, e-mails and video conferences can never replace face to face contact, but at the moment they are not just an acceptable alternative, they are necessary and inevitable."
Despite the physical distance, the UK embassy is also working full steam ahead, with COVID-19 being its number one priority.
Axworthy said that the British Government has so far $670 million of aid funding for research, developing a vaccine, tests and treatment in the global fight against this disease, and UK embassies worldwide are working to ensure that British citizens travelling abroad get home safely.
"The British Embassy to the Holy See monitors developments in the Vatican including cases, and Pope Francis' response," she said. "We have also been helping our colleagues in the British Embassy to Italy as they keep our Travel Advice up to date and help British citizens return to the UK.  The work has changed the longer the situation lasts."
And they are also beginning to plan longer-term work, "for the time after coronavirus when we can pick up some of our important initiatives on issues like climate change, modern slavery and combatting sexual violence in conflict."
Yet when all is said and done, and despite keeping the safety of their citizens at the top of their agenda, in truth, ambassadors are humans too, and at the end of the day, much like the rest of the world, despite appreciating the closeness technology allows, in the words of Weijers, "I dare to say that most of us are looking forward to the moment we can share a glass of prosecco in the sunshine."
---
Crux is dedicated to smart, wired and independent reporting on the Vatican and worldwide Catholic Church. That kind of reporting doesn't come cheap, and we need your support. You can help Crux by giving a small amount monthly, or with a onetime gift. Please remember, Crux is a for-profit organization, so contributions are not tax-deductible.