Francis creates foundation dedicated to John Paul I, the 'smiling pope'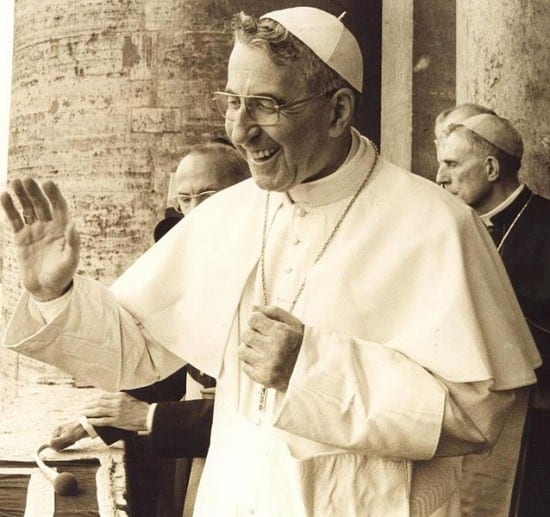 ROME – Pope John Paul I, the "smiling pope" of 33 days, will have a foundation dedicated to his memory, the Vatican announced Tuesday, another sign of how much the late pontiff is a point of reference for his successor, Francis.
Called the "Vatican John Paul I Foundation," the new entity was established by Pope Francis Feb. 10 and is tasked with "the promotion and dissemination of the thought, words and example of John Paul I," according to an April 28 Vatican communique.
Headquartered in the Vatican's Secretariat of State, the foundation has five tasks:
To protect and preserve the cultural and religious heritage of John Paul I.
To promote initiatives dedicated to him and his works such as conferences and seminars.
To publish their own studies and research on John Paul I, and those of third parties.
To establish awards and scholarships.
To be a point of reference, both in Italy and abroad, for those working in the same area.
Pope Francis named the Vatican's Secretary of State, Italian Cardinal Pietro Parolin, as president of the foundation, and Italian journalist Stefania Falasca, who is vice-postulator of John Paul I's sainthood cause, as vice president.
Other members include Cardinal Beniamino Stella, prefect of the Vatican Congregation for Clergy; Monsignor Andrea Celli, director of the Legal Office of the Vicariate of Rome; Father Davide Fiocco, who oversees the Pope Luciani Center in Italy; the niece of John Paul I, Lina Petri; and Alfonso Cauteruccio, an official with the Synod of Bishops.
Born as Albino Luciani Oct. 17, 1912, in Italy's northern Veneto region, Luciani was elected pope at the age of 65, taking the name Pope John Paul in order to honor both of his immediate predecessors, St. John XXIII and St. Paul VI.
He sent shockwaves around the world when he was found dead the morning of Sept. 30, 1978, just 33 days after he was elected pope. The Vatican announced that he died of a heart attack, but since his death there have been decades of speculation and conspiracy theories about his final hours.
In 2017, around the same time Luciani's cause was advanced by Pope Francis, Falasca published a book titled Pope Luciani, Chronicle of a Death, which laid those rumors to rest using various testimonies, including the two sisters who found him dead, and documents from the Vatican Apostolic Archives.
When Pope Francis was elected in March 2013, his mannerisms struck many Catholics with a long memory as similar to those of Luciani, and comparisons were soon made between the new Argentinian pontiff and the "smiling pope."
Luciani has often been hailed as an extremely pastoral figure who understood the struggles of ordinary people and used simple language to explain the faith. Pope Francis himself has often cited John Paul I in speeches and interviews, most specifically when talking about mercy and forgiveness.
In 2017 Francis signed the decree of heroic virtue allowing John Paul I, or "Papa Luciani" as he is fondly remembered among Italians, to be referred to as "Venerable."
In an April 28 article published in Vatican newspaper L'Osservatore Romano, Parolin said John Paul I "a point of reference" in the Catholic Church, saying his importance "is inversely proportional to the duration of his very short pontificate."
Calling Luciani a "pastor close to the people," Parolin said he had an "extraordinary social sensitivity" and praised the late pope for his humility, simplicity and his insistence on God's mercy.
"With his sudden death, this story of the Church bent to serve the world was not interrupted," he said, adding that even if John Paul I's government of the Church was never able to be realized, "nevertheless he contributed – explevit tempora multa (for a short time) – to strengthening the design of a Church close to the pain of the people and their thirst for charity."
Follow Elise Ann Allen on Twitter: @eliseannallen