ROME – Days after Pope Francis appointed two women to major Vatican posts, he continued his female outreach by announcing the beatification of an Italian suffragette and by visiting an elderly Holocaust survivor.
Earlier this month, the pontiff for the first time ever named a woman, Catia Summaria, as the Promoter of Justice for the Appeals Court of the Vatican City State. He also named Sister Nathalie Becquart as one of two under-secretaries for the Synod of Bishops – a position that will allow her voting rights in synods, which is also a first.
On Saturday he took his empowerment of women a step further, announcing the beatification of Armida Barelli, a Catholic laywoman and a professed member of the Secular Franciscan Order who not only pioneered the women's group of one of Italy's largest lay movements, but she also campaigned for women's voting rights in the country.
Born in Milan in 1882 into an upper class family, Barelli studied under the Ursulines before traveling to Switzerland, where she attended a boarding school run by the Franciscan Sisters of the Holy Cross. It was during her time there from 1895-1900 that she first felt a call to live the Franciscan spirituality.
After returning to Italy and refusing several marriage proposals, instead dedicating her life to serving the poor, she met a priest by the name of Father Agostino Gemelli who introduced her to the Secular Franciscan Order, whose members do not profess religious vows, but live according to the teachings of St. Francis of Assisi.
Barelli became a professed member of the order in 1910, and by the time of the First World War, she was working as a translator of German articles for a philosophy journal run by Gemelli.
She was later named vice president for social action of the Milan Committee of Catholic Women. In September 1918, Pope Benedict XV called her in for a private audience and appointed her president of the National Girls' Youth of Catholic Action, a post she held until 1946.
There were precursors to Catholic Action in the late 19th century around time of papal states, but the movement's real foundation came under Pius X in 1904, when Catholic Action was created specifically as the lay arm of the hierarchy.
Catholic Action is the largest lay movement in Italy and is unique among the Church's new movements in that while these entities usually arise from a charismatic founder, this one began life as the creature of an institution and thus has always been seen by the Vatican as paradigmatic.
During her time leading the National Girls' Youth of Catholic Action, Barelli traveled widely organizing conferences, leading pilgrimages, and advocating social causes.
Although Catholic Action itself was detached from politics, Barelli was active in advocating for women's rights and promoting women's contributions to society throughout the world, including Venezuela, Australia, Bulgaria, the United States, and China, where she had opened homes for the poor and established institutes for religious vocations.
In Italy's 1948 general election, she voted for the Christian Democrats in a bid to prevent the victory of the Italian Communist Party.
Pope Pius XII in 1946 named Barelli deputy president of Catholic Action, a position she held until 1949, when she began to suffer from a progressive and uncurable illness. She died in January 1952.
The diocesan phase of the cause for her beatification was opened in 1960 under Pope John XXIII, and it was concluded in mid-1970. The Vatican received the formal positio on her life and work in 1993, and in 2007 she was recognized for living heroic virtue and declared "venerable" by Pope Benedict XVI.
On Saturday, the Vatican announced that Pope Francis had approved a miracle attributed to Barelli's intercession that took place in May 1989 in Prato.
Alice Maggini, who was 65 at the time, had been hit by a car while riding her bike and suffered a severe concussion. Maggini's family invoked Barelli's intercession for her healing, after which she made a full recovery that was scientifically inexplicable.
No date has been set yet for Barelli's beatification.
In another gesture demonstrating both Pope Francis's attention to women and his outreach to other faiths, on Saturday he also paid a surprise visit to a woman by the name of Edith Bruck, a poet, who is a Holocaust survivor.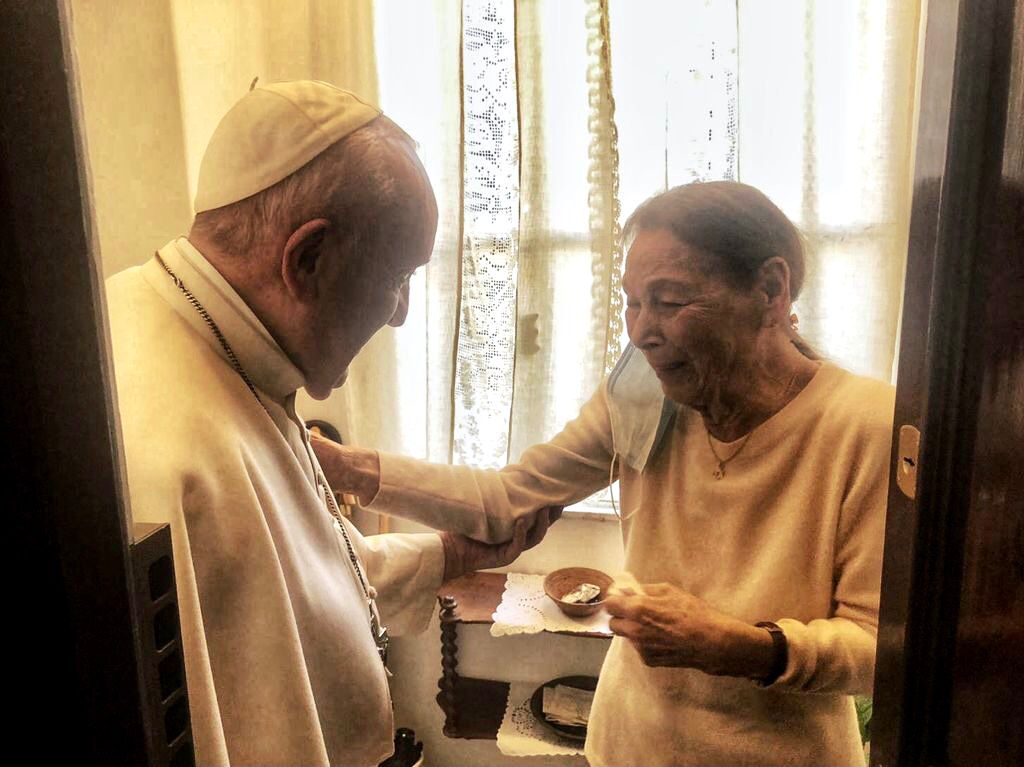 The visit took place after another Holocaust survivor, Liliana Segre, 90, had the first of two doses of the anti-COVID-19 vaccine Thursday, and urged other elderly people not to be afraid to get the jab.
Segre's comments triggered a wave of anti-Semitic backlash on social media, which prompted Italian Interior Minister Luciana Lamorgese to make a public statement of support, denouncing the "new and unacceptable attack" on Serge, which she said was marked by "a very dangerous mix of hate, violence, and racism."
Pope Francis's visit to Bruck, then, was likely also a show of support to Segre, and a statement against anti-Semitism, as well as a recognition of these two women endured for their faith.
After talking for around an hour about Bruck's experience in the concentration camps, her fears and hopes for modern times, and the role of the elderly in passing on history to younger generations, the pope made his way back to the Vatican.
Follow Elise Ann Allen on Twitter: @eliseannallen