Cabo Delgado is a region at war. Over 2,000 people have been killed since 2017, when Islamist militants began a campaign in the Mozambique province.
The conflict has also displaced over 500,000 people in an area still recovering from several natural disasters.
Last week, several bishops from the Southern Africa Bishops Conference visited Cabo Delgado to bring aid in an attempt to show solidarity to the over 70,000 women, children and men who have found refuge in two of the ten camps set up in Pemba, the provincial capital.
The delegation included Bishop Jose Luis Ponce de Leon, of Manzini, Swaziland; Bishop Victor Phalana, of Klerksdorp, South Africa; Sister Tshifhiwa Muzhedzi; and Johan Viljoen, the director of the Dennis Hurley Peace Institute.
The delegation of the Dec. 2-4 "solidarity visit" to the bishop of Pemba, Luis Fernando Lisboa, and the people of Cabo Delgado included Bishop Jose Luis Ponce de Leon, of Manzini, Swaziland; Bishop Victor Phalana, of Klerksdorp, South Africa; Sister Tshifhiwa Muzhedzi; and Johan Viljoen, the director of the Dennis Hurley Peace Institute.
They were welcomed at the Pemba airport by Bishop Luis Fernando Lisboa of Pemba and Archbishop Inácio Saure of Nampula, the vice president of the Mozambican bishops conference.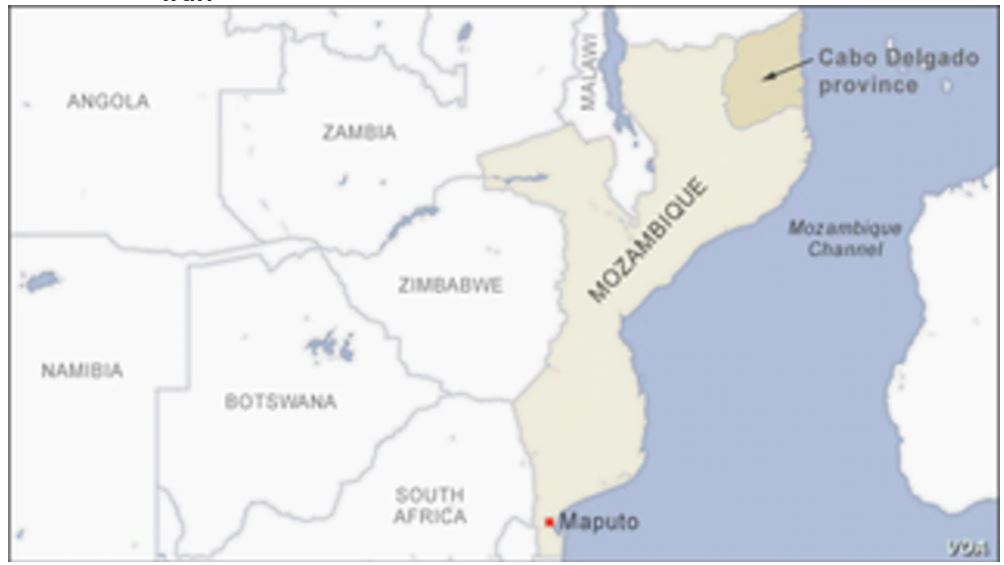 In the statement announcing the visit, Ponce de Leon noted civilians and especially women and children bear the brunt of mass human rights violations that include brutal attacks and kidnapping.
The crisis has completely destabilized the region, causing shortages of food, medicine, clothes, blankets and other basic goods. During the visit, Lisboa was filmed telling some of the refugees that Pope Francis had sent 100,000 Euros [ $120,000 ] to Pemba.
He said the money will be used to build two health posts in resettlement areas, one in Montepuez district, and one in Chiure.
Pope Francis's gift came in response to an appeal launched by Lisboa to assist the hundreds of thousands of people displaced by the Islamist attacks.
"We understand what's happening," Ponce de Leon told Crux over the phone on Monday. "What we don't understand, because we cannot touch it with the finger, is why it's happening."
"Unless we understand what's the cause of this war, there will be no end to it," Ponce de Leon said.
Today, the Argentine-born bishop said there's talk of the jihadist group Ansar al-Sunna being behind the violence, but those reports only began this year.
"We met with several people who were victims of the attacks," he said. "When the meeting was over, I asked several people why did they say 'they attacked us,' but don't give a name to the assailants. 'It's because they don't know'," the bishop said.
Cabo Delgado is a region poor in infrastructure and primary services, and has the highest illiteracy rate in Mozambique.
However, it has a wealth of natural resources, including gas reserves, graphite mines, and rubies. Foreign companies are investing billions of dollars to exploit these resources, which has created great expectations of easy wealth.
Italian-born Bishop Claudio Dalla Zuanna of Beira wrote in an op-ed noting the rights to exploit the mines were given to companies linked to government elite, and local protests were violently suppressed.
"This element seems to have detonated a situation created by a series of factors – decades of neglect, already since colonial times, tensions of various kinds and the factual absence of the state," Dalla Zuanna wrote.
Ponce de Leon noted that "war impoverishes everyone," but added that "somebody is profiting from this war, but we don't know who it is. And as such, there's no one to negotiate with."
Lisboa said the over half a million displaced people need "everything."
"They need food, clothes, medicine, pots, they need attention, a place to live, everything. It is a war that has brought much suffering to all of us," Lisboa told the papal charity Aid to the Church in Need.
"The Church has lent its voice to be the voice of the poor, of those who have no time, of those who do not have the opportunity of being in front of a camera, as I am now, and of being able to speak," he said. "This is the first work: To speak, to show reality. The Church has worked through Caritas, which is its humanitarian arm, to respond to this emergency we have experienced."
Since the beginning of the conflict, the bishop of Pemba has been sounding the alarm on the escalating violence. Last August, he received an unexpected phone call from Pope Francis, who then spoke about the region, helping bring international attention to Cabo Delgado.
"The Church is committed to the truth because we follow Jesus, who said: 'I am the way, the truth and the life'," Lisboa told ACN. "All the missionaries are united. We are all working to minimize this humanitarian crisis, to meet the most vulnerable, to try to do something to reduce suffering. We are not afraid because we are telling the truth."
According to Ponce de Leon, the visit to Cabo Delgado was, for him, "the experience of touching with the hand the drama of people who went to work one morning, and had to run to save their lives, leaving absolutely everything behind. They had no time to prepare they run: They left with that they had on them, with no clothes, no food, no documents."
In addition, many families are separated, because when the attacks happened, people ran in many directions: "There are children who don't know where their parents are, and parents who cannot find their children."
Ponce de Leon also told Crux that every Wednesday, people from a particular region come together to pray the rosary. This brings them spiritual comfort, but also allows them to find relatives lost amidst the violence.
He said Pope Francis has also played a key role publicly appealing for peace in Cabo Delgado.
"I don't know how the pope does it to think about so many places at any given time, but he's had many of these signs that, for me, are now: making personal, pastoral phone calls to people to express his closeness to them that give this feeling of him being a universal pastor," Ponce de Leon said.
Follow Inés San Martín on Twitter: @inesanma