LEICESTER, United Kingdom – An English bishop is calling on the UK government to offer more humanitarian assistance to those affected by the ongoing conflict in Ethiopia's Tigray region, as well as intensify its efforts at brokering a peace.
Bishop Paul Swarbrick of Lancaster, the lead bishop for Africa at the Catholic Bishops' Conference of England and Wales, made his comments in a letter to James Duddridge, the UK Minister for Africa.
The conflict began in early November 2020, when the central government sent armed forces into the Tigray province after forces aligned with the provincial government.
The opposition claims at least 50,000 people have died in the fighting – mostly civilians – and the U.N. says 57,000 have fled to neighboring Sudan and there are 280,000 internally displaced in Ethiopia's Tigray, Amhara and Afar regions.
"We are aware of atrocities being committed and a continuation of violence with no peace in sight. We are particularly concerned by the reports of widespread sexual violence and there is an urgent need to ensure protection of vulnerable groups, especially women and girls," Swarbrick writes in his letter.
"Furthermore, we have received reports of people dying every day from a lack of food, water, medicine, and other essentials. This is compounded by barriers preventing humanitarian agencies reaching those who have fled the fighting," he continues.
RELATED: Catholic agencies say 'major humanitarian crisis' in Ethiopia's Tigray region
U.N. refugee chief Filippo Grandi after a visit to Tigray told reporters on Monday that the situation is "extremely grave." He said his team had heard a "very strong appeal" from appointed authorities in Tigray and Ethiopian ministries for more international help, and he pointed out that the U.N. works in "northern Syria, in Yemen, in areas of high insecurity."
The Tigray region hosted 96,000 refugees from Eritrea before the fighting, and Grandi said he had spoken to some who were caught in the crossfire and then resorted to "eating leaves" after being cut off from support for several weeks. Others were forcibly returned to Eritrea by Eritrean forces, he said. It was not clear how many.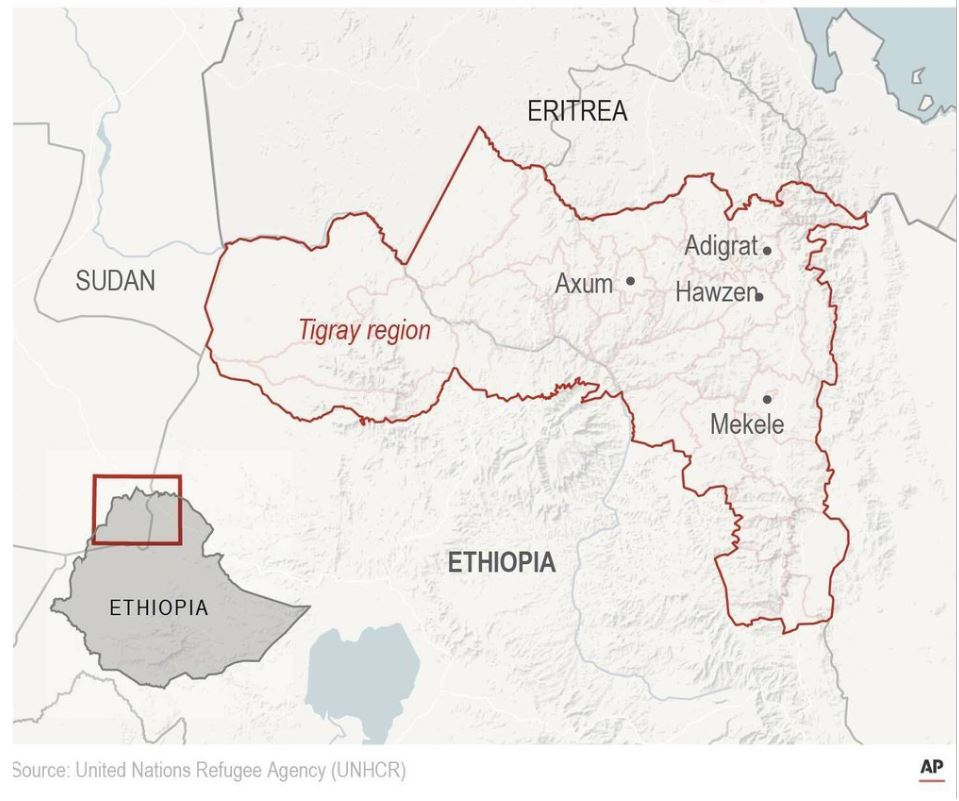 Two of the refugees' four camps remain inaccessible, and "most likely there is no refugee presence here anymore," he said. Citing satellite imagery, the UK-based DX Open Network nonprofit this week reported further destruction at the Hitsats and Shimelba camps in recent weeks by unnamed armed groups, with humanitarian facilities among those targeted.
Up to 20,000 of the refugees have been "dispersed" into areas where humanitarian workers don't have access, Grandi said.
The U.N. refugee chief also called for an independent, transparent investigation into alleged abuses. "The situation is very complex," he said. "There has been a lot of crossfire, a lot of violations on all sides," including Tigray-allied fighters.
In December, Duddridge said the UK was "deeply concerned about the situation in Tigray."
"People across the region will face further suffering, if the ongoing challenges humanitarian agencies have accessing Tigray do not improve," the British Africa minister said.
The UK foreign minister Dominic Raab was in Ethiopia in late January and told the Financial Times the conflict had left Ethiopia with a "tarnished" reputation.
RELATED: Initially cut off by war, Ethiopian bishop appeals for humanitarian aid
"There's no doubt, there's no escaping it … But above all, what we want to focus on right now is getting humanitarian relief," Raab told the newspaper.
Swarbrick called on the UK government to "redouble the UK's assistance to those affected and diplomatic support for peace initiatives."
"I hope that you may also reiterate the paramount importance of every side in the conflict, along with neighboring countries, respecting international law including around the safe accommodation of refugees," the bishop said.
CAFOD, the international development agency of the English bishops' conference has launched a crisis appeal for the Tigray region.
"Along with our local partners, we are supporting health clinics and pharmacies to provide vital care and to restock medicines and supplies," the agency said in a statement.
"We are working with local experts and community support networks to provide psychosocial support to people and communities affected by the conflict. In multiple locations around Tigray, we have been able to support with the delivery of temporary shelter materials, blankets, sleeping mats, cooking items and hygiene kits for families displace by and made homeless by the conflict," the statement continued.
This article incorporated material from the Associated Press.
Follow Charles Collins on Twitter: @CharlesinRome