After six surgeries, South Sudan bishop who was shot eager to get back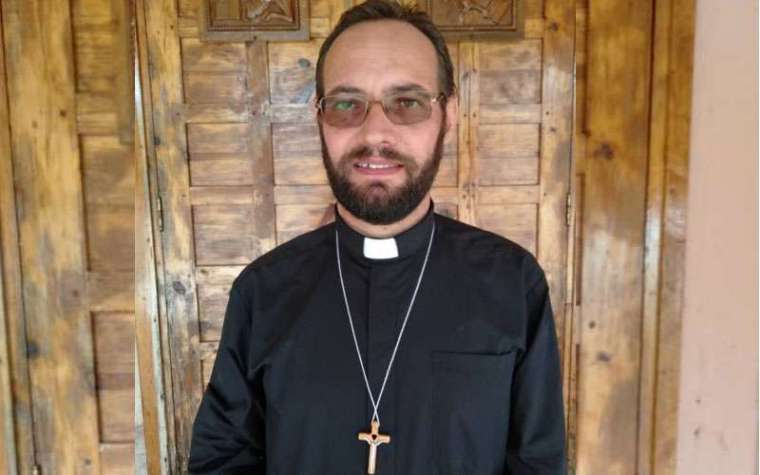 ROME – Nearly three months after being shot shortly after his appointment as the new Bishop of Rumbek in South Sudan, Christian Carlassare says he's making good progress in his recovery and hopes to return to his diocese "as soon as possible."
In a recent interview with the Italian news agency Fides, Carlassare said he has "no doubts about the desire to return to my South Sudan, people are waiting for me, and, beyond the many problems, there is also great hope and I want to be part of it."
An Italian Comboni missionary, Carlassare, 43, was appointed bishop of Rumbek, South Sudan, in March. He arrived in early April and was not even yet ordained a bishop when he was shot on April 26, just after midnight, when two armed men broke into the bishop-elect's house and shot him in the legs.
He survived the assault but suffered significant blood loss, and, as a result, was transferred to a hospital in Nairobi for a transfusion. He was then transferred to Italy, where he has continued his recovery. His episcopal consecration was initially scheduled to take place May 23, but it has been postponed as the investigation into his attack goes forward.
Recalling the attack, Carlassare said it was "a dramatic moment" in which he had to put himself in God's hands, "thinking that my work would end there."
"This gave me freedom, and the awareness that our witness is valid when we are faithful to the Gospel to the end, in our daily fidelity," he said, noting that for the first three weeks of his recovery, he was restricted to bedrest and unable to walk.
After an initial "bandage operation" in Rumbek to stop blood loss, Carlassare underwent six different surgeries in Nairbobi. He began walking with crutches a few weeks ago, and said his condition continues to improve.
For now, Carlassare said he's staying in his hometown of Vicenza, in the northeast of Italy, and is now walking without crutches, but has to do certain exercises as part of this long-term recovery.
"At the moment, I am waiting with great peace and inner freedom, ready to return as soon as possible," he said.
Authorities in South Sudan are still looking for the culprits behind the attack, which is believed to have been ethnically motivated, given Carlassare's background.
A missionary who spent his entire priestly career in South Sudan, Carlassare worked closely with the Nuer tribe for 10 years before his appointment to Rumbek, which is an area predominantly belonging to the Dinka tribe, which is traditionally the sworn enemy of the Nuer. As news of the shooting made the rounds, many observers suspected those ethnic tensions may have played a role.
Following the attack, which drew condemnation from South Sudanese President Salva Kiir Mayardit, a swath of arrests were made, including some who worked in, and for, the diocese.
Carlassare said that so far nothing is official, but six people belonging to the same family are still in prison in relation to the attack, and have been transferred from Rumbek to the South Sudanese capital of Juba, which is "a clear sign that the case is being passed to the court in the capital."
Most likely, the family "acted in the interests of the clan that, in all likelihood, disagreed with my appointment," he said, but noted that in the end, the attack "did not benefit anyone."
Noting that those behind the attack are believed to be Catholics, Carlassare said any family that uses violence to pursue their own interests "are armed individuals who have chosen to commit these acts," and "it does not matter whether they are Christians or of other faiths."
"In the end they attracted a lot of resentment from the majority of the population, while there has been a real solidarity race towards me, both from the people of Rumbek and the South Sudanese in Kenya," Carlassare said, noting that he received visits from many South Sudanese people during his stay in Nairobi.
For him, this was "a very positive reaction that gives hope that the population will take sides against senseless violence."
Carlassare noted that several diocesan appointments have been made in his absence, and voiced confidence in the people tasked with leading the diocese during his recovery.
"I have done what I could for my health, and I think I can come back as soon as possible," he said, but stressed the importance of doing everything possible to close his case "and, perhaps even more crucial, that the diocese has an internal path of regeneration to guarantee safety and the possibility of working and making decisions."
He also voiced hope for greater healing and peace in South Sudan as a whole, which is celebrating the 10th anniversary of its independence in 2011 amid years of war, conflict, and a massive humanitarian catastrophe that have claimed the lives of thousands and forced millions from their homes.
Noting that a peace agreement struck in 2018 appears to be holding, although parties are still struggling to fully implement it, Carlassare said "it is a great hope for South Sudan that makes us look at the country with a little more perspective."
Peace, he said, "is always fragile, it is always subject to limits and situations of violence that undermine it. It is a long journey that must be taken without being frightened of how far it can take us.
With reports continually coming out of ongoing local conflicts, largely rooted in land and tribal disputes, Carlassare said people "must be educated to live together and the government, at the same time, must show that it works for security."
Follow Elise Ann Allen on Twitter: @eliseannallen