Colombian diocese honored for serving Venezuelan migrants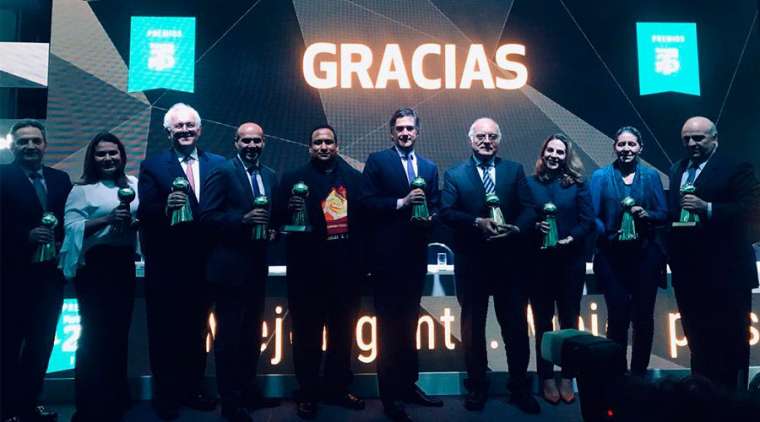 BOGOTÁ, Colombia – The Diocese of  Cúcuta, Colombia, has been awarded a Portafolio Award, an annual recognition in the country given to organizations and people promoting economic and social development.
The award is conferred by Portafolio, a business and economics magazine in Colombia.
The Nov. 29 award ceremony recognized the diocese's work to support Venezuelans crossing the border into Colombia to flee the worsening economic and social crisis in their homeland.
"Representing the diocese at the award ceremony were  Father Francesco Bortignon and Father David Caña Pérez in recognition of the free services they provide at the Migration Center and the Divine Providence Casa de Paso (transit center) respectively," the diocese said in a November 29 statement.
According to the state agency Migración Colombia, 1,032,016 Venezuelan migrants have settled in the country during the last two years, while another 853,480 have passed through while in transit to other countries.
The statement noted that Bortignon began the Diocese of Cúcuta's Center for Migrants in 2016. In its first year the center provided hospitality and medical services to nearly 5,000 migrants.
Caña has coordinated the Casa de Paso transit center since 2017. To date it has provided more than 750,000 lunches to Venezuelan migrants, especially the children and the elderly.
The president of Colombia, Iván Duque, presented the award to Caña
The priest explained that the transit center that he runs is located about a mile from the Simon Bolivar International Bridge, which connects Cúcuta with the Venezuelan city of  San Antonio del Táchira.
"Today we distribute more than 8,000 lunches daily: 3,000 at the transit center, and throughout the entire city we have six soup kitchens where Father Francisco and the other priests are providing a service," he said.
Caña said that the award was the opportunity God gave him "to speak before a stage where the greatest businessmen in Colombia are present, on the actual conditions Venezuelans are living in, to invite them take a look at Cúcuta, to innovate in this city, because we believe that blessings for the country are going to come through Cúcuta, thanks to all the charitable works we are doing."
This article was originally published by ACI Prensa. It has been translated and adapted by CNA.